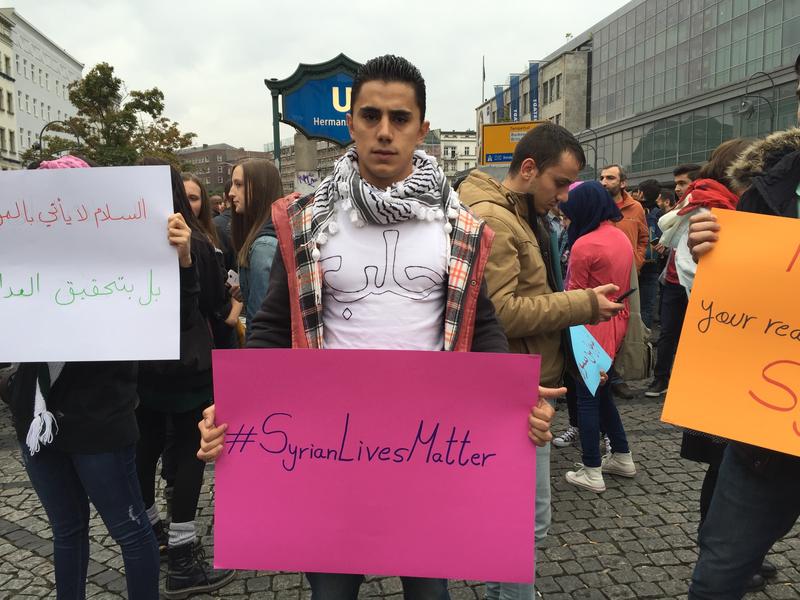 Click on the 'Listen' button above to hear this segment.
Approximately 4.8 million Syrians have fled their country because of the war. Though many have escaped to neighboring countries, over 225,000 Syrians have made it to Germany and applied for asylum there. Tens of thousands of refugees live in Berlin, and hundreds turned out on Saturday to demonstrate against the brutal war in Syria.
"Down with Bashar," the protesters sang in opposition to the Syrian regime.  As the music wound down, chants of "Halab!", the ancient name for the city of Aleppo, rang throughout the crowd.  
Seif al Deen has been in Germany for nearly a year.  He says his home was bombed and he literally had to pull his children from the rubble. He is getting them treatment here in Germany, but his parents, his sister, and other family members still live in East Aleppo
"I came here to demonstrate for the people of Aleppo, that are the children of my city," says al Deen.  "It's a human issue: Children are dying, women are dying who are guilty of nothing. It's not a political issue or anything. We are trying to communicate a message to the world because, in general, the western media doesn't see what is happening. They don't ever see what's happening, ever ever ever."
Journalist Thalia Beaty is in Germany and brings us the latest.