The Takeaway
How The U.S. Helped Iran Manage Its Water Crisis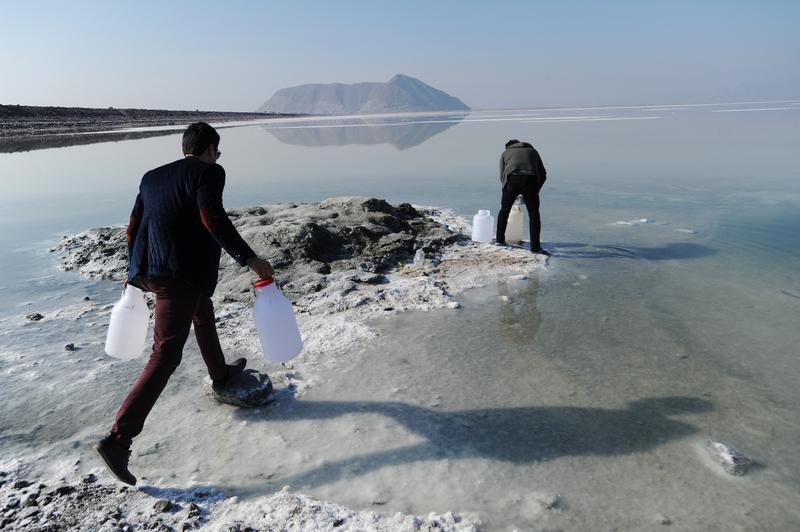 Iran has been in the throes of a water crisis for the past 16 years. Just two years ago, a study by the World Resources Institute ranked Iran as the world's 24th most water-stressed nation.
The population of Iran has doubled over the last 40 years, and increased water usage combined with the ongoing drought led Iranian scientists to quietly ask the U.S. for help with water resource management.
The year was 2009, the Obama Administration was just four months old, and Hillary Clinton was secretary of state. It appears that this international cooperation may have helped cement a new relationship between the two countries ahead of the Iran nuclear deal.
Peter Gleick, president of the Pacific Institute, a nonprofit research institute focusing on issues of development, environment, and security, was involved in some of the early exchanges with Iranian hydrologists and water experts. He says these low-key negotiations have been playing out for years.
"The conversation between Iran and the United States over water has extended back more than a decade before 2009," he says. "There have always been contacts at the university level, and at the level of the National Academy of Sciences, between the countries about water efficiency, water conservation, water technologies, and how to manage droughts. As the water situation in the Middle East has gotten worse, the interest has gotten higher."  
According to Gleick, American and Iranian scientists have had "a number of conversations" in Tunis, Iran, France, and the United States about water security. He adds that this open dialogue about water may have been easier to achieve than the Iran nuclear deal because of the elements at play.
"Scientists talk to scientists—what the politicians [talk], it's always a difficult conversation," says Gleick. "The Iranian nuclear deal is a difficult conversation. It's a little less difficult for things like water, where there's a joint interest in producing food, in producing the goods and services we want, and protecting ecosystems. There's information that can be shared, and I would argue should be shared."
Historically, scientists have been able to get along much better than political actors. At the height of the Cold War, for example, Gleick says that U.S. and Soviet scientists met regularly to talk about nuclear security and risks to the environment.
"Some of those conversation led to, for example, the Partial Nuclear Test Ban Treaty," he says. "Scientist communications can often be really effective when even the politicians don't agree."
Is water becoming the most valuable resource in geopolitics—even more so than oil? Gleick thinks so.
"There are substitutes for oil—we can find other ways to produce the energy we want—but there are no substitutes for water," he says. "As water becomes increasingly scarce, it becomes increasingly problematic in regions around the world. It's political at times, and at times, unfortunately, there's a long history of conflict, and sometimes violent conflict, over water."