SchoolBook
On Turning Around a Troubled School: 'Make Kids Feel Special'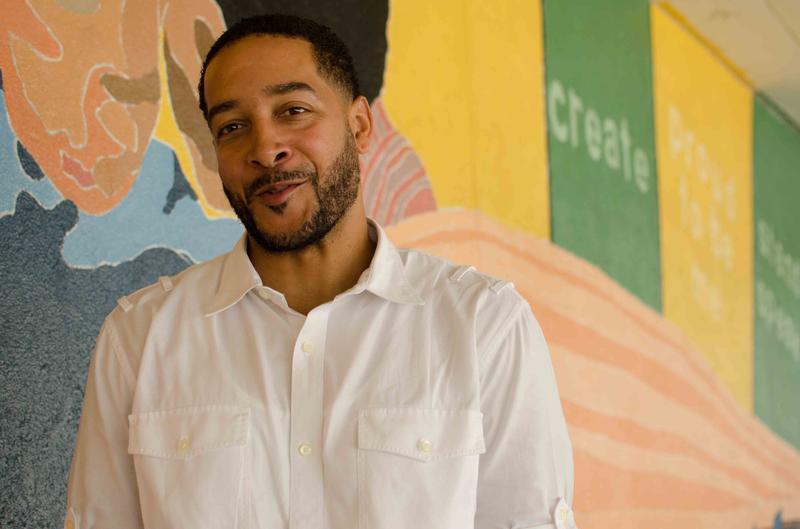 In Principal's Office, a regular feature of SchoolBook, a New York City public school principal is interviewed for insights into school management and the life of a school leader. 
Here we talk with Shawn Rux, who took the helm at M.S. 53 Brian Piccolo in Far Rockaway after a brutal year in 2010 when the school received an F grade based on student progress, performance and environment. The school was also considered one of the city's most dangerous, with 280 suspensions and 188 reported violent incidents.
Rux's colleagues warned him that taking on the troubled school would be a fool's errand.
But three years down the line, he's managed to quell violent behavior, reduce the amount of suspensions at a faster rate than any other middle school in the city and innovate an incentive system called "Rux Bucks" to help boost student attendance above 90 percent.
When you became principal back in 2011 how did you begin to tackle all of the issues that the school faced?
I really truly believe that if you put systems and structures in place and if you build a team of leaders who really believe in students, that you'll begin to make progress. And that was pretty much the work in the beginning: establishing systems and structures to minimize behavior issues — like changing the structure of the building by putting one grade on one floor, minimizing the movement in the building. That was a small fix but minimizing movement is going to minimize the amount or potential for negative behaviors to happen.
What other kinds of things are you doing to reduce disruptive behavior?
When you're in a challenging school it's easy to focus on the negatives and it takes a lot of time and energy to put out fires. But if you put that same amount of efforts into rewarding students who are doing the right thing, then the kids become attracted to that. Kids want to be rewarded, so if they see kids being rewarded they're going to want to do what's necessary.
In a neighborhood that faces so many external challenges, is it even more important for the school to play a role in reinforcing positive behavior?
Absolutely. I tell everybody that M.S. 53 is the hub for the community. And even when I'm interviewing for teachers, I let them know from the door that I'm looking for more than just teachers. And our kids need that. I'm looking for people who believe in the impossible. People who want to know every aspect of their students' lives: who their parents are, where they live, what are they doing outside of school. You've got to take an investment in the kids.
When did you first decide to become an educator?
I never thought I was even going to be a teacher. I had graduated from college and wanted to pursue a master's degree. And I saw this big thing online for teaching fellows and I said, 'hmmm, I don't want to teach, but there's something about this that's intriguing to me.'
I did the teaching fellows interview and got hired. I went into a school in the South Bronx and just from that moment — just seeing the challenges that our kids face. There was no furniture in my class the first day teaching. No books. And this fire, this fire rose inside of me that just wanted to do more and teach more.
Why is teaching so important to you?
I really believe that education saves lives. Education is the answer to all of our questions as well as all of our dreams. Growing up in Harrisburg, Pennsylvania there were a lot of things around that would lead you to prison or lead you to an early grave. I have a brother who's one year older than I am. We went to the same schools, we had the same friends, we played the same sports, we lived in the same house, everything. But education was not a priority for my brother so he ended up in prison and I ended up in college.
Was there some teacher that you had growing up that really made an impact on you?
Aileen Pigeon, she was my fourth grade teacher. She made me feel like I was the most important student in the whole school. I would come into class some mornings and there would be these little notes in my desk sometimes that would just give me little jobs to do. Go to the office and get the science key for the day with a little happy face on it. And she would call me 'the one and only' and it just made me feel so special.
But as I got older, I'm like, 'Ms. Pigeon probably did that for everybody in the class.' But it just made me feel so special and I wanted to give kids that feeling also. I wanted kids to feel special and I think as an educator we have that opportunity to make kids feel special and important every day.