How NY and NJ Representatives Are Responding to Comey's Firing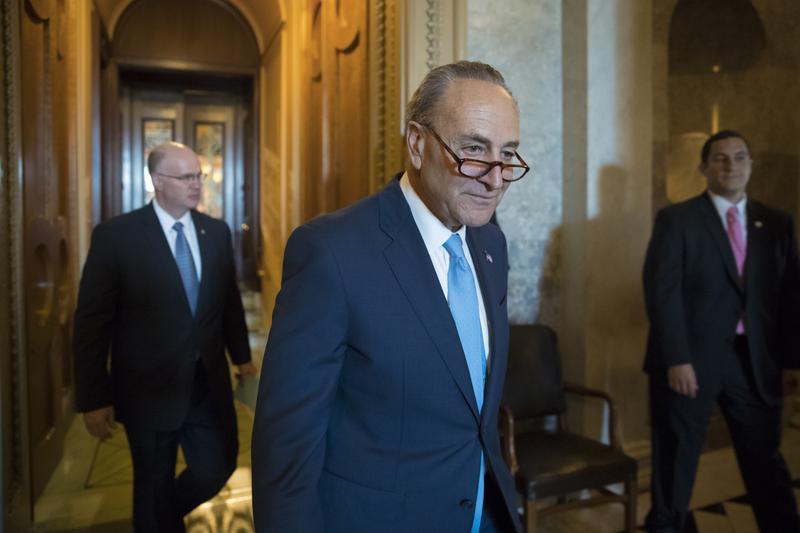 President Donald Trump has defended his firing of FBI Director James Comey, asserting in a flurry of tweets Wednesday that Republicans and Democrats "will be thanking me."
Are they?
While Comey has drawn anger from Democrats since he reopened the email investigation in the closing days of last year's campaign, they didn't buy that justification for his firing. Several Republicans joined them in raising alarms of how it could affect probes into possible coordination between Trump associates and Russia to influence the 2016 presidential election.
In one of the strongest statements by Republicans, Sen. Richard Burr of North Carolina, chairman of the Senate intelligence committee, said, "I am troubled by the timing and reasoning of Director Comey's termination."
"His dismissal further confuses an already difficult investigation by the committee," Burr said.
Senate Democratic Leader Chuck Schumer told Trump in a phone call he thought dumping Comey was a mistake. On Wednesday, Trump labeled the Senate minority leader "'Cryin' Chuck Schumer.'"
Cryin' Chuck Schumer stated recently, "I do not have confidence in him (James Comey) any longer." Then acts so indignant. #draintheswamp

— Donald J. Trump (@realDonaldTrump) May 10, 2017
On the floor of the Senate Wednesday morning, Schumer renewed calls for an independent prosecutor. He said Comey's firing continued a troubling pattern.
"This administration has now removed several law enforcement officials in a position to conduct independent investigations of the president and his administration," he said, "from Acting Attorney General Sally Yates, to Preet Bharara, and now, Jim Comey."
Republican Sen. John McCain of Arizona said Congress must form a special committee to investigate Russia's interference in the election.
Here's what lawmakers from the New York City area are saying:
Rep. Lee Zeldin (D-NY 1st District)
 "James Comey was in an incredibly challenging situation last year with so many factors and enormous pressures coming down to bear on him and his agency from the highest levels and with the highest stakes. Ultimately, President Trump's decision does in fact present the Bureau with a fresh start and the type of new beginning that has enormous potential to restore any broken trust wherever it may exist. While I too had questioned some of the decisions made last year, I truly wish Director Comey and his family the absolute best as he moves forward in a life that has been filled with so much selfless service to our great country."
Rep. Thomas Suozzi (D-NY 3rd District)
Special Prosecutor must be appointed immediately to conduct investigation into the Putin/Russia/Trump relationshiphttps://t.co/Hrg1xI1T1Z

— Tom Suozzi (@RepTomSuozzi) May 9, 2017
Rep. Kathleen Rice (D-NY 4th District)
Congress must immediately appoint an independent commission for #TrumpRussia investigation. Anyone who refuses will be complicit.

— Kathleen Rice (@RepKathleenRice) May 10, 2017
Rep. Gregory Meeks (D-NY 5th District)
"President Trump's sudden firing of FBI Director James Comey certainly raises eyebrows and deepens suspicion..." #Russia #SpecialCounsel pic.twitter.com/6J8eEnJ4u3

— Gregory Meeks (@GregoryMeeks) May 10, 2017
Rep. Grace Meng (D-NY 6th District)
Follow the money. #ComeyFiring #TrumpRussia https://t.co/p9za04xHx6

— Grace Meng (@RepGraceMeng) May 10, 2017
Rep. Nydia Velazquez (D-NY 7th District)
My statement on Comey's termination. https://t.co/A1bAA5uxpV We need a #SpecialCounsel immediately.

— Rep. Nydia Velazquez (@NydiaVelazquez) May 10, 2017
Rep. Hakeem Jeffries (D-NY 8th District)
Comey investigates Trump. Trump fires Comey. Unacceptable. Unpatriotic. Un-American.

— Hakeem Jeffries (@RepJeffries) May 10, 2017
Rep. Yvette D. Clark (D-NY 9th District)
Americans want to know about @realDonaldTrump's connections to Russian agents. https://t.co/jomeHG1KmC

— Yvette D. Clarke (@RepYvetteClarke) May 10, 2017
Rep. Jerrold Nadler (D-NY 10th District) 
Of course, it's also unimaginably wrong, dangerous that Jeff Sessions was at all involved w/ the firing of James Comey in the first place. https://t.co/IHmecPCA80

— (((Rep. Nadler))) (@RepJerryNadler) May 10, 2017
Rep. Dan Donovan (R-NY 11th District) 
Rep. Carolyn B. Maloney (D-NY 12th District)
Outrageous that @POTUS fired the very man who was investigating his campaign and associates. We need an independent commission on Russia! https://t.co/YYMhXH2kSt

— Carolyn B. Maloney (@RepMaloney) May 10, 2017
 Rep. Adriano Espaillat (D-NY 13th District)
I agree and have publicly called for a 9/11 style commission and a special independent prosecutor to fully investigate #TrumpRussia ties. https://t.co/7zQfjoqBLo

— Adriano Espaillat (@RepEspaillat) May 10, 2017
Rep. Joe Crowley (D-NY 14th District)
No doubt their goal here. #TrumpRussia https://t.co/aRBlMezse4

— Rep. Joe Crowley (@repjoecrowley) May 11, 2017
Rep. Eliot Engel (D-NY 16th District)
RM @RepEliotEngel's statement on #Comey firing and the #TrumpRussia scandal: https://t.co/8Cu9R3mDVP pic.twitter.com/357OHXyLrd

— Foreign Affairs Cmte (@HFACDemocrats) May 10, 2017
Rep. Nita Lowey (D-NY 17th District)
Comey firing raises serious questions about if @POTUS is trying to stifle an ongoing investigation. A special prosecutor must be appointed.

— Nita Lowey (@NitaLowey) May 10, 2017
Rep. Sean Patrick Maloney (D-NY 18th District)
I only have two words - independent investigation. #ComeyFiring

— Sean Patrick Maloney (@RepSeanMaloney) May 9, 2017
Rep. John Faso (R-NY 19th District) 
The Administration owes it to the American people to explain the reasons behind this termination. https://t.co/zg1GC83yox pic.twitter.com/R5oqOh8R3B

— John Faso (@RepJohnFaso) May 10, 2017
Sen. Kirsten Gillibrand (D-NY)
The Senate shouldn't consider a new FBI Director until an independent special prosecutor is appointed to probe the Trump campaign & Russia.

— Kirsten Gillibrand (@SenGillibrand) May 10, 2017
Sen. Chuck Schumer (D-NY) 
If we don't get a special prosecutor, every American will rightfully suspect that the decision to fire #Comey was part of a cover-up.

— Chuck Schumer (@SenSchumer) May 9, 2017
Rep. Donald Norcross (D-NJ 1st District)
It's the Saturday Night Massacre redux. (President firing the head of the agency investigating him.) #TrumpRussia #TrumpNixon #Russiagate

— Donald Norcross (@DonaldNorcross) May 9, 2017
Rep. Frank LoBiondo (R-NJ 2nd District)
Critical that FBI investigation into Russia along w/ ongoing bipartisan House & Senate investigations remain of highest priority for nation.

— Frank LoBiondo (@RepLoBiondo) May 11, 2017
Rep. Frank Pallone (D-NJ 6th District)
Members on both sides of the aisle are deeply troubled by the firing of #JamesComey. We need an independent investigation now. pic.twitter.com/JGSDGTOay8

— Rep. Frank Pallone (@FrankPallone) May 10, 2017
Rep. Albio Sires (D-NJ 8th District)
Enough is enough. Now is the time for a special prosecutor into the Trump campaign's ties to Russia. My statement: https://t.co/X07meX278y

— Albio Sires (@RepSires) May 10, 2017
Rep. Bill Pascrell (D-NJ 9th District)
Could it be that the Russian investigation was bothering @realDonaldTrump? We need transparency, now more than ever. #CongressMustRequest pic.twitter.com/3NB34CV5ww

— Bill Pascrell, Jr. (@BillPascrell) May 10, 2017
Rep. Donald Payne (D-NJ 10th District) 
.@realDonaldTrump This certainly looks like political interference from Trump admin. #IndependentInvestigation is the necessary path forward.

— Donald Payne Jr. (@RepDonaldPayne) May 10, 2017
Sen. Cory Booker (D-NY)
"This is a Paul Revere moment, the Russians are coming." @CoryBooker https://t.co/ReyDfMpZvN pic.twitter.com/z3zhBepBDj

— OutFrontCNN (@OutFrontCNN) May 11, 2017
Sen. Bob Menendez (D-NJ)
American ppl still deserve the truth re: Russian interference. I've said from the start we must have independent investigation to get it

— Senator Bob Menendez (@SenatorMenendez) May 10, 2017
While Democrats from the area have mostly echoed the same line--that a special prosecutor is needed to investigate the potential ties between Russia and the Trump campaign--some local Republicans have been less than vocal on the issue in the past 24 hours.
Visiting with some of my youngest constituents at H&M Potter Elementary School in Bayville. pic.twitter.com/1O1ka6Hg7Y

— Tom MacArthur (@RepTomMacArthur) May 10, 2017