New Yorkers React to Trump's Withdrawal From the Paris Agreement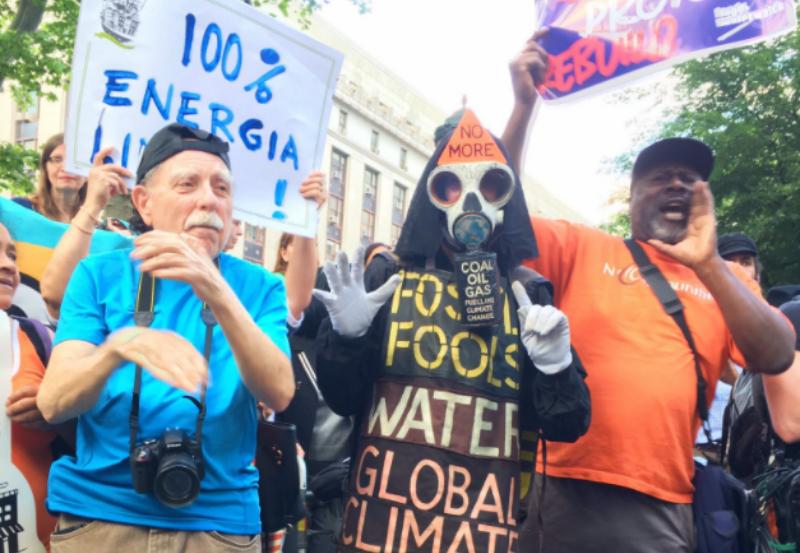 After President Trump announced Thursday that the United States would withdraw from the Paris climate agreement, dozens of protesters showed up in Foley Square in Manhattan to voice their opposition. 
Some New Yorkers are upset Trump withdrew from Paris Climate agreement @WNYC pic.twitter.com/a9BfTlwwL7

— Rebeca Ibarra (@RebeIbarraC) June 1, 2017
City Council member Jumaane Williams told a crowd that "this climate change thing is a line in the sand, because you are threatening the entire world." 
Council member Jumaane Williams protesting Trump's climate policies @WNYC pic.twitter.com/9F76rWHDDm

— Rebeca Ibarra (@RebeIbarraC) June 1, 2017
Mayor Bill de Blasio immediately responded to Trump's decision by doubling down on New York City's commitment to fighting global warming.
On behalf of New York City, I will commit to honor the goals of the Paris agreement with an Executive Order in the coming days.

— Bill de Blasio (@NYCMayor) June 1, 2017
And listeners called in to WNYC to share their thoughts on the president's decision to pull out of the Paris climate agreement. 
Seth in New Jersey said he's not buying Trump's argument that deals like this somehow hinder job growth. "As we grow and create more options for renewable energy," Seth argued, "there will be more jobs that will solve the same problems that he's trying to correct."
Ellen from Stamford, Connecticut, called to say that this shows Trump is "more interested in saving a few pennies than he is in looking forward to a new era where it's going to be very important to find replacements for fossil fuels."
But one caller, who didn't leave his name, said he supports Trump's decision because he thinks the Paris agreement is a bad deal. "We're the ones paying all the money, and other countries don't have to adhere to the agreement," he said. "I'm more concerned about the environment than global warming."