Indivisible
Week 4: How Much Power Does The President Have?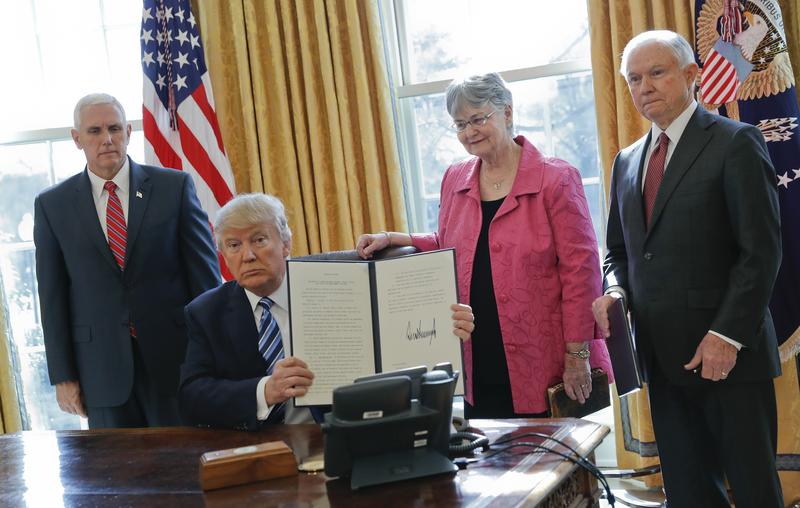 In a press conference today, President Donald Trump called General Michael Flynn a "wonderful man" who was "treated very, very unfairly by the media." He made this statement despite warnings from the Justice Department over his conversation with Russian officials and his misleading the White House.
On this episode of Indivisible, host Charlie Sykes is joined by national political correspondent for The Washington Post Karen Tumulty to discuss the Post's role in this scandal and how the media is handling the Trump administration.
As White House denounces leaks, remember that the VP learned the truth only because of the Washington Post. https://t.co/zBfKU1RGnt

— Karen Tumulty (@ktumulty) February 15, 2017
And as the White House spars with the courts over immigration and rumors of new pending executive orders circulate, Charlie also touches on how much power the President actually has. He'll be joined by John Yoo, a law professor at UC Berkeley and author of "Crisis and Command: A History of Executive Power From George Washington to George W. Bush." He served as Deputy Assistant Attorney General for the Office of Legal Counsel under President George W. Bush. In a recent New York Times piece, he wrote:
"As an official in the Justice Department, I... [advised] that President George W. Bush could take vigorous, perhaps extreme, measures to protect the nation after the Sept. 11 attacks, including invading Afghanistan, opening the Guantánamo detention center and conducting military trials and enhanced interrogation of terrorist leaders...But even I have grave concerns about Mr. Trump's uses of presidential power."
Do you think President Trump has overstepped the powers of his office? #IndivisibleRadio

— WNYC (@WNYC) February 16, 2017
Here's a selection of tweets from this episode: