How Many Detained? Confusion at JFK After Trump's Order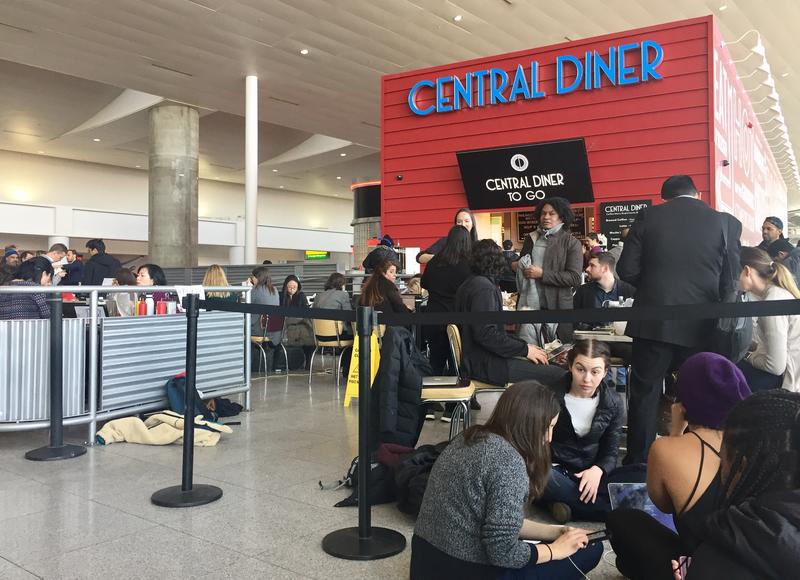 Immigration advocates and volunteer lawyers at John F. Kennedy airport said at least 50 people were detained over the weekend, following President Donald Trump's executive order affecting people from seven majority-Muslim nations.
Advocates said some detainees were kept in the airport for longer than 24 hours. They also said detentions continued even after the executive order was stayed on Saturday night by a federal judge in Brooklyn in response to an emergency lawsuit by the ACLU and other plaintiffs.
The New York Immigration Coalition and a group calling itself NoBanJFK have been collecting information from the hundreds of lawyers volunteering at the airport since Friday night. The groups announced that nine people on a flight from Saudi Arabia Monday afternoon had been held for questioning, but they were short on details. 
"One of the significant problems here, and the reason why we don't know the number of people detained right now, is that lawyers had a significant problem accessing the people who are detained at the airports," said Mariko Hirose, a staff attorney with the New York Civil Liberties Union.
The lawyers don't have boarding passes, so they can't proceed beyond the security gates; they're gathered at a diner in a terminal. 
WNYC had a difficult time independently gathering any information about people detained at the airport. Calls and emails to the White House and the Department of Homeland Security were not returned.
The Trump Administration minimized the problems encountered by travelers, and said the travel ban is necessary for national security. On Sunday, the guidance was changed to say that people with green cards who are from the affected countries would be permitted back into the U.S.
On Monday, attorneys at the airport said they were encountering fewer detainees. Attorney Camille Mackler of the New York Immigration Coalition said there was a simple reason: "What we're seeing actually is fewer and fewer people are coming, and we believe that's because people are not able to board the flights."
Legal experts widely believe that rulings in New York and three other states over the weekend which block the President's temporary travel ban only apply to people who have already arrived in the U.S., not those with visas who are still overseas.
A new lawsuit by the Council on American Islamic Relations could block the entire executive order if it is successful. The suit was brought by 27 plaintiffs including Linda Sarsour, executive director of the Arab American Association of New York.