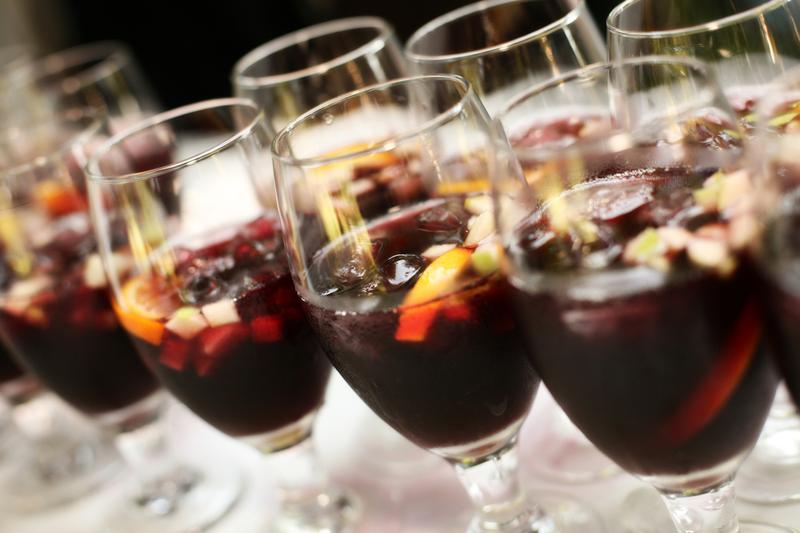 Last night marked the first night of Passover, which commemorates the freedom of the Jews from slavery in ancient Egypt.
Around the world, Jewish families sat down to take part in Seder, a traditional dinner with prayers, rituals, matzo, and lots of wine. During Passover, Jews are supposed to consume four glasses of wine as they recall the plight of their ancestors. But as it turns out, several other Passover staples form the perfect base for sangria.
At least that's what Dan Pashman, host of the Sporkful Podcast, says.
"Passover is a drinking holiday," he says. "It dawned on me one year when I was looking at the Seder plate and the food there. I was thinking we have this Manischewitz wine, which is sweetened red wine—it's like sickeningly sweet. We have Charoset, which is typically chopped apples and nuts meant to symbolize the mortar that the Jews used to build the pyramids. And then I see these other fruits and things on table, and I'm thinking: 'We're like two-thirds of the way to sangria here. Let's just fill in the gaps.'"
Below is Pashman's recipe to fill in the gaps, though he warns to go easy because Manischewitz wine is so sweet that it can lead to a nasty hangover, for which he prescribes his favorite college remedy: Plenty of greasy food and water.
INGREDIENTS
1 bottle (750 ml) Concord grape Manischewitz
1 cup kosher for Passover calvados or brandy
3 cups Charoset 
¼ cup fresh lemon juice 
¼ cup fresh lime juice  
Pinch salt
4 (1/4-inch-thick) slices fresh horseradish, a.k.a. Maror (optional)
Seasonal Fruits (optional)
Orange, grapefruit, or tangerine, peeled and segmented
Kiwi, peeled and quartered
Cherries, pitted and halved
PREPARATION
Combine everything in large pitcher. Cover and refrigerate at least 8 hours and up to 48 hours. Serve in wine glasses filled with ice cubes. This recipe makes about 1 ½ quarts of pure bliss, guaranteed to bring peace and harmony to your family's holiday gathering. Tweak it to your liking and remember, while it is kosher for Passover, it's not just for Jews. In fact, you may find that it pairs well with a salty Easter ham.