'What's Missing Here?' Revisiting Jane Jacobs' Plan for a Better City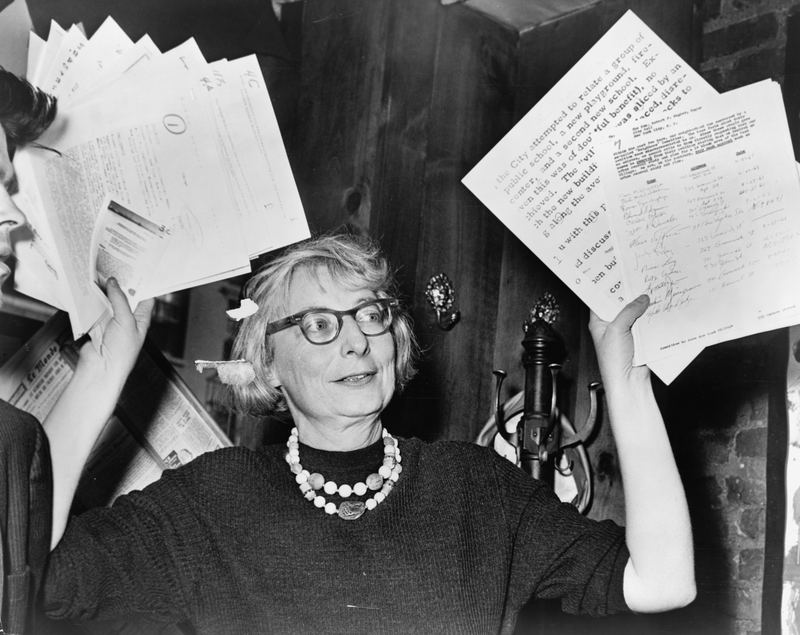 Next week, New Yorkers can take part in the 6th Annual Jane's Walk. The walking tours are a tribute to journalist, author and activist Jane Jacobs, who changed the thinking about urban planning.

"The kind of planning we ought to have should not be planning that begins with, what is nasty here? What do we take out?" Jacobs told attendees at a Books and Authors Luncheon broadcast on WNYC in 1962. "Rather, what is missing here? Which of the conditions are needed to make this a lively and convenient place that works?"

Jacobs' influential book, "The Death and Life of Great American Cities," was published the year before.

After writing about proposed urban projects in the late 1950's, she noticed they often didn't turn out to be used the way planners said they would. She sought to figure out why.

"Why, for instance, were people not walking in the areas that all the artists' conceptions shown full of happy promenaders? They weren't there," she said. "Why did stores that looked very cheerful, that were supposed to be doing a great, booming business in the plans actually go empty or languish? Why did they look so grim, too?"

Jacobs lived in Greenwich Village and became an advocate for the citizen resistance to so-called urban renewal efforts, which usually involved bulldozing huge areas. She also spearheaded the campaign to stop city planner Robert Moses from building an expressway over Canal Street.  

Check here for details about this year's Jane's Walk N-Y-C, and here for details about one of the tours being conducted by WNYC's Brooke Gladstone and Jim O'Grady -- they'll be posing as Jane Jacobs and Robert Moses.
___________________________________
WNYC broadcast audio courtesy of the NYC Municipal Archives.