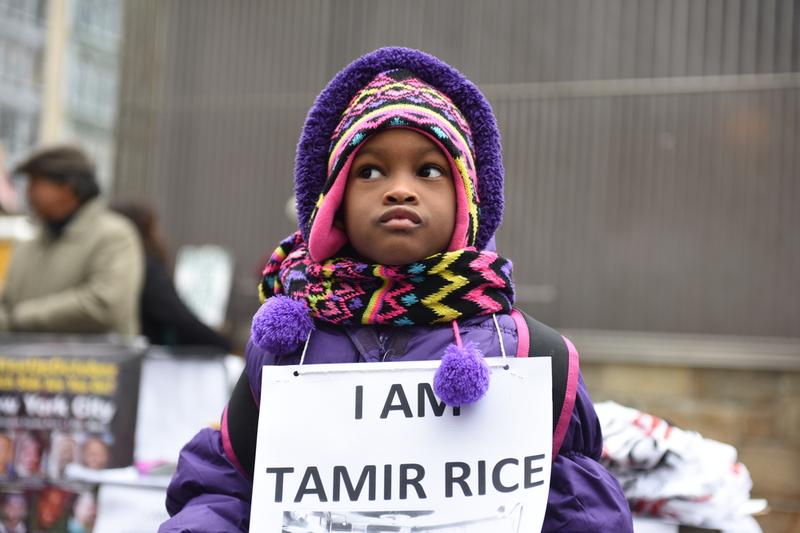 Click on the audio player above to hear the full interview.
After more than a year of investigation, no criminal charges will be brought against the police officer involved in the shooting of 12-year-old Tamir Rice.
The Cleveland, Ohio boy was shot twice while playing with a pellet gun in a park back in November 2014. Officer Timothy Loehmann, who is white, fired on Rice, who is black, within seconds of arriving to the Cudell Recreation Area (see video below).
According to Cleveland.com, Officer Loehmann had left the Independence, Ohio police department in 2012 after he had problems using a handgun. He had been "deemed unfit for duty," the Los Angeles Times reports.
"He could not follow simple directions, could not communicate clear thoughts nor recollections, and his handgun performance was dismal," according to the letter written by Deputy Chief Jim Polak of the Independence police.
On Monday during a press conference to announce the grand jury's ruling, Cauhayoga County Prosecutor Tim McGinty said the officer had reason to fear for his life.
"A short time ago we informed Tamir's mother of the grand jury's decision," he said. "We explained to her that this was a difficult decision, but that to charge—even a situation as undeniably tragic as the death of her son—the state must be able to show the officers acted outside the constitutional boundaries set forth by these United States. Simply put, given this perfect storm of human error, mistakes, and miscommunications by all involved that day, the evidence did not indicate criminal conduct by police."
The initial caller who contacted the police told the 911 dispatcher that he thought Rice's gun was a toy, and that he believed Rice to be a juvenile—information that was never passed on to the responding officers.
"It is likely that Tamir, whose size made him look much older and who had been warned his pellet gun might get him into trouble that day, either intended to hand it over to the officers or show them it wasn't a real gun," McGinty said Monday. "But there was no way for the officers to know that, because they saw the events rapidly unfolding in front of them from a very different perspective."
Rice's size has been a point of contention in this case—the 12-year-old was large for his age, standing at 5-foot-7 and weighing in around 175 lbs.
"The emphasis on the appearance of the boy has become one of the points of criticism of McGinty," says M. L. Schultze, digital editor and reporter for Ohio public radio station WKSU. "There's a well-documented pattern where when white people see black children, they are often likely to describe them as bigger and scarier than they would describe a white child. This emphasis on his appearance—there's no question he was large for a 12-year-old—it's seen as almost saying, 'Well, that explains it.'"
For the Rice family, the shooting and the subsequent investigation was symptomatic of much more than a "perfect storm of human error." In a statement released by their lawyers, the Rices said that McGinty was "abusing and manipulating the grand jury process."
"McGinty did say that he did make a recommendation [to the grand jury]," says Schultze. "He did not see a criminal case here—he saw a human tragedy."
The city of Cleveland is conducting an administrative review and will continue to pursue disciplinary charges against the officers involved. Rice's death occurred just days before the Department of Justice released a report that found the Cleveland Police Department had systemic problems with "unnecessary and excessive use of deadly force."
"[Rice's death] is seen as a tragic situation by everybody all the way around," says Schultze. "Whether it should be criminal or not, that debate will continue as well."
On Monday night, about three dozen protesters peacefully demonstrated by marching from the park where Rice was killed to the police station.
"I'm sad and I'm disheartened all at the same time," says activist Laura Cowan, who participated in protests at the Cleveland park where Rice was shot. "I just wanted to see something — some justice done — at least for the family's sake; for the city's sake, so that we can get some healing and unity."
Khalid Samad, a long time Cleveland community organizer who founded Peace in the Hood, a nonprofit that works to reduce gang violence, also participated in Monday night's demonstration. He says the community is disappointed, but not surprised by the grand jury's decision.
"Most of the youth feel that there was a breakdown from the very beginning from when the first call went in," he says. "Talking to the adults who are familiar with the grand jury system in Cauhayoga County, there's an old joke out that the grand jury will indict an ant for being an insect. They know that the power of the grand jury to indict is easy — they do it all the time."
He continues: "But no one that I talked to who's an adult, particularly in the African American community, but also in the broader community, thought there would be an indictment. No one — I haven't talked with one [person]."
Though community groups intend to continue to work with the police department, Samad says the black community doubted an indictment would be brought forward because of the city's police culture and Cleveland's history of racism.
"That understanding is pretty consistent throughout the African American community," he says.