The Takeaway
Foreign Investment Drives Housing Booms in San Fran, NYC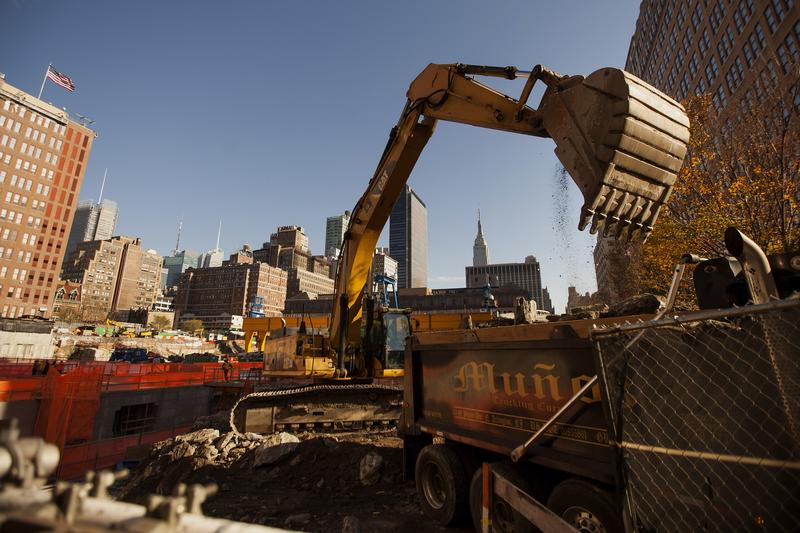 On a trip to Beijing last November, President Obama announced that the United States would expand its visa program for Chinese citizens.
"Chinese direct investment in the United States has risen six-fold over the past five years. Chinese firms directly employ a rapidly growing number of Americans," he told an audience at the APEC CEO Summit.
"And all these things mean jobs for the American people; and deepening these ties will mean more jobs and opportunity for both of our peoples. And that's why I'm very pleased to announce that during my visit, the United States and China have agreed to implement a new arrangement for visas that will benefit everyone from students, to tourists, to businesses large and small," President Obama said.
The expanded visa program aims to increase Chinese investment in the United States, which has already grown rapidly over the past few years, especially in the housing market: Chinese investment in American real estate went from $600 million in 2009 to $12 billion in 2013. That year, China also changed its law on the amount of money Chinese citizens could invests overseas: Before, they could invest $100 million, but starting in 2013 they can now invest $1 billion.
While Canada still supplies the most foreign real estate buyers to the U.S., China now comes in second—and Chinese buyers are much more likely to invest in higher-income properties in urban areas, cities like New York and San Francisco, two of the most expensive cities in the U.S.
Residents of New York and the Bay Area are well-acquainted with the housing crunch. Today Stephanie Martin-Taylor, news anchor and reporter for KQED Public Radio and Ilya Marritz, reporter for Takeaway co-producer WNYC, look at how foreign investment driving up demand and price in these expensive markets. 
"There's this relatively new trend of people buying properties in the city and not actually spending a lot of time living here," says Marritz. One such person is John Liang, executive vice president of Xinyuan Real Estate Company—the only real estate development company based in China and listed on the New York Stock Exchange.
"Not in my wildest dreams would I be planning on a major Chinese investment movement into the U.S. as we're experiencing today," Liang told Marritz.
The Xinyuan Real Estate Company is building a seven-story condominium on the Williamsburg waterfront in Brooklyn, NY. Though the company has not said this property is specifically for foreign buyers, they are marketing to many buyers in China, says Marritz.
So far, about 20 to 30 percent of those buying property at the Brooklyn condo are Chinese individuals that are still living in China and are not New York residents.
"Maybe [Chinese buyers will] live there, maybe their kid will go to NYU one day, or maybe they'll just rent it out," says Marritz. "I did spend some time talking to one buyer, Wenzhou Xie, a mining executive based in Hong Kong. He said he expects to collect rent of about $3,000 a month on a one bedroom...We'll find out in a year or so when he takes possession of the apartment whether he can get that rent."
Martin-Taylor says that something similar is happening in Silicon Valley.
"Here the tech boom is driving up prices," she says. "We've got tech workers who are very well paid and are competing with everyone else for a relatively limited supply of housing. And we've also got a lot of foreign investment coming into the city and surrounding areas."
Most of the foreign investment being poured into the greater San Francisco area is coming from China and other Asian countries, says Martin-Taylor. A Beijing-based firm called China Oceanwide Holdings recently agreed to buy a piece of "prime real estate" in downtown San Francisco.
"It's plans are for a mixed-use development that will include the second tallest tower in San Francisco next to the Transamerica Pyramid," says Martin-Taylor. "Also, you've got an increase in individual Chinese buyers who want a piece of this market."
Martin-Taylor says that some Bay Area real estate companies have been changing their strategies in order to cater to Chinese investors. Pacific Union, the largest real estate firm in San Francisco, have set up offices in China to help wealthy buyers navigate the market.
"It's a demographic that's accelerating its appetite for investment in real estate for purposes of education, for purposes of lifestyle, for purposes of clean air, and really, to diversify a portfolio that is being governed by a government that could change their idea overnight when it comes to what you're allowed to do with your money," Mark McLaughlin, the CEO of Pacific Union, told Martin-Taylor.
With large Asian investors moving into the San Francisco market, Martin-Taylor says that some locals are now being priced out of the market.
"The money coming from China is really helping some projects get literally off the ground, and it's increasing our housing stock," she says. "People who are a little more skeptical wonder who is really going to live in this [kind of] housing. Is this really going to be an investment in our communities and make it possible for all people to live here?"