Unhappy Meal: How the Fast Food Worker Movement Began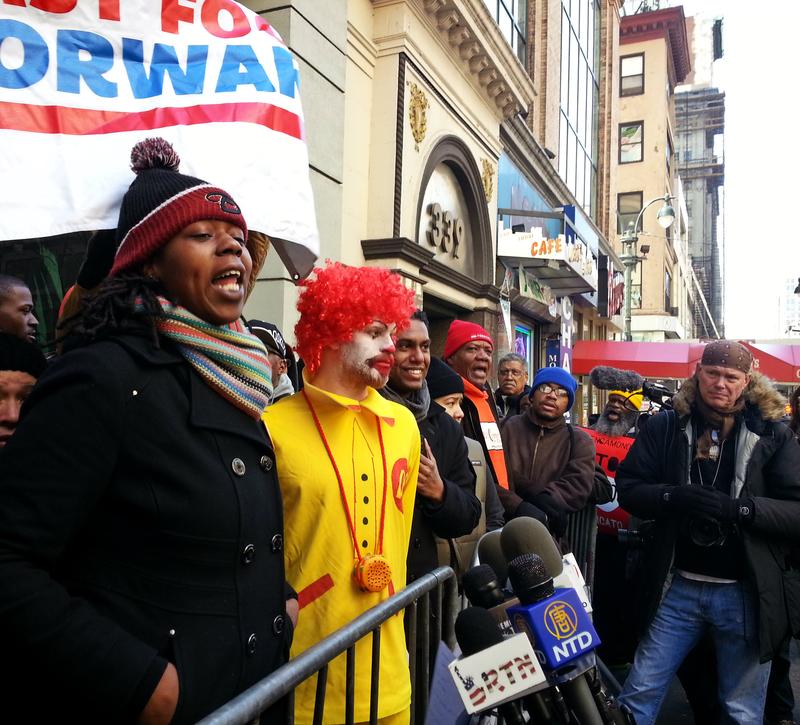 Workers in 33 cities took to the streets Tuesday, to protest what they say amounts to wage theft by the McDonald's corporation. For over a year, fast food cooks and servers have been demanding higher wages and membership in a union.
But the roots of this unlikely movement stretch back two and a half years, to Occupy Wall Street.
When police cleared Zuccotti Park on November 15, 2011, it seemed Occupy had done little more than to generate two months of steady media coverage.
But Jonathan Westin left the park energized.
Looking For An Issue
"It was almost like we wanted to find the next fix, you know?" said Westin, executive director of the neighborhood-activist group New York Communities for Change.
A few months later, Westin found an issue to focus on: dead-end, low-wage jobs.
"There wasn't enough work – people were working part time jobs – and the wages they were being paid were just keeping them below the poverty line," Westin said. "That's when we really thought about should we be taking on industries in a bigger way?"
Westin, who is 30 and grew up in Minnesota, called some meetings to gauge interest.
"At some of those first few meetings we were expecting maybe a couple people. We'd have 30, 40 people show up and it really felt like we had something," Westin said.
In the summer of 2012, his group NYCC reached out to the Service Employees International Union  or SEIU. It claims to be the fastest growing labor union in North America, representing more than one million nurses, janitors, and other service-sector workers.
SEIU sent 33-year old Kendall Fells, a Washington, DC-based organizer to New York. 
Not So Simple
"Everybody that knew anything about the campaign were like, 'This is bad, you gonna lose,'" Fells said. 
Fells heard this especially from more experienced labor organizers. Their view was that the people slinging fries and milkshakes tended to be teenagers and part-timers and you can't organize in a high-turnover industry.
But the workers Fells met were older than he expected, and many had children.
"It was just like the actual demographic of the workers was just totally shocking to me," he said. "And then the heat. People were angry, people were upset and they wanted to do something."
A recent University of California study found three-quarters of fast food workers are adults and more than half draw public benefits.
Over the summer, a plan took shape: The fast food workers would stage a one-day strike. Their demand was bold: $15 an hour (roughly twice their current wage) and membership in a union.
On November 29, 2012, more than 200 workers walked off the job at 40 fast food restaurants around New York City.
The Movement Catches On
Over the year-and-a-half that followed, workers have struck in over 100 cities, from Las Vegas to Houston to Charlotte. Earlier this year, President Obama invited fast food workers to the White House. One of them, Naquasia LeGrand, even made it onto the Colbert Report
Kendall Fells and Jonathan Westin are careful to always credit the movement's successes to the worker-protesters.
But behind the scenes, SEIU is spending heavily to support their efforts. It's funneling money to workers' groups in many cities. Jonathan Westin's group, New York Communities for Change, got $2.5 million in 2012.
NYCC and SEIU are now closely linked. When I interviewed Kendall Fells, the most convenient place was Westin's office in Brooklyn. When I met Jonathan Westin, he suggested the union's local office in Manhattan.
As it happens, Westin's wife, Camille Rivera, has an office inside SEIU. The group she leads, United New York, is also supported by the union.
During Occupy, Rivera and Westin became close.
"We just began spending time together, hanging out down at the park going to the drum circle and those sorts of things," Westin said.
Last year, they formed their own union, and got married. 
Kendall Fells
Jonathan Westin