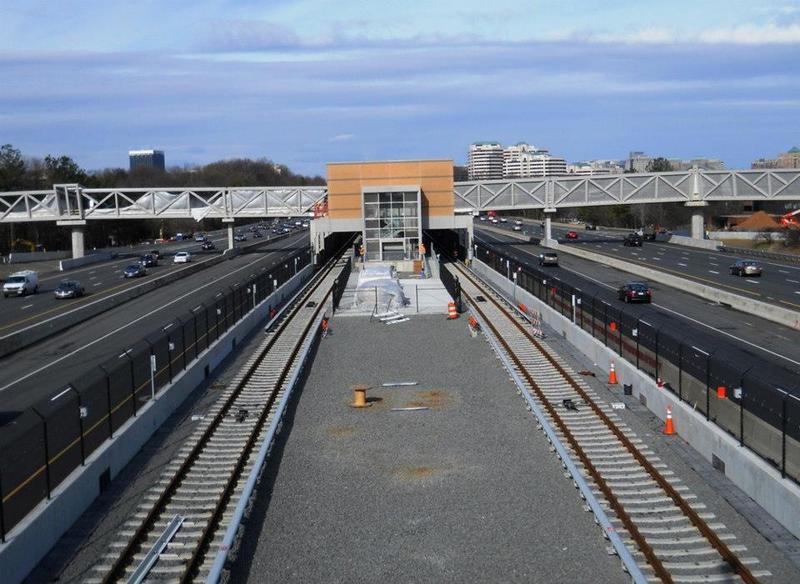 With Phase I of the Silver Line Metrorail project through Tysons Corner running six months (and counting) behind schedule, Northern Virginia commuters and Tysons real estate developers are wondering how the delays came about — especially when considering that the lead contractor is one of the giants in the field of construction and engineering, and several layers of oversight were put in place to prevent the very problems holding up completion.
Lots of oversight, no assignment of blame
The public agency overseeing the Silver Line's construction, the Metropolitan Washington Airports Authority (MWAA), has a team of at least a dozen staff assigned at the project office in Herndon. MWAA hired a construction and maintenance management firm, Washington-based Jacobs Engineering, to lead its oversight efforts. Jacobs has approximately 100 employees working on all aspects of the project. Additionally, officials from Virginia's Department of Transportation and the Virginia Department of Rail and Public Transportation are assigned to the Silver Line's Herndon headquarters, and the Federal Transit Administration also has an oversight role.
Yet when the contractor team led by Bechtel submitted the project for approval in late February, it was rejected with pages and pages of items that needed to be fixed, including missing certificates of occupancy for the five new rail stations in Tysons and Reston. That error by the contractors seemed mystifying, considering the stations cannot open to a single commuter unless inspectors at the Virginia Department of General Services sign off on the certificates.
"Right now we're not focused on blame. We are focused on getting the job done," said Tom Davis, the former Virginia congressman and current MWAA board member who was appointed to the board by then-Governor McDonnell to lead the Silver Line to completion.
"The reason you still have problems after all of this oversight is you still have to go through the inspectors. Inspectors can be a pretty ornery lot sometimes and they are sticklers, and from our point of view, we are not going to accept anything the inspectors haven't approved," Davis said in an interview with WAMU 88.5 FM.
Days after making their most revealing remarks to date about the specific issues holding up the Silver Line's "substantial completion," a milestone that was supposed to be attained in September, officials at MWAA on Monday said there is still no timetable for the end of the remedial work.
Bechtel again declined to make a company representative assigned to the Silver Line available for an interview, although a spokeswoman offered a brief statement.
"We are working together to successfully complete the project," said Bechtel's Michelle Michael.
Fines in the future?
While the public knows some the factors behind the delay (speakers not up to code, trackside computers not functioning properly), explanations for how the mistakes occurred remain few. But when it comes to tallying up the cost, the clock is ticking: on April 9 MWAA contractually may begin to fine Bechtel $25,000 per day if the Silver Line has not been submitted for "substantial completion," a date Bechtel says is subject to change because it was given work outside the original scope of its design.
Davis indicated MWAA would be ready to hold Bechtel to the April 9 deadline.
"The contract clause speaks for itself. Our goal is to finish this before April 9. If it is not done by April 9, we want to get it done as soon thereafter as we can. And you have to balance the fact that if you invoke liquidated damages or get into contract disputes, work may stop," Davis said.
In their public statements, MWAA officials have insisted that Bechtel and its subcontractors would pay for the errors delaying the Silver Line, but such disputes ultimately may be decided in court. Bechtel has experience in fighting and beating public agencies in battles over money.
In 2002 a consortium led by Bechtel sued New Jersey Transit, claiming the agency was responsible for cost overruns of $140 million in the construction of the 34-mile Camden-to-Trenton River Line. Bechtel alleged New Jersey Transit failed to negotiate with another rail agency over shared use of its tracks, delaying the project and inflating costs in the process.
In 2007 the two sides agreed to settle out of court, with New Jersey Transit shelling out $40 million in damages.