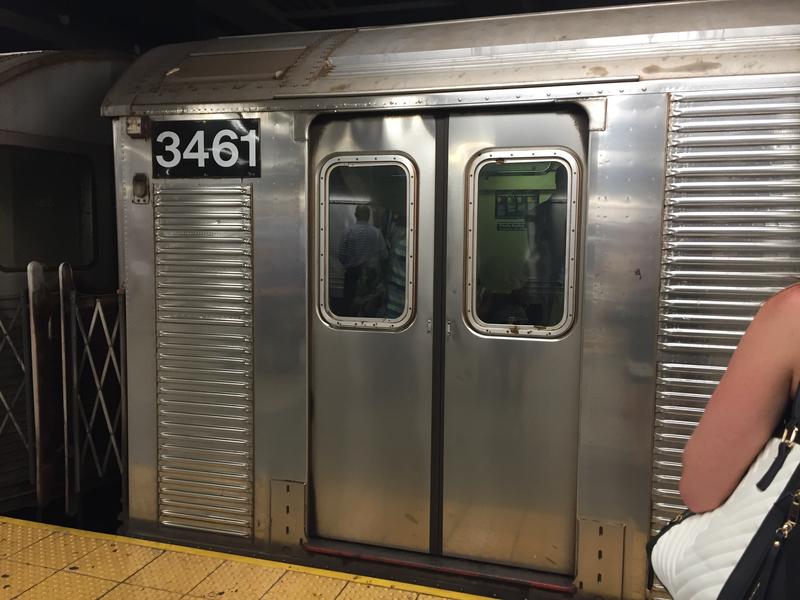 Car 1662 was flagged as problematic by a passenger on July 14th. But that wouldn't be the last time.
@NYCTSubway On yet another 6 train this morning without a/c. Car 1662, Brooklyn Bridge bound, currently at 86th st. 6th train in a week

— Nick LaSpina (@NickLaSpina) July 14, 2016
The transit agency responded with a reference number and a promise to notify supervision. But on July 18, the same car was reported to the MTA. And again on July 28. Then on August 4. All told, 12 people tweeted at @NYCTSubway or @MTA, notifying the agency that car 1662's air conditioning was broken.
Despite MTA's assertions that the agency swiftly repairs hot subway cars once it learns of them, #1662 didn't get a permanent a/c fix until Tuesday, August 16.
MTA spokesman Kevin Ortiz said the agency had known about the car's faulty a/c since June 1 — even before customers began tweeting about it.
"In all cases, our forces inspected the car (1662) and were able to reset the system to quickly restore the car to service," he said. "However, with the repeated malfunctions, we scheduled a major repair, which was completed [Aug. 17]."
But 1662 isn't the only subway car to be a repeat offender. Car 2042 has generated eight Twitter complaints dating back a month. Car 2307 has garnered seven. Car 2432 has half a dozen. All told, 20 separate cars have been the subject of at least five or more tweets to @NYCTsubway this summer. Does this mean the MTA is keeping them in service, rather than repairing them?
"That's simply wrong," said Ortiz. He said that when the agency learns of a hot car, it's repaired as soon as possible. "It's inaccurate to say that cars are running without a/c for months at a time."
But for riders looking to close the loop on their hot car complaints, satisfaction is hard to find. Armed with his MTA-given reference number, WNYC reporter Jim O'Grady tried to follow up on his hot car tweet, first by calling 511. But after being placed on hold for seven minutes, he gave up.
(Ortiz's reaction, when I relayed this: "If he really wants to know, he should have waited a little bit longer.")
Prompted by the nagging colleague who sits in the cubicle directly to his right — as well as his own curiosity — O'Grady then emailed the MTA. After nine days, he received a response...saying the MTA had received his email and would review it.
(O'Grady's reaction: "Terrible answer!")
Ben Kabak of Second Avenue Sagas had a more measured response. "It would be nice to know when and how long it takes them to fix hot cars," he said. "The question is whether they're doing anything with it. It's good that (the MTA) is encouraging people to report them...but what are they doing afterwards? You can't give people service where the answer is 'you have to ride in this stiflingly hot subway car for however long it takes.'"
Another issue: the MTA said it receives between 12 and 16 reports of hot cars each day. But its Twitter account received over 30 reports in the last 24 hours. (Ortiz: "That's still a minuscule number compared to the number of cars that provide our customers with air conditioning.")  As we reported last month, the majority of hot car complaints center on the 1 and 6.
The complaints are "so concentrated on these two lines," said Kabak, "it's going to be a challenge to fix it." He said the MTA may not have enough extra subway cars to provide service on these lines while taking dozens of hot cars offline to repair the air conditioning.
In addition to vexing public radio reporters, a broken subway car telegraphs a message to riders, said John Raskin, a transit advocate who heads up the Riders Alliance.
"Having air conditioning is one of those indicators that the basic infrastructure of the city is working," he said. "When people get into a hot car, it gives them a sense not only that they're going to have a crappy commute, but also that the city is not quite working in the way that people need it to."