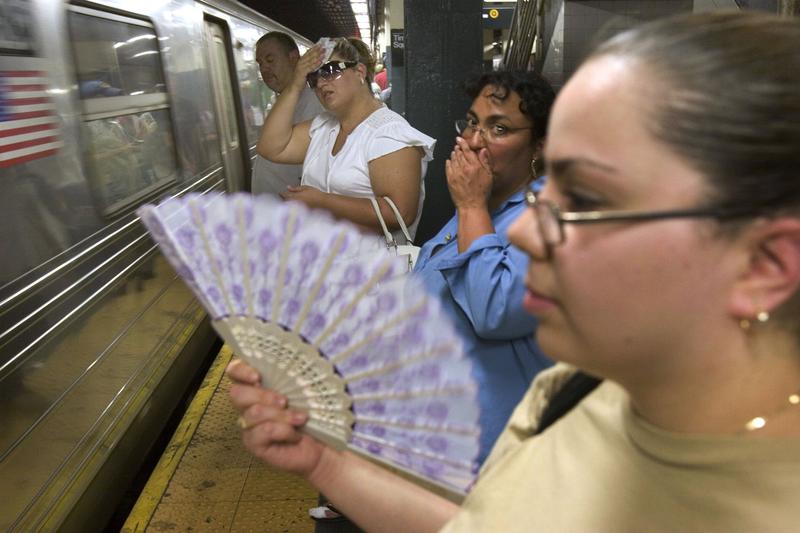 If you ride several different subway lines, you might have noticed a recent trend: one subway car model seems to have more busted A/C units than any other type.
"The majority of the hot cars that we've seen over the past couple of days have been the R62As," said MTA spokesman Kevin Ortiz.
You probably know them as the 1 and 6 trains — as does the riding, tweeting public:
@NYCTSubway just FYI, car 2432 on the 1 doesn't have AC this afternoon

— Chris Lorenz (@Tophala) July 25, 2016
@NYCTSubway No air conditioning in car #2405 on the 1 Train.

— Chris O'Leary (@ohhleary) July 26, 2016
@NYCTSubway can you PLEASE fix the air conditioning on the 1 trains? 2nd time time today my commute has been covered in sweat.

— Emily Nash (@NasherME) July 25, 2016
The R62As date back to the Reagan Administration, and therein lies the problem. "The technology at the time provided for one compressor for each of the air units in the car," Ortiz said. "So if you lost that one compressor, you basically lost all of the air for that entire car."
Newer cars — or older cars that have been overhauled — are built differently. "They have separate HVAC systems, where if one fails, you can use another within that car," said Ortiz. And repairing them is simpler: the HVAC systems "are easily removable from the top of the trains." Almost like Lego, a broken HVAC unit can be popped off a train, repaired, and popped back on. But "that's not the case with the older technology cars," he said, "where you have to work on the entire component as a whole to address it."
Meanwhile, the city is in the thick of a heatwave, which usually exacerbates so-called "hot car" complaints.
---
GRAPH: 90° Days in New York City

---
"Yesterday we had 12," said Ortiz.
Which may not sound like a lot of complaints, when you consider that the system has more than 6,300 cars. But when the percentages work against you, it's miserable: boarding a train with broken A/C feels like walking into a wall of hot, molten misery.
But you are not powerless, sweaty, beleaguered subway rider. If you experience a hot car, make note of the car number, line, and time of day, and let the MTA know: Tweet at NYCTSubway, email the agency through the portal on its website, or call 511.
"Once we receive notification that there's an issue with a car," Ortiz said, "then we will take it out of service at the completion of its next run."
---
---
Another factor dogging the R62As: they're reaching the end of what the MTA calls its scheduled maintenance cycle. Every four, seven and 14 years, all subway cars, regardless of model, receive major overhauls. New A/C units typically get put in during the year seven maintenance work. And this is the year that the R62As are undergoing their seven year overhaul. So relief is coming — albeit slowly, like a local train on crowded stretch of track. Ortiz said it takes about 20 days to overhaul and test a car. And with over 800 R62As in service, the process of fixing them will take "a couple of years."