The Takeaway
California Cities Look for New Ways to Fight Homelessness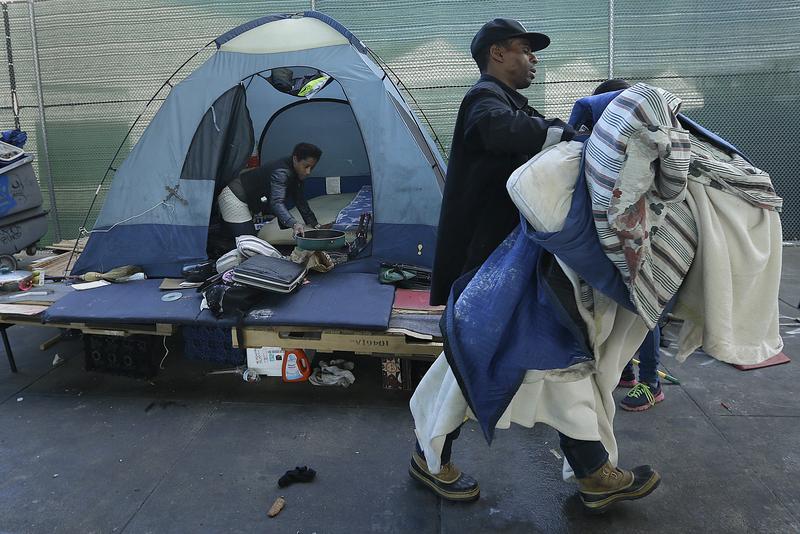 Click on the 'Listen' button above to hear this segment.
Officials estimate there are at least 6,700 homeless people living in San Francisco on any given night. The mayor and city leaders have implemented a number of approaches to combat homelessness, including outreach teams, supportive housing, allowing tent cities, breaking up tent cities, and more. 
But through all that, the city's homeless population has remained steady for a decade. And in the last few years, it's become far more visible as gentrification and development have pushed people who used to live in alleys and out of sight and into tents across the city.
Kevin Fagan, a reporter for the San Francisco Chronicle who has been covering homelessness for years, says the city has made great strides in housing tends of thousands of formerly homeless individuals, but it's difficult to stay ahead. The issue, he says boils down to poverty and housing — two major issues in San Francisco.
Last year, the Chronicle led the San Francisco Homeless Project, a reporting collaboration between dozens of news organizations. Fagan's latest piece for the project is called "No Easy Path to Ending Tent Cities."
Just 90 miles northeast of San Francisco, there's an ambitious effort underway to address homelessness in Sacramento. The city's new mayor, Darrell Steinberg, has big plans for reducing the number of people on the streets and is giving aid to those struggling with mental illness.
Mayor Steinberg's first act is to expand access to warming centers for the nearly 2,600 homeless people in Sacramento. Then, he plans to free up at least 1,500 housing units by the spring. Ultimately, the goal is to achieve "Functional Zero" — the point at which there are more housing units than homeless people. While he's reluctant to implement tent cities — which other West Coast cities have implemented — Mayor Steinberg talks about his focus on aiming high, with plans that are more than just a quick fix.