The Takeaway
The Meaning of Michelle: A Homage to the First Lady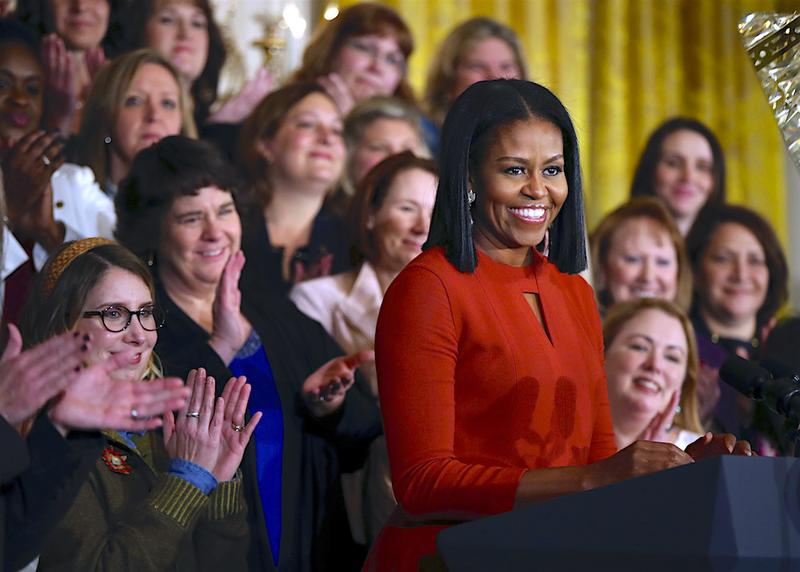 Click on the 'Listen' button above to hear this interview.
First Lady Michelle Obama has intrigued and inspired millions of people during her eight years in the White House. She's championed causes like childhood obesity, supported veterans and their families, curated a vegetable garden, and exhibited grace and poise at hundreds of official events.
Mrs. Obama has also shown her sense of humor and her "cool" side by dancing with Jimmy Fallon on "The Tonight Show" and singing "Carpool Karaoke" with James Corden as they cruised around the White House grounds. 
In two days, she will become citizen Michelle Obama again. She leaves her office with an approval rating that is even higher than that of her husband's, and a legacy that has redefined and challenged traditional perceptions about beauty, strength, and what a first lady can be. 
Author Veronica Chambers has compiled an homage of original essays from a diverse group of contributors, like filmmaker Ava DuVernay, chef Marcus Samuelsson, and WNYC's Rebecca Carroll, in a book called "The Meaning of Michelle: 16 Writers on the Iconic First Lady and How Her Journey Inspires Our Own." 
Chambers is an author of numerous books, including the critically acclaimed memoir "Mama's Girl." Currently a JSK Fellow at Stanford University, she has also been a senior editor at The New York Times Magazine, Glamour, and Newsweek.
Click on the 'Listen' button above to hear our full conversation with Veronica Chambers.