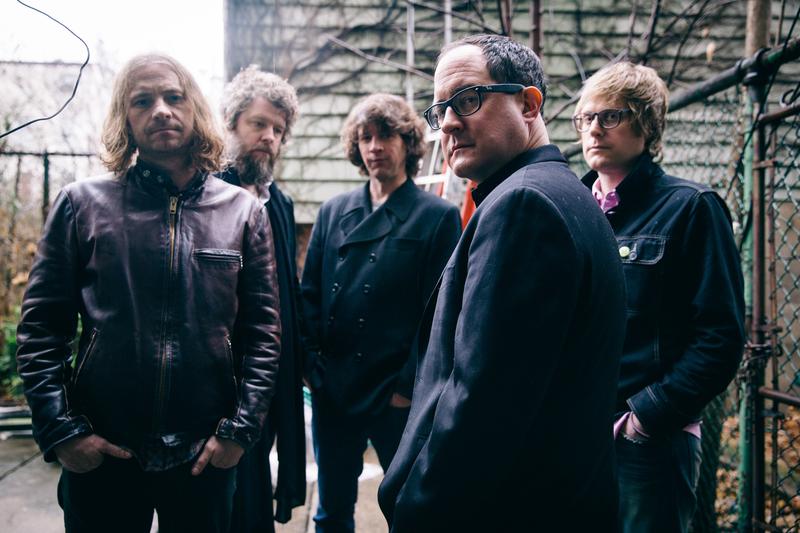 The Hold Steady, born in the Twin Cities but long based in Brooklyn, have a new album coming out on March 25, Teeth Dreams, one that they've taken their time with. Recorded over two years in Brooklyn and Franklin, Tenn., it's the band's first record since 2010's Heaven Is Whenever. It's also the first made with guitarist Steve Selvidge, who joined the band following the departure of multi-instrumentalist Franz Nicolay in 2010.
They've doubled down on the classic rock guitar riffs that drive their songs, but the band's most distinctive feature remains the speech-song vocals of Craig Finn. Somehow he's able to hint at melodies while still delivering his wry, knowing observations in a way not so far removed from good old-fashioned storytelling. 
And for fans eager to hear what's next from Finn and the band, Rolling Stone offered up a first taste with the song "I Hope This Whole Thing Didn't Frighten You."
Here are the Soundcheck crew's kneejerk reactions to the first track the band has released. Check it out here and let us know what you think.
What a cool song. The layered guitars almost sound like they could break into "Don't Fear The Reaper" at any moment (and yes, I mean that as a compliment), but the most striking thing here is the obvious verse/chorus structure. Craig Finn actually seems to be double-tracking his voice in the choruses, and there's some kind of processing on it too perhaps? Anyway, it's one of the most explicitly "song-like" things I've heard from them. (John Schaefer)
A mid-90s "I don't know what else to do with my distortion pedal" throwback. I kind of thought for a minute at the beginning I was hearing that Ataris cover of "Boys of Summer." I know they want this to be a "big" rock record, but there are other ways to fill an arena! Craig Finn does have that lovely sandpaper voice, but when it's doubled on this track, it's like the grains are rubbing each other in the wrong direction. (Dan O'Donnell)
I've never particularly connected with The Hold Steady, though much of the music I do love shares DNA with Craig Finn's working class brand of fist-pumping bar rock 'n' roll. It's loud and bold, but with lyrics that, to me anyway, come off as a little too writerly, and a speak-singing delivery that pulls me right out of the song. Which is all to say that the new song, and it's long elusive title, is perfectly fine with all those requisite "Hold Steady" boxes checked, but it just feels a bit of the same sound that just doesn't do it for me. (Mike Katzif)
Big guitars, doubled-up vocals, a whiff of Thin Lizzy. Best song I've heard all year, can't wait for the full-length, world domination assured. (Editor's note: Author's clunky college band opened for proto-Steady outfit Lifter Puller back in the day, loves anything Finn does, and thus is totally biased.) (Joel Meyer)