Soundcheck
Will Album Covers Ever Be This Good Again?
From 1967 to 1982, you could not be a rock fan without coming across the work of Hipgnosis. This design team, founded by Aubrey "Po" Powell and the late Storm Thorgerson, created some of the most famous album covers ever made.  In the age of the Rock Star, Po and Storm were rock stars of the graphic design world. The prism on the cover of Pink Floyd's Dark Side Of The Moon?  Their work. The naked children climbing up the Irish rock formation known as Giant's Causeway on the cover of Led Zeppelin's Houses Of The Holy? Also Hipgnosis...  Although there's a bit of a back story to that one. 
Turns out, there's a bit of a story behind many of those now-iconic album covers.  And Aubrey Powell is just the man to share them. His new book, Hipgnosis Portraits, goes behind the making of album art done for Peter Gabriel, Paul McCartney, AC/DC, the Alan Parsons Project, 10CC, Elton John, and dozens of others.
In an extended conversation with Soundcheck host John Schaefer, Powell recalls the golden age of the album cover, talks about the moment when he realized his niche in the musical world was coming to an end; and responds to our Soundcheck audience's answers to the question: What's your favorite album cover?
---
Pink Floyd, Dark Side of the Moon
Aubrey Powell, Hipgnosis: We went to have a meeting with the band and all of them said, "Oh no not one of your old surreal ideas again." Richard Wright, the keyboard player said, "Why can't we have something very simple for a change. Something a bit like a chocolate box, like black magic." It wasn't our style at all. Storm sketched it out on the back of a serviette and I said that looks fantastic. It had the lights of the light show, plus it had this single triangular image and it has become iconic. Sometimes simple is best.
---
Pink Floyd, Wish You Were Here
AP: When Pink Floyd approached us, we heard the music and listened to the lyrics and it's all about the dishonesty of the music business basically. We needed to come up with a symbol to go with that. Our idea was -- in business one man's dishonest, one man is honest. One man is getting burned, so okay, let's set him on fire.
---
Pink Floyd, Saucerful Of Secrets 
AP: At that time, the Pink Floyd's said we don't want our picture on the front we basically want something in terms of thinking about what's going on right now. Well everything was going on, Marvel Comics were happening, alchemy was happening, people were dropping acid, people were doing all sorts of stuff. So we decided to create a montage, a collage of all that sort of atmosphere and it was all done in a darkroom.
But of course the band said maybe we should have a little picture somewhere.  So we took a picture of the band in infrared, and put that on the front. If you look there's a  tiny little picture of them amongst that melange of images. But it was all the sort of time when people were reading the I Ching and it was a very cosmic period. So that album cover reflects that cosmic time.
---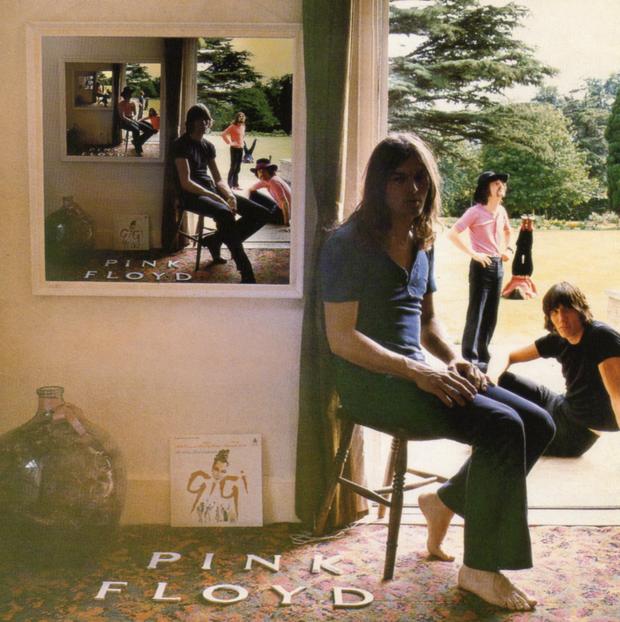 Pink Floyd, Ummagumma
AP: Nothing's new, everything is plagiarized but it's how you plagiarize and how you use it. We actually got that image from a cocoa can from the 1850's which was called Droste Cocoa which was a Dutch company. On that image there's a woman holding a tray with a woman holding a tray…it goes into infinity.
So we decided to try to recreate that just as an image on the wall. If you look at that cover there's all sorts of things in there. There's a Gigi cover on the floor. We changed the band round in the order and as soon as we had done that everybody said, "What does this mean?" To be frank, the Gigi album was there to hold space. We rearranged the band because they were all slightly jealous of each being better looking than the other. There were all kinds of politics involved. There was nothing there that was subliminal or sinister.
---
Pink Floyd, Atom Heart Mother
AP: We were never politically correct and nor did we ever want to be. I think the best example of visual puns if you like was, Pink Floyd and the cow, the Atom Heart Mother. When we did that it was just a picture of a cow in a field on a front cover. It was the number one album in America and everybody in the record company management said, "You can't do that." And the band who supported us as with all our clients said, "Yes we can." There's no name, no title just a picture of a cow. Now for us it was reverse psychology. You put that up and everybody goes, "What is that? Who is that?" among all the different albums in the stores. So it worked. This sense of humor that comes with a Hipgnosis album is absolutely essential.
---
Led Zeppelin, Houses of the Holy
AP: In the book, I've put the outtakes of that. Originally it wasn't going to be a bunch of naked children, it was going to be a naked family. But it poured and rained for seven days. Every morning and evening it didn't happen so I had to have a rethink. I shot everything in black and white just with two children and collaged it all together and hand-tinted it. 
---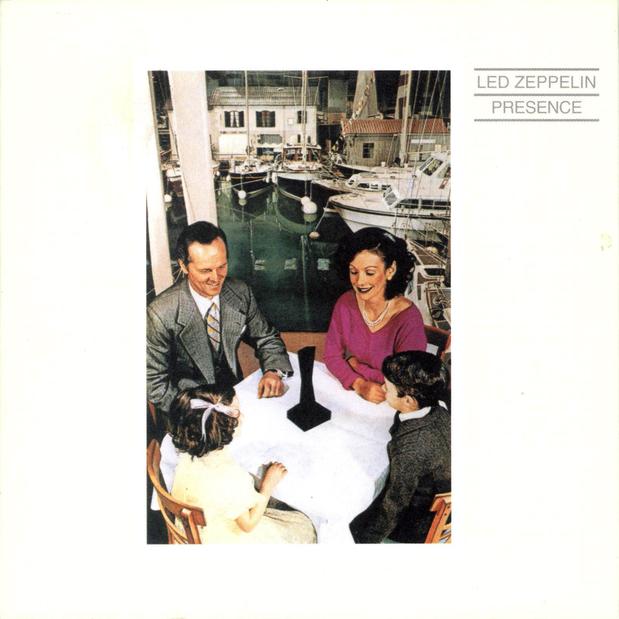 Led Zeppelin, Presence
AP: We were just sitting around having a discussion about what were we going to do with this album cover, and somebody said, "Well people are obsessed with animals. Cats, people rely on their cats. They stroke their cats for security. Imagine a room full of people and they all had black cats." Well that was kind of silly for a Led Zeppelin cover, how about we think of something more instinctive. And then this phallic object came up. Black, it has no sides to it. It became a symbol for an energizing force which is exactly what Led Zeppelin is. I just took a huge made up sculpture and put it on a table of a hotel room and said, "That's the album cover." And Jimmy Page went, "That's the album cover" immediately. He recognized the power of that singular black image. He thought of that as a dark force not for good, but as a dark force that everybody needed. And that's the power of Led Zepplin -- the power of Led Zeppelin is untold.
I took photographs from old National Geographic magazines from the 1950's and that added a light science-fiction look and that look is deliberate. If we took it in the modern context at the time, it would be outdated very quickly. I wanted it to have this overall almost bad sci-fi movie feel. It's much better to place it in a context that's very suburban and conservative in a way.
---
Peter Gabriel [Car]
AP: The thing was we did not want to put portraits of bands or rock stars on the front, because it was uninteresting. He said, "There's a way to do that and I want an interesting way to do that and that's your challenge." I love working with Peter Gabriel, he's so brave. He said, "Here's my face and do what you want, distort it. make my face look grotesque. Do what you like."
---
Peter Gabriel, Peter Gabriel [Melt]
AP: In that day Polaroids were multi-layered chemically. If you took a Polaroid and immediately took a pencil and started rubbing it over, what would happen was all the colors and shapes melted into each other. It looked like melted candle wax. We got in the studio and shot dozens of Polaroids and everybody got in there with their pencils, including Peter. Peter chose the best one, and actually I couldn't really tell you who took that photograph.
---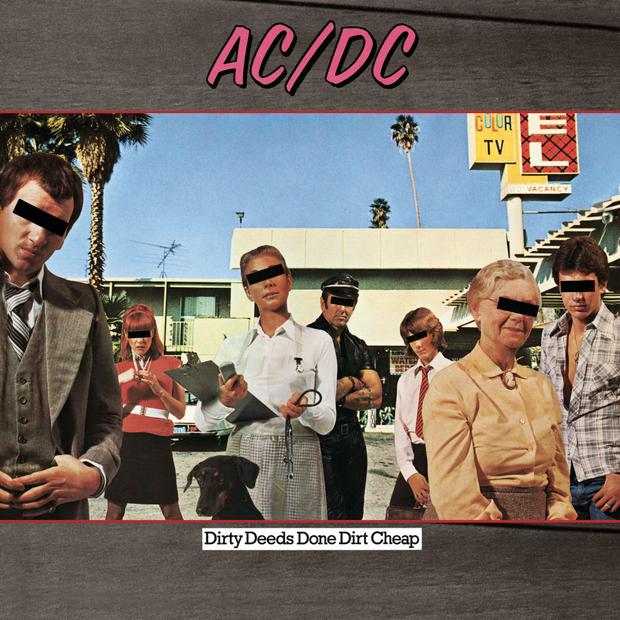 AC/DC, Dirty Deeds Done Dirt Cheap
AP: If you look at things these days, people have their faces blacked out in pictures, either because they don't want to be seen for some strange proclivity or something that was unsavory about them or it had something to do with a police report. This hidden agenda-- that plays an important role in that front cover. When you look at it, there's a school marm there, a school boy there, a young woman there and they have these blacked out faces that indicate that there's something more behind them than you really see. This of course is what we're always after. 
---
A Few of Aubrey Powell's Favorite Album Covers
Emerson Lake & Palmer, Brain Salad Surgery (H R Giger)
---
Patti Smith, Horses (Robert Mapplethorpe)

---
Rolling Stones, Sticky Fingers (Andy Warhol)

---
Big Brother And The Holding Company, Cheap Thrills (R.Crumb)