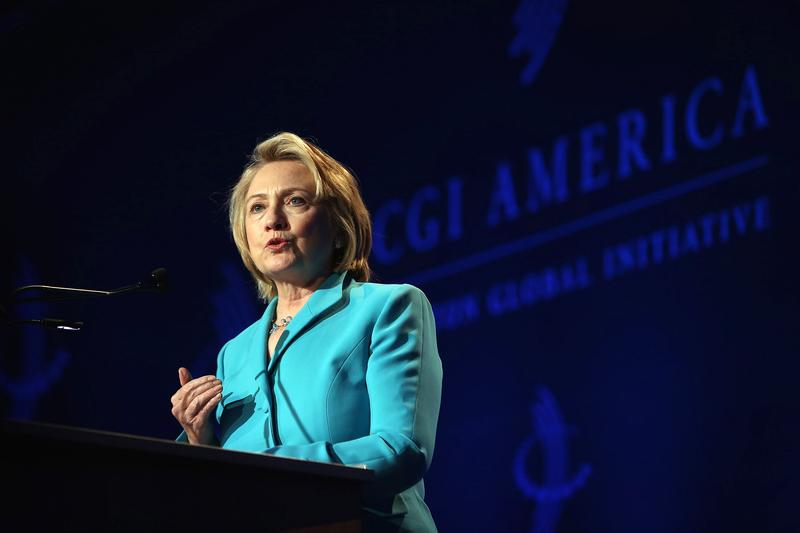 Susan Page, Washington bureau chief for USA Today, talks about her interview with Hillary Clinton in which they discussed her new memoir, the upcoming book tour, and the latest rumbles on a presidential run. Plus: the US response to the growing crisis in Iraq.
Transcript of the "Fresh Air" Interview Excerpt we Played on Air
Full interview available on the NPR website.
GROSS: So just to clarify - just one more question on this - would you say your view evolved since the '90s or that the American public evolved allowing you to state your real view?
CLINTON: I think I'm an American. (Laughing) And I think we have all evolved and it's been one of the fastest most sweeping transformations.
GROSS: No, I understand, but a lot of people already believed in it back the '90s. A lot of people already supported gay marriage.
CLINTON: But not - to be fair, Terry, not that many. Yes, were there activists who were ahead of their time? Well, that was true in every human rights and civil rights movement, but the vast majority of Americans were just waking up to this issue and beginning to, you know, think about it and grasp it for the first time. And, you know, think about their neighbor down the street who deserved to have the same rights as they did or their son or their daughter. It has been an extraordinarily fast - by historic terms - social, political and legal transformation. And we ought to celebrate that instead of plowing old ground, where in fact a lot of people, the vast majority of people, have been moving forward - maybe slowly, maybe tentatively, maybe not as quickly and extensively as many would have hoped, but nevertheless we are at a point now where equality, including marriage equality, in our country, is solidly established. Although there will be places.
GROSS: I - I...
CLINTON: Texas, just to name one, where that is still going to be an ongoing struggle.
GROSS: I'm pretty sure you didn't answer my question about whether you evolved or it was the American public that changed (Laughing).
CLINTON: I said I'm an American, so of we all evolved. And I think that that's a fair, you know, that's a fair conclusion.
GROSS: So you're saying your opinion on gay marriage changed as opposed to you - you just felt it was comfortable...
CLINTON: You know, somebody is always first, Terry. Somebody's always out front and thank goodness they are. But that doesn't mean that those who joined later in being publicly supportive or even privately accepting that there needs to be change are any less committed. You could not be having the sweep of marriage equality across our country if nobody changed their mind. And thank goodness so many of us have.
GROSS: So that's one for you changed your mind? (Laughing).
CLINTON: You know, I really - I have to say, I think you are very persistent, but you are playing with my words and playing with what is such an important issue.
GROSS: I am just trying to clarify so I can understand.
CLINTON: No, I don't think you are trying to clarify. I think you're trying to say that, you know, I used to be opposed and now I'm in favor and I did it for political reasons. And that's just flat wrong. So let me just state what I feel like you are implying and repudiate it. I have a strong record. I have a great commitment to this issue and I am proud of what I've done and the progress we're making.
GROSS: You know, I'm just saying - I'm sorry - I just want to clarify what I was saying - no, I was saying that you maybe really believed this all along, but - you know, believed in gay marriage all along, but felt for political reasons America wasn't ready yet and you couldn't say it. That's what I was thinking.
CLINTON: No. No, that is not true.
GROSS: OK.
CLINTON: I did not grow up even imagining gay marriage and I don't think you probably did either. This was an incredibly new and important idea that people on the front lines of the gay rights movement began to talk about and slowly but surely convinced others of the rightness of that position. And when I was ready to say what I said, I said it.
GROSS: OK, thank you for clarifying that.