The Hijab: For Faith and Fashion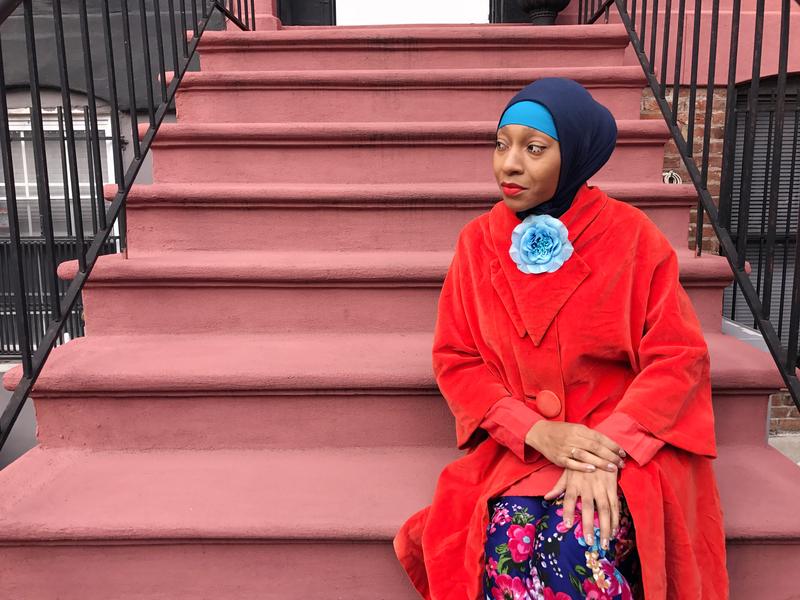 On a recent, chilly Monday morning, a photoshoot was taking place in an East Williamsburg, Brooklyn warehouse. Stylists were bustling about and photographers were shouting directions, but what set this scene apart were the models. They were covered from head-to-toe, baring only their faces and hands.
The models were women of faith, represented by Underwraps, which bills itself as a modest modeling agency.
"I brought the essentials that every model should have: mascara, eyeliner," said Jaharrah Ali, who has been modeling for Underwraps for two years. "But the most important thing for me is that I always bring a long-sleeve black shirt because I would like my arms to stay covered during photoshoots."
At a time when many Muslims are expressing fear about wearing symbols of their religion in public, the hijab has been gaining momentum in mainstream fashion. Dolce & Gabbana introduced a line of hijabs and abayas earlier this year in their signature prints, Vogue just launched an Arabic edition, and Muslim spending on fashion is on the rise.
Hijab-wearing models have also become more coveted among big brands. A recent CoverGirl campaign featured hijabi blogger Nura Afia on a Times Square billboard.
"If I have a Muslim model who covers her hair, I'll make sure the client fully covers it," said Nailah Lymus, a designer, stylist and founder of Underwraps.
"This is a new concept, this whole agency," she said. "Sometimes you think, 'Oh, I'll just kind of drape something across the neck, but if i have a Muslim model who covers her hair, it fully needs to be covered."
Lymus has been wearing a hijab since she was five to honor her Muslim faith. But as she grew up, she started to see it as a fashion statement. On a recent fall day, she wore a bright orange coat over floral pants and matching blue stilettos. Her navy and turquoise hijab pulled the outfit together.
"Fabric is more manipulative than hair, and I can do all types of styles with my hijab because it's fabric." She then joked, "I can be more fashion-forward with my hijab than you with your hair."
Other entrepreneurs are trying to make the hijab fashionable and functional. Arshiya Kherani started an activewear line for Muslim women called Sukoon. She came up with the idea after her bandana fell off while she was running a half marathon.
"That was a pretty mortifying moment for me," she said.
Nowadays, she runs the Williamsburg Bridge every morning in a hijab from her own line.
"When I get on the bridge, I always notice that I can feel the air coming through to my scalp, which is amazing. I never used to be able to feel that," said Kherani.

A classic hijab usually consists of a large rectangular piece of fabric that's wrapped and pinned to the head. Kherani's version is light, breathable, and when unfolded, it has the shape of a giraffe. The legs can be stuck to the main fabric with Velcro to ensure the hijab stays in place.

An increasing number of young Muslims see mainstream fashion as a way to express their own take on their faith, according to Reina Lewis, professor of cultural studies at London College of Fashion, UAL and author of "Modest Fashion: Contemporary Style Cultures." 
"Muslim women I have spoken to told me that they specifically use fashion to communicate to onlookers that they are part of modern society. They do this to fit in, but also to challenge negative stereotypes that see Muslims as somehow not part of modern Western society," said Reina.

Some religious conservatives object to the idea of using the hijab as a fashion statement. But as Arshiya Kherani's activewear line starts to take off, she said she's happy with the attention she's getting, as an entrepreneur and a Muslim woman.
"If huge organizations with lots of influence and capital start to look at me as a person, and say, 'Hey, I'm gonna make something that she'll love and she doesn't have to wear a sweater on top of,' I think that's great."