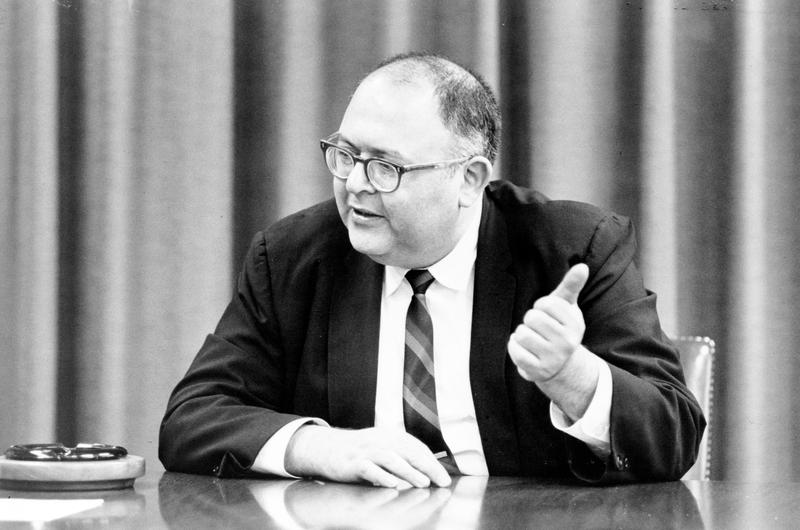 Summary
The exact date of this episode is unknown. We've filled in the date above with a placeholder. What we actually have on record is: 196u-uu-uu.
Patricia Marx interviews futurist Herman Kahn on the prognostications and forecasting methodologies outlined in his recent book "The Year 2000." Kahn tackles issues such as poverty, population changes, technology and industry, race relations, environmental and social engineering, and the potential threat of nuclear war. Positing that the central issue of the 21st century will be the search for meaning and purpose, Kahn characterizes the post-industrial man as a "new" and "superior" human grappling with the potential Faustian repercussions of his new-found progress and success.
WNYC archives id: 56216
Transcript
Title: Patricia Marx Interviews: Herman Kahn
Last Updated: 2016-06-16 7:14PM
Origin: https://opentranscript.herokuapp.com/transcripts/patricia-marx-interviews-herman-kahn
This transcript was generated by Open Transcript Editor Pilot and may contain errors.
Read more about how this transcript was created at https://opentranscript.herokuapp.com/

For centuries man has been speculating about the future but only recently has he begun
to make systematic studies of the kinds of futures that he may choose for himself.
I'm delighted to have as my guest today the provokers of an original thinker
Herman
can who is co-author of a book entitled The year two thousand a
framework for speculation on the next thirty three years. Mr Khan
is currently director of the Hudson Institute and also has written several other
controversial
books including on
escalation thinking about the UN thinkable and on the Duma nucular war.
If you can I wonder if you begin by telling us a little bit about the Hudson Institute.
We're a nonprofit policy research organization. We work in the area of national security
international order public policy
generally how did you get involved in doing the study of the year two
thousand. Most of our work is future oriented five ten years
ahead and that's about all you can do seriously for the kinds of things we do.
We just thought we would take a flyer looking at thirty three years. And this is done as much for fun
as serious.
Now it's turned out as we hope this word that many parts of the study are serious and
even more will be serious in the future.
In what way are the serious what's serious
aspect of. The thing which is serious right now. Really has two aspects one we're
looking at right development problems and it turns out for development issues. A twenty to thirty
year perspective is exactly right. If you're trying to growth rate China change the graph of a
country from say two percent to three
percent and the birth rate from three percent to two percent that makes a two percent
difference now thirty five years that shows up as a factor of two in
the income per capita very impressive in ten years. It doesn't show
up very much so you must look this is
the roughly speaking you've got a Latin American president say something like this.
Anybody who says he can make you rich in a decade is a demagogue you just can't be
that rather surprisingly it can be done in thirty years. Why don't we get started.
Did you solve the new math and methodology to do this kind of study or is it just an extension
of the previous kind of skills and techniques.
Well basically all extensions of previous skills and
techniques the particular combination we use in the way we use is very
specialised or these parts from are. A good deal of the
material is. Normal projection forecasting that is you're looking
at ways of. Technology
changes there. The big difference what we do here that many organizations
do is we pay a lot of attention to the rate of innovation. So one most
important thing is not improvement of current technology but how rapidly new ideas come it.
That's a very hard thing to be take because if you know what they were you'd be doing it. So trying to predict
the rate at which perfectly unknown ideas will come into the
system rather surprisingly you can do remarkably well on
it and we spend a lot of time and that type of thing.
How can you judge what the likelihood of the reliability is for instance in your book you
did say that people that were forecasting if they done it at the turn of the century they
never would have predicted World War One Depression World War
two Einstein. How can you what degree
do you think it would be
reliable. Oh well you can't predict things like relativity
theory because that's a real change the nature of science. You can't put
a quantum mechanics that's a real change the nature of science. Once these things have come
in you may get some sense of the rate at which the new ideas will
be absorbed and you look at past examples get analogies if you
can do for the reliability of the study is
likely to be greater than thirty or sixty years ago.
Yeah I happen to believe that. The prediction the last of the twentieth century may be a lot easier for
many of the things that the first two thirds. Most important as basic picture of the world
as being well become. You can make a good analogy here. If you'd gone to
the Treaty of Vienna peace conference we had an eight hundred
fifteen and you asked the people there. What do you predict the next twenty five years. They almost
I think invariably would have said the same as the last twenty five years revolutionary
violence sweeping Europe to keep it
down in fact the next hundred years or rather the peaceful You had eight hundred
thirty nine hundred forty eight but they were very violent and then the most interesting thing that occurred was the rise
of pressure has been totally overlooked. We have to think that Japan will pay the same role
again the rise of Japan may be one of most important events of the last third of the
century and then of course after this hundred years it was probably one hundred fourteen.
Well the picture is very much of a kind of look rather lengthy period of relative calm.
Maybe the end of the century and then unless you use that time
well and it's hard to say what that
means very likely catechisms of the one nine hundred fourteen
so hopefully not as destructive. But potentiality of course they could be much
more recently present do mean nuclear holocaust.
That's one of several times the things we tend to worry about
now and again there's a certain bias in our studies. If you
give human being societies enormous range of new potentiality as we're
getting abilities to really design things and new choices and new ways of doing
things and just enormously expanded possibilities. Your first of
the attitude is of course my God it will be a paradise. You know
everything your second attitude is offered but look at the many ways you can get the
travel where at the second level right now I hope you get back to the original
then but still there have many things you can do well but.
Really we tend to look at the difficulties you're getting into. And you can bust them and they're
just
enormous. Do you feel that the Policy Studies which is
one of the aims in this to avoid the difficulties is just essential.
This is the hope. I mean now we do not yet take the serious enough to get that attitude.
We're starting with really a three year program have these studies. I would hope within
the one hundred sixty eight to put out two more books on the medium long range future.
And
then use the three books of the original book the year two thousand as a basis for
very serious systematic studies where we do a lot of outsiders sort of have to have the bucks now
to get the outside as deeply involved. As they want otherwise your visit here to go
away but by having a bus we have a shared understanding shared and adults
share theories shared metaphors. So we really hope to work with something new out
of fifteen a couple hundred
people and do a very systematic series of studies on many aspects the
future when you speaking of the long list of problems. Most of
the many problems that we're very aware of like the threat of nuclear war obviously
the threat of population explosion in mass starvation id's
the magnitude of the problems are there new and different problems. Which is isolated.
They tend to be somewhat there for the first look at war for example we tend to
say the world is stable or safer now than it was ten years ago and this can be helpful.
On
the published explosion we would not be surprised it was not on the
reasonable control.
This year the in years and have a very good harvest and I think the fears of many people had are
really mass starvation in the early seventy's is not
likely now that doesn't mean I myself was against the decision of the US government to cut back
on food production because they're afraid of food services now read rather starvation. I think it's better to
have the food services. As a hedge if things go
badly. Why do you think you disagree with many other prognostications masterbation.
They don't really disagree we just look at them I think some of them are carefully.
Let me make a fairly blunt
remark. Anybody who goes who gets up a platform as fast talking about
the population explosion. And that starvation. Tends to get a very
receptive audience people like to hear about this kind of calamity. Funny way they
really like to hear about it and it seems strange that the man on the platform looks like his
concerns. If something I guess I'm just not I think you're wrong but I don't know that you're
wrong but I think you're but you may be wrong fact I think the problems are rather high the now these issues will come
up but I can't be certain that man looks kind of cold.
He looks like he doesn't care about people and is a lot stronger than that it looks like a
dangerous statement because he cannot be certain now my own policy is let's look at what's most
likely to
happen. But that's hedge against disaster. The US government policy was
the recent presidents. Presidential Commission. They looked at it and they said the chance
to like is we have a food surplus not a food shortage in the near
future and therefore they cut back on US production increase
controls now. I would've done the other way I would have said it's very possible we would not have any
food shortages that sort of increase of larger food anyway to
hedge and let us deal with the problem of price supports and the farmer issue in
a different way.
Well if there is danger that this lack of the sense of urgency study such as
you made will actually contributed very
probably absolutely. Present one of the reasons why the population seems like
to be under control is because people overstated the problem. Now I don't know what to do
about that they were in the business of trying to get these things as best we know how.
And on most issues or we don't as what's the impact of our.
Buddy recently asked Is it the best we could do now it's
very difficult to move human beings. You want to kind of move them without overstating the issue.
So there's obviously this you may do a rather important service and I go around the bombing people for
that reason I think never right I was there that they want.
What are the areas we worry. And if we're asked. We simply give the best estimate we
have and we talk about the uncertainty and the points of hedging but that's less dramatic
than painting a fairly bleak
picture. One of the item is that you make in the book is
that contradict or deny the common belief
that poverty is the cause of disruptions in
instability throughout the world and you say that actually it's industrialization development and can
cause instability. Does this argue against giving economic aid
in industrial lising helping underdeveloped nations to
develop you know it argues against the common argument that I use many people when they
say the United States should help foreign
countries appeal to feelings of guilt shame
a fear they say you can't live with these hungry millions.
Now actually if you're a conservative senator or a conservative
congressman you won't mention it but you will think to yourself This man is telling me that all of
these millions of hungry people are mad at me hate me and I can buy a mop I
give him a few dollars. I'm smarter than that you know I know if I buy them up this way I got
madder at me which is
true and it's a very counterproductive kind of appeal but also it's bad for the A lot
of world this kind of appeal. To mean the basically helping other people
is that you're rich and they're poor and then either help you don't ask for help
you and furthermore there is a large
trend about transmitting ited States you can get money on this appeal.
I've talked to many conservative congressman. Well you could do it this year in many years
they
agree if you can persuade them that this really helps receptive. They would love a very
large budget when that happens States and what I'm suggesting is we should really divide us
a program to two parts one part is done for the particle benefit United States. Here are part
of something better for the recipients and not for
us now in many cases the membership may in the short to medium and hurt the
United States. I don't care which we can live or that.
You know. It's also very important to make these
comparisons
probably by and large very few members your audience will say. Feel as
he's got it on them as well as Rockefeller that he's in the neighborhood they know what they're like and so on
they compare themselves to their friends their relatives their father their past. This is true
around the world.
Now if we're very successful say in Latin America we may double
the current Cross National part of our capital of say three hundred dollars so my six hundred or thousand.
That's very impressive.
We'll go to fifteen hundred that's even more impressive by the other century and the other hand it will be
only five to ten percent of the U.S. Gross National part of our capital.
So it is true that America will think of these people being very poor generous actory from
their point of view they will be ten times as rich as their grandfathers
five times richer their fathers.
Two or three times richer they are today. They have done very well they've done better than we were at
the turn of the century. Why should they be thought of as poor they don't make the compresses
we make the comparisons and force them on
them but they also make the comparison. Certainly in this country than eager to
make this very costly with a wife and it's neighbor
and it's mixed in with I'm sure he makes the
comparison but these are the nigger the white compares the Rockefeller. Is a
and even if I was I would do it I say they go to tell
me that the negroes worse off today than he was twenty years ago and I'll say why. Well his death
rate Negro baby just be three times out of white now is four times that of
white and actually that's a legal basis of an enormously. What they're
saying almost as if the white baby should be killed them even up.
Biological the gap among young negroes and young whites is causing
today.
People as far as I can see. The gap will still exist by then
the century probably will be substantially smaller but the more important thing is an exam self will be a
lot richer at the end of a century.
You barely touch
race strife conflict considerable violence
and why isn't it seems such a Janet major issue
facing all we know we have some discussion of it so I think you're right but we could
have more of one thing we're trying to study three years ahead and I suspect the
problem will have been largely not solved
but rationalized with. Let me give you a sort of likely prediction.
You have a great deal more in a marriage most Negroes will be middle class in ten or twenty years back
more than half are now and the rest are rising very rapidly.
So you have a situation you have a very large number say rough patches around say we have you know wanted
to by the end of the century we've got to replace this combination that we you
know tens of thousands of distinguished
negroes. And the least most of the country say half
the country say the liberal East and West Coast.
You'll find that's the no discrimination. Maybe somebody in
this nation. And you'll find that at least at the rhetorical level.
It's actually a
lot on the other side actually founded many causes one for black power which will
give them a sense of pride does on the Greek side of these pathological sundries
very destructive a sense that they are their own masters that they have.
They're not depending on
whitey and then those who decide to integrate the fact that by choice
that course is the only solution available to them. I think you saw a lot of these was the part
of the heat and these may well be sources of all kinds of
problems but the conscience which American are barristers these negroes
who have largely been eliminated by the fact that you have these ten thousand mile punches.
Now I'm not saying it's a good or bad thing in fact this hurts the lower class Negro even
more because people say if these ten thousand people could
make it. And these fifteen million to make the middle class. Why could
you what would the standard of living in the year two thousand the lower class.
Look I would assume we will have a kind of a basic
income of at the say fifteen hundred to two thousand dollars per
hour for one person with another say scores of thousand dollars per person. So that's
a husband and wife with three
children should be making about five thousand dollars or six thousand dollars. Now that's
very low in this century. It's good middle class income today in
the century to be the bottom ten percent of the
population but you don't see it's a fairly optimistic view in this is you don't see a
backlash occurring on the part of the white community in separatism growing in violence growing.
I think you have that for a time. I think a number of things which will never
get first and foremost the average niggling ited
States really does want to be declared and middle class. There are no. Very few hippies
and they don't want to drop out. Secondly that he
was themselves have a kind of an ego backlash against the violence which is mostly
all the negroes. The young negro said to be very much black power.
But
I think that's also a fad. I think is a healthy fat. You know that is to think of it's
a very bad thing for man to deny his identity and it's because it has become problem cells.
Biologically these rights are not vicious very few white men of until
these riots and possible record say bullets. You know and I think that will
last for quite a while I think further there will be serious attempts but the riots down.
The thing in a riot not in solving the basic underlying
problem but everybody the riot is quick reaction by the
police and very firm reaction and some punishment afterwards.
So people understand that it is a serious matter to write it is not
a permissible allowable thing the and I think you're going to find that that's really
the start of the backlash. One of this issue heavy censors and very quick reaction.
I don't think you'd be
authoritarians the other side there are still be very many programs I think that help me grows.
Basically the Negro has to help themselves
today and this in fact is one of things the Black Poppy will do do. Probably the
most successful group in the world today are the black
Muslims and by a large black nationalist groups. Tend to be very effective
in many cases not all in making the negro's of upwards.
That OF
LAST your book you talk about post industrial societies and
essentially this is an affluent an abundance of
society and almost all the the age old dream of mankind freedom
from from want from starvation from drudgery. I realized and yet
you then talk about the growth in any nation in social pathology.
This is indicate that when dreams are realize they turn him into nightmares.
I think that's true if there are no new dreams. People really need
charisma they need a sense of excitement a sense of magic a sense of getting things done and
that everybody you know by and large I think you can have a very large middle class and
just live comfortably and recently
happily what we sometimes call the California barbecue culture or so hot something generous.
You know it's wholesome but subset has a kind of the general aspect to it.
Percent of people though who really have to strive to solve problems. Do
exciting things to create and so on and if you take away most of
the really interesting challenges. These people lost.
When you see if you have new dreams to use any anticipation of what those dreams.
Well it's clear there are certain things are in the middle a lot of space research which is exciting for some
but doesn't really turn on was the Americans environmental
engineering that is really going to spend a lot of billions of dollars in this
country making the environment in the cities in the US the pleasant places to live. Now we're going
to waste a lot of money it's already quite clear that we're making huge mistakes in every
development and we're doing something we have a tremendous compulsion to do more of the same.
But that's what will that eventually will waste maybe fifty billion dollars but will learn
eventually. For issues that don't think America will get excited about environmental
engineering Europeans do they really love their cities and their parks and their rivers away which we
really don't think with the whole social engineering.
Remaking human beings the internal wreck sternal that is make the whole world into rich Americans whether they
like it or not.
Or do something about social pathology United
States. Both of these impulses can be dangerous.
And I was very well I was just some people that get too excited about
the undersea water research is exciting for some people but most it's not.
Now the really
exciting think that they've won many people is a festival they call in a space. Looking internally.
This can be mystic or die in the gym or spiritual or drugs or hippie.
You
know and I expect a good deal of that but I
totally called you know I just don't like it. Well that's is a dead giveaway
what's going to go on people are going to look for things that it's like. One of the ways to
get excited is to turn inward interpersonal
relationships many people believe their way out friends family relatives or
things like the sensitivity. Training
groups where you establish very quickly with other people and you use that
for all kinds of Turner purposes but I doubt. Again this will not affect the
majority Americans. But in the spectrum I know it's very
important if you're the things you mention are not the kind of charismatic dreams or
visions that avoid a sense of meaninglessness
your purpose was the central issue of the twenty first century will be meaning and
purpose and we don't know how America will solve
it now. One possibility is a return to the vision of a chapter meant the rest
are crap that if you spend a lot of time acquiring a very large number skills and things are very hard
to do with your choir very high level of capability. None of which are useful for.
You in effect to prove
yourself that you didn't characterize with a belief in progress or space in the future.
What is your own attitude towards the future.
Well I believe in secular progress as science and technology are improving all the time and
I don't think there's much chance you will go backwards on those even if there's a large scale
or so
on you may go into a period after that sort of major irrationality and
that could make some deficits here.
I'm about to have to violate the idea that all these new things coming up really allow
for a new kind of man a new kind of human being you know the person the
actual man may
be not only different but in ways which I would approve superior to us he
will certainly be surprise was in his standards or almost
certainly Can you sketch those out when you see ways that you would improve.
Was apples. It's nice to have a country has no poor
people which is everybody is healthy which everybody is deeply interested
in something which they may be able to do. And which you don't
have concerns of competitive addition of
the more destructive sort. The problem is that when you have a
world which in a sense has no
structure because you have. So many ways of doing things and because the normal things
impose
structure like fear of an enemy or fear of starvation or coping with some kind
of environmental issue. Or having traditions all these things
disappear and you know almost every choice you have a kind of
anarchy. And people need structure and it's possible that structures Why such as your structure
when I've my structure. So if you have any by the place choosing the structures.
You'll get a kind of a cultural anarchy.
On the other side of the house. You may simply succeed and weaken the all
structures to the point where they really don't function that will replace them a new structure.
Well this is that you Asia where some flaws of history would argue is ripe for a new religious to
be funny new religion comes
along and really sweeps everything in front of it and creates this new structures in the
new ideas of meaning and purpose that the
else such processes occur are almost certain to be very bloody and
very uncomfortable. The main thing that with it tends to worry me about is whether the future is what we call
the fasting issue. You're a member of the or too fast this is one made a
pact with the devil the model files that were collected. The second files are
getting files made a pact of the devil but that will collect he went to heaven.
And there's some sense. Many of the issues that came up are exactly the issues that come up with as well as to place.
You know and I think you get this kind of poetic insight which is not maybe in some ways
more perceptive than anything we do here has it and I
think that's an issue we have made a pact not with the devil
but with ourselves.
Now what I mean by the pact Well we can choose the sex or children we may be able to choose as there
are I.Q. We may be able to do but the fact is very likely that if I want to duplicate
myself analyze commissar I can do this by implanting my chromosomes and an egg growing up
and going to some
woman. We can change the environment we can.
Create enormous kinds of. The pollution if we
want and if you look at these series of possibilities the choices that we
have. Let me pass a list about a hundred separate ways to
go wrong. This is a probably won't take some of these ways.
Some of these mistakes may be really disastrous.
Certainly qualify don't give
a qualified optimism. You do have a first time in
humanity an incredibly large range of choices about how and why and
where to live what meaning what purpose and so
on and then kind of been created before
we created again you know it would be shocking if you did make a society which was just
extraordinary better than ours in ways which we would approve
of as a factor as better than ours and different in ways we didn't approve what was
our problem was we were just propping up that we have a right to force our violent twenty first century.
But I really I
just
love after all this again thank you so much for this interview.
My guest has been Herman Kahn. Director of the Hudson Institute and author of the
book the year two thousand a framework for speculation on the next thirty three years.
Thank you and goodbye for now.