Review: 'Heisenberg' Is a Quirky Love Story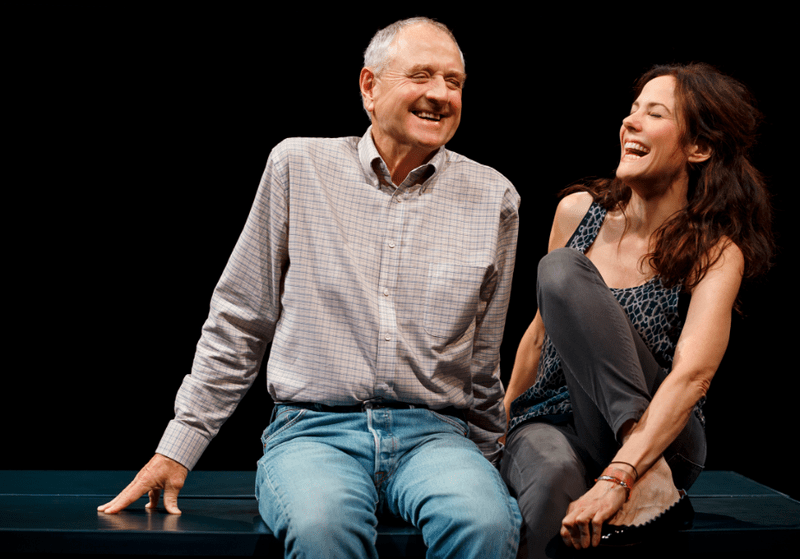 The Heisenberg Uncertainty Principle says that the more accurately you pin down a particle's position, the tougher it is to predict its trajectory. That makes the title "Heisenberg" a nice metaphor for this remount by Simon Stephens, which focuses hard on the small interactions between two people — and yet is unpredictable.
Georgie (Mary Louise-Parker), 42, is an aging variation of the Manic Pixie Dream Girl: she flutters about eccentrically, says whatever whimsical things she thinks, and meets Alex (Denis Arndt), 75, in a busy train station by kissing him, a stranger, on the neck.
Happily, Parker excels with these kinds of quirky characters and keeps Georgie from floating away on airy charm. She adds gravitas. You can see the doubt and exhaustion and anxiety flicker across Parker's face as she says "cute" things like, "I swear all the time. Sometimes I don't even notice it. Sometimes it just pops out of my mouth."
She and Arndt don't have sexual chemistry, exactly. The stage isn't burning up. But they do seem to enjoy each other, and the result is a realistic, affectionate bond that deepens as the play emotionally opens up. Stephens, who also wrote the magical "The Curious Incident of the Dog in the Night-Time," is adept at sparking compassion for irritating characters, which Georgie and Alex both are. As Off Broadway audiences found when this play was first produced at Manhattan Theatre Club last year, as you get to know them, you start rooting for them, despite their flaws. 
"Heisenberg" is not rocket science — or particle physics. It's just a sweet story about two people who think they don't deserve love. 
Through Dec. 11
By Simon Stephens, directed by Mark Brokaw, from Manhattan Theater Club
Samuel J. Friedman Theater, 261 W. 47th Street