SchoolBook
At Hearing, Regents Chancellor Defends Pace of Ed Reforms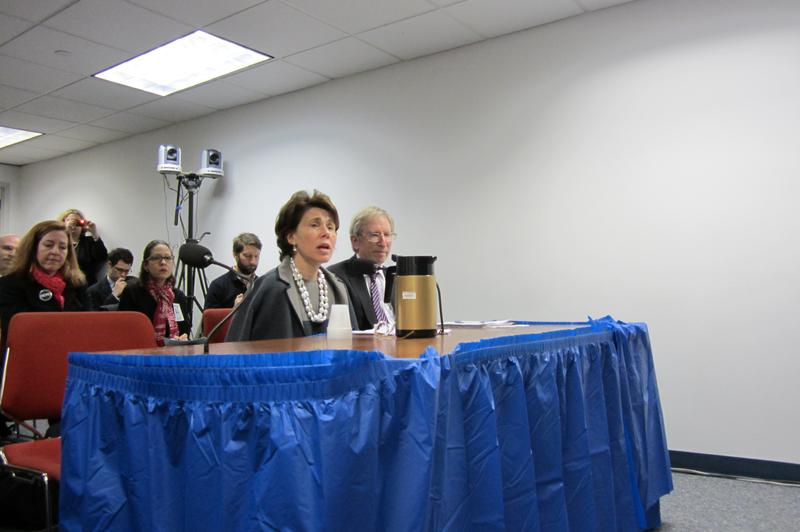 Regents Chancellor Merryl Tisch acknowledged the roll-out of New York's tough new Common Core standards have "created a lot upheaval and displacement." But at a state Senate hearing in Manhattan, she defended the changes as necessary in preparing children for 21st-century jobs, while assuring parents and teachers that steps are being taken so they "can be part of this conversation."
That conversation has been boiling over ever since August, when the state reported nearly 70 percent of third through eighth graders failed this year's new math and reading tests. This month, State Education Commissioner John King canceled some community forums on the Common Core standards after parents booed him in Poughkeepsie. They have since been rescheduled, and Tisch said at least three more meetings will take place in New York City - possibly as soon as December.
At Tuesday's hearing before the state Senate's Standing Committee on Education, city teachers union president Michael Mulgrew said he supports the goals of the Common Core, which emphasize more critical thinking and writing.

"But the roll-out has been horrible," he said, referring to what he called a lack of curriculum materials and teacher preparation. Mulgrew said the state should have created a curriculum before the new tests were introduced this year. He also said the state should wait at least another year before evaluating teachers with these new exams.

Under the new teacher evaluation system, which has befuddled teachers, student performance on state exams counts for 20 percent of a teacher's rating. But because the exams don't start until third grade, and Mulgrew said some elementary schools have had to create brand-new "bubble test" assessments for their youngest students.

"A lot of children in kindergarten can't hold a number two pencil so I don't know how they're going to do on that test," he said.

In a rare moment of unity, the city's Chief Academic Officer, Shael Polakow-Suransky, agreed that these assessments for young children are not "developmentally appropriate." He said 36 early childhood schools have had to use them because they don't have older children, whose test scores can be used to evaluate the K-2 teachers. He called on the state to provide districts with more flexibility.
But state officials said the city could have chosen "performance assessments" that can involve observing children write letters or numbers, for example. A state spokesman said both Chancellor Tisch and Commissioner King do not think bubble tests are appropriate for young children.
Suransky also revealed that roughly 5-6 percent of sixth and seventh graders did not have time to complete the second day of this year's English Language Arts exams, triple the rate of previous years. Several parents complained that their children weren't able to finish the tests. He emphasized that this is still a very small number.

The hearing was joined by members of the group Time Out From Testing, who spoke out against the use of high-stakes exams. But representatives from the group Students First New York brought statements from parents praising Common Core's emphasis on reading books such as "Charlotte's Web" at an earlier age.