The Takeaway
HBO's 'The Case Against 8' Explores Love, Partnerships & The Law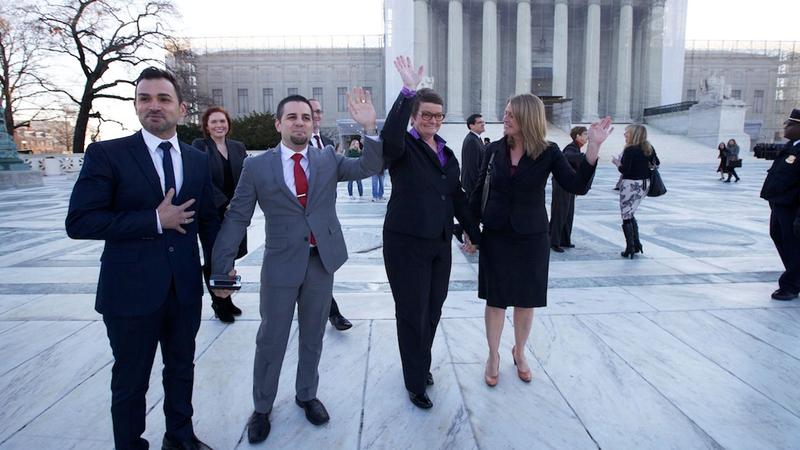 Legal battles aren't often the stuff of compelling cinema, but a new documentary taking a close-up look at the fight to strike down California's Proposition 8 is a drama about love and the definition of partnership.
Central to the legal fight was a "dream team" of two star attorneys and two loving couples, one lesbian and one gay.
The lesbians, Kris Perry and Sandy Stier from Berkeley, met in 1997. They married in 2004, formally joining their families to raise a total of four sons from previous marriages together.
After building a life together, Sandy said hearing that their marriage no longer "counted" came as a shock.
"What happens is you get a letter saying, 'Dear Kris Perry and Sandra Stier, We're letting you know you are no longer legally married,'" said Stier. "That marriage that was performed in San Francisco is invalid, and if you would like to have your filing fees returned to you, you can have them returned to you by check, or you can send them to charity or something along those lines. Just, a form letter in the mail saying you thought you were married, but you're not."
The gay couple who were also plaintiffs in the case were waiting for their union to count. Jeffrey Zarrillo and Paul Katami were from Los Angeles. They knew they loved each other and wanted to raise children together, but they were waiting in order to protect their family.
"We're strong believers that we want any child that we have to have the protections that an opposite sex couple's family and children would have. That's very important to us," Zarrillo said.
The final duo in this case was David Boies and Ted Olson, attorneys who had argued on opposing sides in the bitter 2000 Bush vs. Gore presidential election.
The stories of all six of these passionate characters is the subject of a new documentary "The Case Against 8,″ which won a directing prize at Sundance.
Ben Cotner and Ryan White produced and directed "The Case Against 8." They explain what first attracted them to the project, and the dynamic between attorneys Boise and Olson.