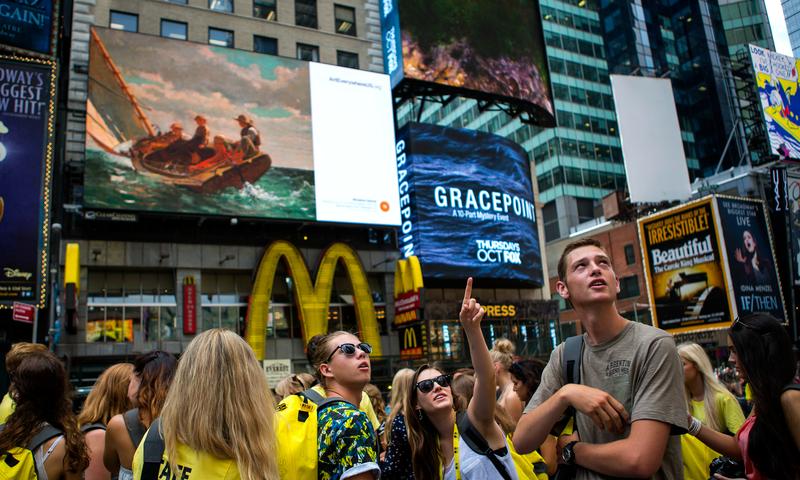 All over the country this month, 50,000 billboards and bus shelters and video screens will display images of famous American works of art. The project is called Art Everywhere, a push by an outdoor advertising association and a handful of powerful American museums. You might see Edward Hopper's "Nighthawks" in Times Square, Charles Sheeler's "Classic Landscape" on a highway billboard, or Grant Wood's "American Gothic" on a newsstand. The organizers say they hope the sightings will get more people to visit museums.
But do these already iconic artworks need more attention? Peter Schjeldahl, art critic for The New Yorker, wrote this week that overcrowding at some major museums has become so bad that it has made it impossible to engage with the art. "Art has taken on this strange glamor," he tells Kurt Andersen. "The love of it has become quantified by dollars in the market and fannies through the door of museums."
To choose the works featured in Art Everywhere, 170,000 people voted online from among 100 artworks selected by the participating museums. "Nighthawks" won the top spot. Art Everywhere is also holding a social media contest in which people post selfies in front of the displays. Schjeldahl considers the initiative "sentimental and pious," based on a nebulous idea of that "art is good for you. No it isn't!" Real art, he thinks, doesn't need an ad campaign.
Has art become too popular for its own good? Tell us in a comment.
Music Playlist
Here, There and Everywhere

Artist: Stanley Turrentine

Album: The Look of Love

Label: Blue Note