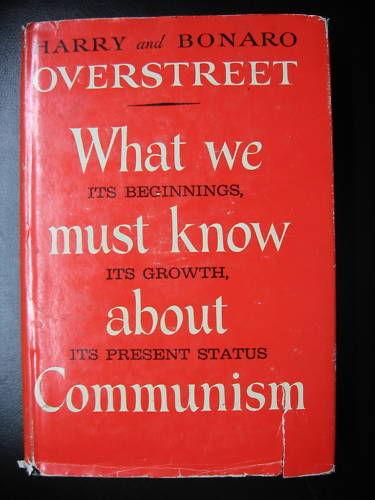 Summary
This episode is from the WNYC archives. It may contain language which is no longer politically or socially appropriate.
Irita Van Doren introduces Harry and Bonaro Overstreet, authors of "What We Must Know about Communism." She notes that, while the book was published a year previous year, an article by Roscoe Drummond (which appeared only a few months prior to this event), prompted the sale of thousands volumes. The Overstreets' backgrounds are in adult education, they reference this several times throughout their speech.

The Overstreets speak together about the "saga" of writing the book and the journey into the Communist ideology. They discuss their realization that what they knew about communism was a "half-knowledge." They refute Winston Churchill's description of Communism as a "a riddle, wrapped in a mystery, inside an enigma" (they don't get the quote quite right). Rather, they agree with Karl Marx's assessment that Communism is out in the open. They also discuss the influence of Lenin on their concepts of Communism. They describe their methods of research, which required that they understand all of the complex mechanisms behind the ideas they were trying to understand.

The relate their fears that the book would not be well-received, but their relief once positive and encouraging reviews were published.

Van Doren then introduces Alexander King, author of "Mine Enemy Grows Older." The book is an autobiographical account of his years as an addict and time at the Lexington rehabilitation hospital. The story is a collection of non-sequential vignettes. King, a humorist, speaks of his "helter skelter" life, his views on art, and his view that one does not choose to be an artist, but one is infected by art.

Next, Van Doren introduces James Bryant Conant, author of A Study of the American High School. Conant, scientist and former president of Harvard University describes his study of high schools makes recommendations for the secondary schooling system. Including better instruction in foreign languages, one full time counselor for every 250-300 students, and larger high schools.

Conant describes his years spent living in Germany and the difficulty he found when trying to describe the American education system. The liberal arts colleges, for example, had no similarities with European universities. He had special difficulties describing the comprehensive high school.
Audio courtesy of the NYC Municipal Archives WNYC Collection
WNYC archives id: 70961
Municipal archives id: LT8570
Transcript
This is a machine-generated transcript. Text is unformatted and may contain errors.
Our first speakers we have a pair of speakers today but the fairies are home Araba narrow and Harry Overstreet. Last October there appeared a book called What We must know about communism. It was duly reviewed and it sold quite well but a couple of months ago Roscoe Drummond devoted a column to it he began if I had the opportunity to invite every adult American from eighteen to eighty eight including every senator and congressman and the highest policy making officials of the administration to read one book in the next thirty days I know the book I would name and he went on to say while in clear forthright words within a couple of days four thousand the four thousand five hundred copies of what we must know about communism which was that time in stark were sold and orders for two thousand more are on hand. And then came the news story that President Eisenhower visiting secretary Dulles in the hospital found the same book on his bedside table and a picture of the president taking the book home to read at Dulles a suggestion went all over the country the result of all this is that the press have been kept busy printing addition our tradition of what we must know about counting. The authors of that book are both from California both are doctors of philosophy both have worked in the field of I don't education. After leaving the University of California Harry Overstreet taught for twenty eight years at C.C.N.Y. becoming steadily less an academic The Last Of Us and more a social philosopher a fifteen month leave of absence to work in factories he still considers a healthy happy while his experience lectures on social philosophy and psychology which he gave at the new school and to various labor unions made up his first book influencing human behavior Incidentally it was his first book it was also the first hard bound book of W.W. I'm not his publishers The book is still in print and Norton is still in business. Other books followed fast including in one thousand nine hundred forty nine the mature mind which swept the country selling over half a million copies Mrs Overstreet to whom he was married in one thousand thirty two worked with him on many of these books gradually the over streets found themselves less and less concerned about I don't hedge occasion a battle that seemed one on the way to winning and more and more about the problems of mental and emotional health. Mr Overstreet month startled a child study association by remarking that the boy who stood on the burning deck was a moron. For some years now they have thought and studied about communism its beginnings its growth and its present status. And they have finally organized into book phone what they have learned and the conclusions they have drawn because they believe that there comes a point when the world's peril becomes every individual's responsibility. That point they feel has reached been reached long since. They show the ideological roots of cup totalitarianism in Marx and Engels they trace the development of the communist movement in Russia over the past forty years they discussed the party in the United States its special targets here such as industrial workers Negroes youth veterans and intellectuals and finally they carved out the difficulty of dealing with communists since their credo is permanent revolution and peace they talk of so constantly they expect only on their own terms that treatment of all these provocative difficult and explosive subjects is saying in a balanced tough minded and even tempered in a book that commands the respect of the specialists and the fascinated attention of the general reader because of the cogency with which the argument is drawn and the clarity with which the facts are macho. I am doubly glad today to be able to introduce to you two remarkable people but narrow and hairy over St. Louis. I've. Dorm. Room and were very very highly almost. About ourselves. Is terrible. I mean there's nothing more difficult than. Try to talk about one's own. Little baby broke it's. Broke. So to speak comes from the mental and emotional interior and all of us know that we talk about all mental and emotional interior how it got to be that way and what's there is about the worst be the easiest way to make a fool of yourself. And that we just don't want to make fools of ourselves away and not not if we can help but well she. May not be able to help it. But I'm going to depend upon you will now to say something very wise before you say it however let me just say this were we found we had to write this book it was a curious kind of if there is or a psychiatrist in the house. There was a kind of compulsion a compulsion neurosis we had we had we had to do it and as we look back over there that period when we were deciding to do it we found that what we were feeling was of something terribly wrong at the end of the work something terribly wrong and it haunted us this wrong that had come a kind of a kind of desperate assault upon the human personality we had been interested in the human personality as psychologists and so on. The and here the human individual was assaulted but we we decided we better find out about it and then we made a great discovery that we highly intelligent people highly patriotic Americans people of great sensitivity of soul and. That we didn't know much about we didn't know much about it. I'm sure we had to get down on this. And the saga of our lives is the digging that we have been doing in the last few years that's probably true of course of any one of you here today who is still growing up and we hope you all are life is a process of coming up against your own ignorance and being astonished. And then at that point you can do one of two things I remember a doctor friend of ours who worked a great deal with women in the Midwest middle aged women he said to us once that he had discovered from long experience. That when women come to the point of life where they feel they are slipping they divide into two groups those who start reducing and those who go out and have a double chocolate Sunday. The well I don't know but I wouldn't be surprised if there is a parallel division of human beings men and women at that point where certain is they come up against their own ignorance in an area where they have no right to be ignorant because they they carry their share of the human responsibility I suppose at that point we have to make the decision of whether to start thinking or whether to rationalize the ignorance in one way or another I think maybe it was just because we had spent so many years of concern about adult education. Maybe it was because we had spent so many years of concern about mental hope that we decided that when we found that the things we knew about communism were half knowledge. The things we had to say were not much more profound than you could pick up from the daily papers. We had to make good on what we had been talking about for a quarter of a century we had to start learning and this was I think for us the saga of this book the saga that preceded the beautiful saga of Narcan publication it was the it was the saga of a journey the most peculiar journey we have ever taken not a journey into the geographical communist artists but so if the journey into the communist ideology. We found that we simply had to to day and day and date get into the communist littered here or working our way into the core you might say of the communist frame of reference so that we could stand at that point and see how the world looks by the standard of our common heritage we were memories we were inside the ideology and that's been our habitations for several years it's. It was a strange strange area in which to live but as we moved inside this strange system of ideas we found that we had the in a sense the key to what was the great danger to the world. We. We've been told of course that communism is isn't what we want a list of what the church will call it an enormous trade we never can get all the pieces of this statement right but it's something about this question inside of an egg mind wrapped up in a mystery something like that and then make mo wrapped up and then this break the house that are or mystery wrapped up and they never can remember but if you remember Mr Churchill said assault on that. Along that line that that Communism is something that you just can't understand now we discovered very quickly in our research that the that count monks years ago it said That's a Come come in this disdain too to hide what they are saying that all out in the open I really phone call Marks was quite right about that we could find it all through their writings and so you had years of going to the text just as we might have done with Mr Hip like this to Hitler said much the same thing about my income but we didn't believe what he said he simply said Mr Hitler just a paper hanger. And you can't expect that any paper hanger would have any ideas and do anything about them well Mr Cullen Marx was a was a scholar digging away in the British Museum and he wrote a book come you Capitale in the rope the Communist Manifesto. Poor old he wasn't even the college professor he was even less than the college for. US and there Iwas and I we discovered here something explosive came into the world. And all the rest of all reading. Lenin Stalin. And particularly Lenin I remember one day I was deep in Mark's project the. Much more. I had to live with that woman. The only thing that made it tolerable for him or is that he was deep in Lennon and they're quite a pair. But they came into my study one day from is own drop down on my desk some pages he had written and said Stop marks for a while get on to lemon well. I'll be off and on and so I picked up what he had written and there was a quotation an incredible course Haitians above the tactics of conspiracy the silence of conspiracy as Mr Lennon was working as. I had to see I felt that I had to see that quotation in context so I looked it up in context and then I had to know the context of the context of the context and this went on until well I can only say it this way the OG looks that we have on our faces today comes from twelve volumes of Lenin and thirteen volumes of Dolly. The Congress and under the manifesto and a lot of copy towel and all the rest from international research means in this country what is and it was interesting to us to find that we could find out. That by going directly to the people who are there concerns we could find that it was a highly organized system of thought of course we came to feel that one of the most horrible systems that ever been set down in black and white and ever been acted in human history but there it was for anyone to know and our feeling came more and more to be this again was part of the compulsion of our own feeling our feeling came on more to be that if we want to understand what the activities are the day by day activities does exist in the Zags as they call them we really must understand what the system of ideas is back of all these actions and I suppose we might say that we got to our book eventuality because we are chronic incurable teachers and we wanted to see whether this this more or less of material that we had worked through which was at once so clear and so complicated. So unmistakable and so geared for the world's confusions we wanted to see whether this could be stated whether it could be stated so factually. Clearly that our stating of it would amount to our side of a conversation with our American people we wanted to see whether communism couldn't after all as a factual system a system of ideology a quibble with method whether this couldn't be talked about in the same. Tone of voice in which well in which Dr Conant might talk about the facts of science for example why shouldn't these facts be talked about without raising the voice Why shouldn't they be talked about in a way that would give us Americans. A quiet sense of knowing the scorer and it seems to us and we still believe it's very true that we as an American People become strident when we are adding the stridency a voice to ignorance to make it less conspicuous we still think that we talk quietly when we know will say that there is a sense of mastery that's terribly necessary for us to have now particularly right now with the summit conferences ahead we wish we wish that all of us could know what Lenin said about negotiating not of negotiating in the Western sense but simply as an agreement concerning war or. Really you all of us Americans could know about the permanence revenue. Than the revolution that must go on. To the end great catastrophic events when one class is on this rating and the other class was on one of the most tragic stories in the whole history of man's thinking about man's life well with this all in mind we have felt that there's a job to be done and that's happened this is the. Friends of the Brock way down the line here and Mr Swenson they're offering nice if you want any nice editors to this man takes the hyphenated words out of our manuscript. And George Brockway sings Joyce that we get to cover the kind of references that we ought to be having so we suffer from much editorial supervision but the result is very happy and I think we wouldn't want to end with a sense that without saying a word of thanks to the Herald Tribune. It gives us a very special place here to be here today because when this book was published last October we were scared and we were terribly scared because while we felt that it was a perfectly logical extension of our psychological interest in what is done to the human mind. We knew that just by title it might be more far off the line and also it might seem oh so we had strayed off our province into one where we could only talk platitudes Why were we there and we were scared and then the blessing of the Herald Tribune the next Sunday came up with a review by Merle things. Which warmed our hearts encouraged us and well it's. Encouraged us and there were issues thank you. It was a very heartening day for us and then of course later came Roscoe Drummond with tears in courage meant so if it gives us a very special warm feeling today to stand here sponsored at a luncheon sponsored by the hero fibula and have a chance to say thank you. Thank you for something. They over strict book has had many unusual things in its history and now we turn to another book of a very different thought that has had a different and equally phenomenal one mine enemy grows older was published on Nov thirteenth. It was a bit slow perhaps in getting under way but as back there Mr King made a few appearances on Jack Pasha program and then he began his own T.V. Our Alex in Wonderland and I was in which he is almost the sole performer reminiscing telling anecdotes airing his private prejudic