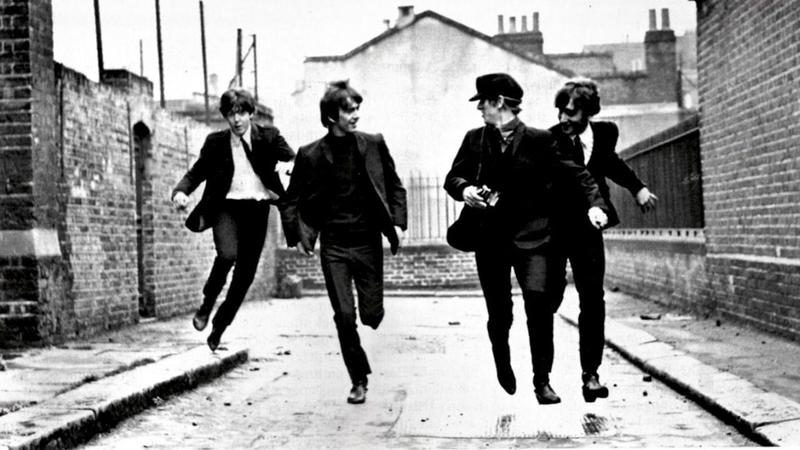 Part jukebox movie, part goofy comedy, part document of Beatlemania at its, well, most manic, A Hard Day's Night is, in many ways, an extended music video capturing John, Paul, George, and Ringo as they play songs and navigate its screaming fans. But among critics and movie buffs, the film itself has only increased in cinematic stature since its release in 1964. Now, just in time for its 50th anniversary, fans will get a chance to see A Hard Day's Night in a new light -- it has just been restored and re-released.
In a conversation with Soundcheck host John Schaefer, Matt Zoller Seitz, editor in chief of the film site of RogerEbert.com, explores the movie's critical reception and its legacy -- both for feature films and music videos. 
"It's enormously influential," Seitz says, "particularly for the use of pop music and the editing, and they really go together. What is particularly interesting about it is that it's the beginning of... the semi-obligatory music interlude."
Directed by Richard Lester, the movie was a celebration of movement and pioneered techniques that have gone on to become staples of music videos in every decade since. The director used unusual camera angles to catch The Beatles running, jumping and cavorting around London and included dry exchanges of wacky dialogue that predate Monty Python's Flying Circus. The newly-restored film is playing in theaters now and a new DVD version comes out this summer.
The Beatles Discuss Filming A Hard Day's Night:
Hear The Beatles members talking about the creative concept behind A Hard Day's Night, now part of The Criterion Collection, and how the titular song was written specifically for the film.