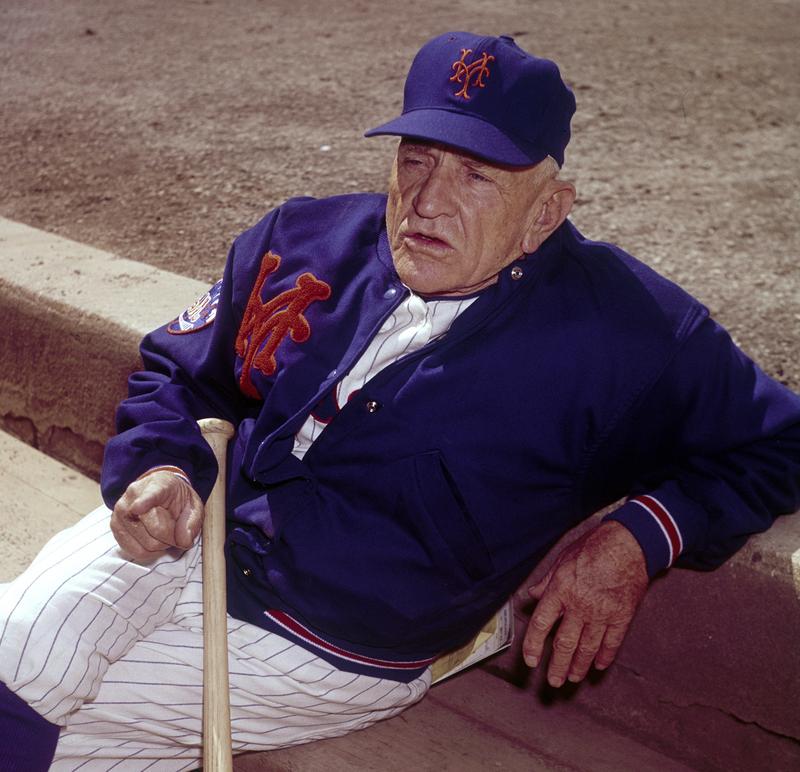 Casey Stengel's birthday is celebrated in New York, although the date (July 22, 1965) is not, in fact, Stengel's birthday, as he is quick to note. Indeed the manager of the hapless Mets is quick to note everything in this amusing "raw" tape from a stage-managed publicity event. Stengel and reporters are waiting for the arrival of Mayor Wagner, who will present the (still) 74-year-old manager with a proclamation in honor of his 75th birthday. (Presumably Stengel will be on the road then.) While they wait, reporters banter with Stengel, who launches into his patented stream-of-consciousness responses, listing all of fellow-player Babe Herman's children's careers, opining that Mickey Mantle is "an amazing man for a cripple," and promising one reporter "if they have cake I'll cut you a nice big piece of it." The only serious note is Stengel's future with the Mets, who are enduring another awful season. It's clear he is going to retire but has been told not to announce the news yet. He tries explaining that he has been "building for the future," which is why the current team struggles. He reminisces about his playing days, decides on the greatest pitchers he faced (Walter Johnson in the American League, Grover Alexander in the National), all while displaying the crafty mix of street-savvy and seeming buffoonery that made him a fan favorite over the years. Eventually, the mayor arrives and there is a brief ceremony with much posing for photos. In the midst of the raillery he is asked again, "Is this your last year?" Turning serious for a moment, he answers, "It should be," before going on to praise the young Ed Kranepool and Ron Swoboda. The tape ends as it began, with the milling murmuring of reporters, and Stengel gamely entertaining anyone willing to listen.
Casey Stengel was born in 1890. A fine player, his skills were often overshadowed by his on- and off-the-field antics. One of his most famous stunts occurred in 1918 when he returned to Ebbets Field after having been traded to Pittsburgh. As the New York Times describes:
Catcalls cascaded down from the stands. His reputation as a prankster and a clown already established, Stengel that day marched to home plate as the hooting intensified, bowed with courtliness to the fans in the grandstand, and doffed his cap. Out flew a sparrow. He had given them the bird.
After fourteen years in the majors, Stengel managed a variety of clubs, none very successfully, until his amazing run with the Yankees during which he won seven World Series. His time with the Mets was more famous for the team's inept play and the manager's "Stengel-isms," although one could argue, as he does here, the foundation was being laid for the eventual world champion team of 1969. More importantly, Stengel's "Old Perfesser" persona endeared the new team to the city. Sportswriter Robert Lipsyte, describes watching Stengel during the 1962 spring training:
He could also be incredibly kind, particularly sensitive to the disabled. He would unselfconsciously offer up his seamed face to the questioning fingers of blind fans and trot up the grandstand on his bandy legs to patiently chat with people in wheelchairs. Once, while I was talking to Stengel, a middle-aged man approached, dragging a sullen teenager. This was clearly a troubled son and dad. The man claimed to have played for Stengel years ago in the minors. Stengel took his time, regaled them with tales of the father's prowess and promised the kid a Mets contract if he got as good as his old man. As they left with arms around each other, Stengel rolled his eyes at me and shrugged. He had no memory of the man.
As a manager, Stengel is credited with regularizing the practice of platooning players. He had difficult relationships with his teams, particularly the Yankee squads. As Bill Bishop, writing for SABR (the Society for American Baseball Research) reports:
Casey's explanation for his managerial success was, "Keep the five guys who hate you away from the five who are undecided."
As for his bizarre way of answering questions, some of his musings have the quality of Zen koans, as evidenced by this well-known yet essentially unknowable remark: 
"There comes a time in every man's life, and I've had plenty of them." 
Stengel did retire in August of 1965. He lived long enough, though, to follow and, typically, name the "Amazin' " Met team of 1969.
Casey Stengel died in 1975.
Audio courtesy of the NYC Municipal Archives WNYC Collection.
WNYC archives id: 150005
Municipal archives id: T778