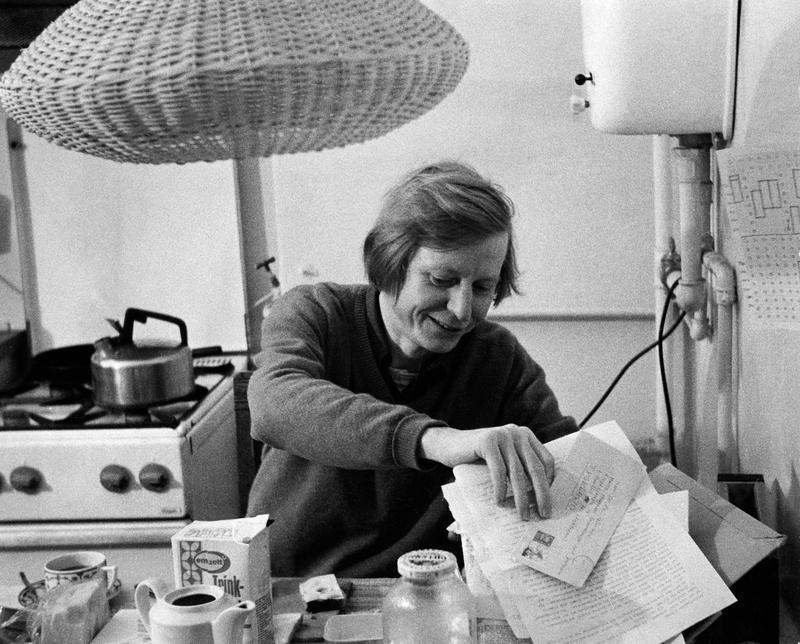 Summary
The exact date of this episode is unknown. We've filled in the date above with a placeholder. What we actually have on record is: 196u-uu-uu.
Patricia Marx interviews German poet and author Hans Magnus Enzensburger, in which they heavily discuss the emotions and labels to him and his writings. He also heavily discusses the influence the United States and the United Kingdom have had on Germany post-WWII, both positive and negative. Also mentioned is the influential German literary association, Group 47, of which he is a proud member.

Note: This is an unedited interview which is believed to have never been broadcast.
Audio courtesy of the NYC Municipal Archives WNYC Collection
WNYC archives id: 56190
Transcript
This is a machine-generated transcript. Text is unformatted and may contain errors.

This is a beautiful machine by the way no it's made by a Swiss who lives in. A Pole in Switzerland and it's just that you have to do a back. Mike. You can OK. Yes. Correct and then you can just. Testing testing OK. I'm going to do this reaction and I'm delighted to have as my guest today one of the leading young German poets and critics Mr Hans Magnus instant the. Internet. And since I read Mr and since Vega has three volumes of verse and three books of essays published in German Mr instance you have described as a critic and a poet I wonder if you tell us what kind of writing what kinds of writings you do well I think there you've got to distinguish what the describes it is for your work. Which goes along with it. On the letter you would perhaps have called it in former times. Described that most of the. Where karela goes into secondary things and this has become. More market and more pronounced with the under industry. And this has become more and more pronounced. The culture has become a major industry as it has become in Europe as well as in the United States so what we really do is all sorts of radio. Television consulting publishers I expect it's the same thing all over just like in the United States I don't know how would you describe your real work well. Then if you really. Right very few points you know. And then of course I take quite seriously my own criticism I'm afraid criticism and it is. Only because social criticism not in the sense of any. Attack attacking things for the fun of it but rather the more. You know very German theoretical manner that. I'm just interested in finding out how things work or if they don't why not. Say that it's a theoretical manner does this mean that you don't feel that things are perhaps worse or that there's something that should be improved more now than always in the past or is your criticism does it have to do with today's situation or does it have to do with a kind of general social criticism that should be done oh no dissent. It is certainly centered very much on the present but there's an ancient tradition we have in Germany you know and I mean this minute maybe something ponderous about it you reflect on things that's what is called Teutonic I believe in the English language where. Is the theoretical aspect of it I don't need to remind you of all the books nobody has ever read from here on but and of course this goes into the temple of the right it's our tradition and I don't Condon that you can bone break away from it. But. I'm not a philosopher I mean but it's interesting me I think it's partly self-defense you see because. As it is a very dangerous place and I think. Self interest or whatever you might call it makes for can make for theoretical clarity well. The. Series of twentieth century German verse. You describe in the introduction is the German angry young man and I wonder what your reaction is to this label. Because it's hateful and not only hateful I would call it a state like. I'm not angry at all because. In my opinion very adequate response for a critic he might do you might be angry. He might have fun but that's his private affair I mean let's get our feelings is not what to what matters but that I make a critical statement whether it's true or not does not depend on my emotions it depends on whether I'm right whether I have a clear mind and a good brain or not so it really is a sort of slander I think I think unfortunate we don't. Have the habit of. So many people. Have used the catch words. Just sticks to people. Well in the same introduction the same paragraph I quote as if you had said it. Your aim is to increase the anger of the world you say you know that. The word anger is actually has happened in one of my poems that's probably where they get it from. But my poems don't describe me my poems are not about myself and are not of emotions and even of the. Peers in the poem that's nothing to do with my private existence I would say. What do you describe. If you read. It if you read the words in the poem it's this I describe so boisterous and did it is and where this most is actually coming from would not be a nice thing to think say or would it. Got out of that. Mr anticipated this introduction also describes you as a young political committed poet and I wonder if this is a closer description of what you're about to offer your two explanation first this book has been done in England and. Quite well how badly people will write introductions paid in England so what they actually do they get some newspaper clippings and take the most catching face of it and use them and I think it is no coincidence. I think it is no coincidence that in this kind of journalism you meet all of the same undefined phrases and one of the worst of them is actually the commitment I think this time cannot be used in any in any meaningful manner any more and this course of course for many words like it it's not the only one. Actually I think it's a kind of castration going on to be these people are journalists are trying to trade what is really literal and vital in literature by sticking this this kind of label on it this is what is going on in Germany all the time. Everywhere. In Germany might be the technique might be especially well developed in Germany because they're a little. Rather curious they consider this being a dangerous thing. Now this is because it has something to do with political state of affairs and with quite unique. Division you get when you look at the literature production of the country on one side and the official opinions and widely shared assumptions. Electorate on the other hand the two just. Get to get there and they're clashing all the time and we have well it's very strange that. Writers who are writers who are. To be taken seriously there's not a single of them would not agree on many many behinds Centrepoint is points of major importance against government in political matters and that's a rather new thing because in Germany literature and politics have always been quite well separated apart perhaps from the trenches there was a short outbreak of political interest but nowadays. This just. You might say the place is divided into two camps and one camp that's all political parties lumped together into one and on the other side you get the intellect. Hard literary. I would cite a few sites. Critical journalists. Publishing television work radio and so on who are holding out against it. So the writers are politically concerned was a politically concerned but they tend not to be involved with the government or with official policy. And we'll since this is quite impossible this is this is this the gap is so great that to be so to speak not on talking terms. As you perhaps heard in this kind of discourse of. Actually these people are considering us dangerous people. Invest in Germany consider and stay interested only wish we where I am afraid we are only much too harmless The only thing we can perhaps muster in the force of power in the way of power. That's a certain share in the mass media and that the thing really if you have the Americans to thank for X. has met effect. Why it will after. The whole place was broken up the Americans and the British instituted a policy which was called education and that was perhaps a little bit naive but quite seriously. Attempt to teach democracy to the Germans So what has happened. The mass media especially radio and television were built up more democratic and way in my opinion than in. Than it's been done in the United States because. You don't have any sponsors deciding what is going on the air and I think the really productive people have a fair share in deciding what is going to be produced when I was twenty because you said the Americans to thank Is there a greater degree of involvement of intellectuals in the mass media and substantially greater than in this country for its Well I should. Perhaps not in terms of participation but certainly in tone terms of decision I mean what is going to what is who is doing the program who is deciding what is going on there well in Germany it's intellectuals who are doing this and there's no sponsor whatsoever who could. Could interfere and even the government can't interfere that's what I mean I mean that's what the Americans did for us. Having done it for ourselves. Mr instance is their freedom to criticize quite very early in the press yes you can't deny that. As far as that goes democracy really has come off to such an extent that of course the government our government Fed doesn't like the state of affairs very much and constantly trying to interfere still there is the Constitution which is a fact and it is it is the Constitution is being tampered with by the government trying to do all sorts of antics and tricks about it but. Not only the intellectuals but also the public at large won't stand for it this has been the outcome of this. Ill fame famous affair has been a complete. Country to victory. Well the outcome has come of the famous affair has been a complete defeat of the government. When you say we use this term quite frequently about intellectuals to whom are you referring people well it certainly must sound strange but the fact is that there's such an amount of solidarity. The side of the writers the journalists the people who speak up. Commentators editorial writers. Well there's such a solidarity I think it's actually not only strange but almost dangerous we are too much we think too much the same things by the Catholic socialist liberal I mean everybody who really. Is in culture and in intellectual life the country. Would I think agree to a certain tenets about politics for example you've had this thing about prosecution of Nazi crimes which certain people in Germany wanted to stop for prosecution. And the government side was much much in favor of stopping it but you couldn't find a decent intellect in the country who wasn't fit every body wanted. To prolong the prosecution that's one thing or the other thing the eastern front you know the thing about Poland but. Stupidly. In that case holding fast to the claims to sing embarrassing not only Europeans also the American government I. Don't like it at all the polite about it but it's a hateful thing they're just stopping. You might call a. Lessening of tension in. Central Europe and the intellectuals almost all of them are going in for lack of tensions and let's be sensible and so that creates a sort of solidarity with uncanny Oh I think there's too much but what should we do what about domestic policy is there except in approval of what the government stands for in terms of social. Well domestic policy if you include in that the question of the division of Germany you have the same thing all over again. Where do you stand on the intellectual negotiations with the other side they are against this continuous witch hunt sort of thing going on you know. Replace. The psychology. With the communist I mean before it was just the bad one the communist was the bad one I mean that's not a thing and person would very much of here to this kind of lumping. Together I mean come in as some people like everybody else you can talk to them some of them. You can do things you can agree with some of them but others you can't in any case if half your country is in the poll of these people you have got to talk to them it's the only thing which will make sense in the long run the other choice just turn it it would be civil war. Coexistence Well coexistence. Speaking terms you can of course not necessarily co-existed up to this point well you know you've got the red line between Washington and Moscow I just think it's perfectly sensible thing to do well and you can only if you want to talk with people you've got to talk with communists and you do. The same thing if it's your own country. I mean after all these people the same language the same people but if Americans and Russians come to it I can't. Quite fit a seat and I think there's very dangerous implications in not doing it because by keeping up this tension and keeping up the possibility of playing a big. Political game making a big issue about we must throw them out and sort of roll back thing all that is living in Germany it's alive and so that makes it makes us. A long. Are the intellectuals are you critical of the economic miracle mentality behind this well it has become a sort of commonplace thing to criticize the economic miracle but I think you've got to be aware of. Material as such I think it's a pretty good thing that people are hungry any more there are certain people that will just go off of a past time and everybody sort of rolled their shirts up and had nothing to eat I'm very impatient with these people because I think it's a good thing that people have got enough to eat and decent decent houses and so on so I think that would be a stupid way of criticising it on the other hand of course it is. What has been a miracle and what of course isn't a miracle at all and can very well be explained but this is. Economically speaking it's just a boom which you can't explain which is very good reasons partly produced by America. Where medical aid and so on has played a big part in it well this has been going on almost without any end of the option to have been going up and up much more evenly than the United States and well this has created certain problems I believe because. You see the fact of the defeat is somehow. It's it's it's. Yes yes yes. Yes. But in this continuous prosperity race is certain points however and one of them is that it tends to obliterate the sense of the past. The past of course it's not a very pleasant thing to think about in Germany. There's always the temptation for. Somebody who is not very much given to reflection to say Well here we are. Even ministers Cabinet Ministers of our republic have been talking in these terms we. Represent something in the you know all that sort of thing and I think it's just a little bit too fast talk that you see and what do we send in the world I mean percent a certain economic and a certain military power nowadays And nowadays there's not the same thing as to be as to have a purpose with your power and sometimes I ask myself. Well this is a very good but what are you going to do with it. I mean there's not very much purpose in just. Just if you if you see the future of a place for a country of an entire country just to put a dividend going up by five percent a year and that's all there is to it I mean if that is the kind of way you think about the future then I think something must be rather wrong with the country and I wonder what you think that I would like to see if you could let me give kind of concrete example. Not after American. Standards but after European standards a rich country well if you look at the state of universities and schools still it's disgusting it's absolutely disgusting and it can be it can be proven that twenty years from now we'll be in a big fix because we don't educate people because we educate higher class people. People work as kids they don't get a decent education in our country well that's just one of many things the same applies. To health wrote the whole public things you see it's not a public matter it's a private matter it's a businessman's America and that's what one of the things I'm critical about and when you have much more state wealthier Americans. Yes that's true that's true but then. Talking about the United States that. Just got tremendously a little but there's another side to it I mean in America education is largely. Done but private money you have got these tremendous foundations and donators and everybody is paying up for it well it's a difference our business men don't dream of doing this. Public public school system and universities are largely depending I think on private funds are. Just numbers. I see I see I don't think that is true. Do you criticize through your poetry or is this kind of social criticism most expressed in your literary in social essays. Writing essays that's the thing which can only be done and I think it's a process. And it should be done that I think is something quite different and probably the notion of committed. Itself in any way that's the way I see it because I think that is an instrument to change your conscience and not to change the world. Of course changing conscience may change the world in the long run but that's not anything that. Can be concerned with he yes having to do with words with language with experiences he can't start a cod on health service in his bed would be a ridiculous thing to do are you involved in linguistics. Rivaldo are you are you trying to define your own style in distinction to the previous concern with your stylistic. Research of language implicit because you can change or you can change conscience without changing language I think that's a good that's a key to the whole thing business of writing poetry is in the language and it's matter of fact I've been interested very much in linguistics really in the structure of language because that's that's one of the main keys in doing this you're feeling for words and that will not do it's not enough you need insight I think can you describe it all in what ways you're trying to change the language or find new forms of expression I think that can really be done only if you have a text at hand. This is a very good what is the position most writers are they as involved in politics and social criticism as you are. I think. For almost all of the younger writers of course we have people over sixty and they need to divide visible into groups the emigrants and the others I needn't talk about the others and the grandstand difficult they have had great difficulty in depth post. Back home but I. Wouldn't wish to simplify these matters but for the younger ones I think it is a clear cut thing that for example I can tell you we have done things for elections even we have. Books have made pamphlets and books and all sorts of things in order to keep us out of power and if you look at the contributors. Host of one of the most important. On these lists I mean starting with grass and. Whatever I mean all these people on this bandwagon I'm really sorry to be so. So much I'm a little bit embarrassed but we have no choice you see that's why as a rule of course writers all is that ought with each other. Having that disputes but there's an outside force and an outside inertia so strong that we have no choice that's why. The younger poets and writers that you most we know. Well who else well I think he's probably only genius a half. Of geniuses in the in the but the fact is we have not only a few outstanding writers I would include yarns on for example I would include picked up ice on the list of really outstanding people perhaps involved. Played this one piece of his which is really. A classic in. Which which one day might be considered in my opinion a classic it's just a prose piece and I think he's a great writer. Perhaps more a writer of libretto. In a sense but he has an enormous sense of for the theater and. Brightest It has been said that since press not anything comparable has happened on the German state well I'm not. Really all I want to say is that it's not just a few names we have but we have reached so to speak a gritty can mass you see it has become a process which is almost generating and there's so many I wouldn't wish to make up lists here but in my opinion. At least two dozens of interesting new writers in our country and this in the long run doesn't live on genius it lives on good writers quite simply and. You can see that nowadays people are starting to write twenty two years are much more interesting than we used to be because we had nothing around us. When you see. Within in your opinion this is a very fruitful and exciting time in terms of literature. Might seem to speak very much productive and perhaps I'm really suffering of sort of different. But it seems to me really that. It's one of the most exciting things there are in Germany the choice is very large we have no film we're speaking off. We have a certain musical life but I think literature is really the most interesting article if you look at the German culture. And. How far its international significance goes would be difficult to say for me especially as regards America but it's affected German literature is now being taken more seriously than a long long time in Italy in France and in Eastern Europe which is very interesting Eastern Europe I think that's a very interesting thing you get we get there at something which the Russians are not willing to concede that is cultural and ideological coexistence. Sort of interchange of ideas across what used to be. And what isn't anymore all. Is this to change. From the other side of whatever Oh yes very much so I think Polish and Czech writers are flooding in and being translated a great pace not do you. Know in Germany that's difficult thing I mean that's of course the worst of all communist countries in Eastern Europe because they're the most Stalinist and the most well you know it's been Germans do a thing they do. But that's that's one reason to change this and I think you've got to help these people I know that in many intellectuals in eastern Germany who are fighting very hard and trying very hard and they get no one got a German country they're slapped in the face by official policies. And you're a member of group forty seven when you describe what this is and what goes on well the group forty seven is a somewhat over publicized to get together writers which actually exists only three days every year there's a sort of convention people get to get their perhaps fifty or sixty writers coming there and directors a workshop it's not anything representative It's quite simply. Simply in the country and then it's a workshop people reading the work and sort of instant criticism which is very rough and very hard and very honest I must say in very useful in what ways it used well because it is very competent that's all and it is more outspoken you see people writing criticism in the newspapers they have to keep the public in mind may take tactical. Something tactical usually there is and there it is private it's a private thing you see so whatever you say might hurt the person but it remains inside it's an inside thing is not reported in the press and so on so you are free to speak and. St as it may sound this is an amazing amount of friendship I think really everybody there has. Friends in the house which is extraordinary. This is somewhat new idea that writers are human so much by their contemporaries and in my criticism I mean this has been the case history no I think it is. An outcome of the Solidarity I was speaking of before it certainly has. Political side to it because you can't deny it's been accused of being a mafia and you know. Being something that is sinister this group and it can't be denied to some extent agree that this key people you see this keep people press and. Quite willingly and I would admit to it the policy of getting some of these people into radio stations and their leaving magazines and by shouldn't be the others fight exactly the same means and I mean the administration is fighting us on the same terms and I don't see why it should be immoral behave like a. Political Animal for us. The same lecture it has anybody who's been discovered by the group. Would be tempted to say almost everybody of the younger ones certainly do for example going to grass all names I mention in fact bit of eyes. And even younger talents or half talents like. Yeah that has been translated here will she read for the first time they're. Living in the United States has been has come up there well everybody myself included I must say is this all international in scope or is it predominantly German it is predominantly German and I think it's got to be because. The kind of criticism we have depends very much on language I don't think you could do with the same amount the same competence as an English or French text but we have had guests and we have also been guests to several countries the last since we.