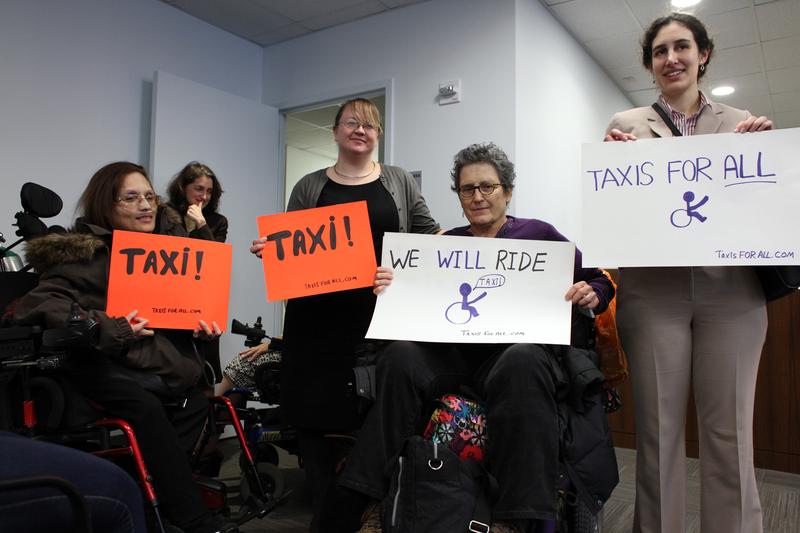 New York City announced Friday that half the city taxi fleet would be wheelchair accessible by 2020. The move is part of a settlement agreement in a major class-action lawsuit brought in 2011 that charged the city was in violation of the Americans with Disabilities Act.
The agreement is that as taxis are replaced, half will become wheelchair accessible. Taxis have a lifespan of three to five years. The city doesn't have details on how it will implement or enforce the changes and the deal won't be finalized until after a public hearing and approval by the Taxi & Limousine Commission and the judge overseeing the case.
David Yassky, chairman of the Taxi & Limousine Commission, said at the announcement that the commitment is a "landmark agreement," that "finally right[s] a flaw in the taxi system, a flaw of decades and decades that has been a blot on the system." Yassky said it costs about $14-$15,000 to retrofit a taxi. "The cost is manageable, it's not zero," he said.
Jean Ryan, 68, an advocate with Disabled in Action who has been fighting to get wheelchair accessible taxis for 14 years, held up a sign that read, "Taxis for All," at Friday's announcement. She said the agreement is "big."
But another advocate, Edith Prentiss, 61, was less sanguine. "We want 100 percent, but 50 percent by 2020, it's a start," she said.
Bhairavi Desai, the executive director of the New York Taxi Workers Alliance, said she is concerned about who will pay to retrofit taxis, which Yassky said costs around $14,000. She hopes the burden doesn't fall on the shoulders of the drivers. But she says her group welcomes the announcement.
But not everyone is on board.
On a rainy Friday afternoon outside of the Port Authority, the line of people waiting for a taxi stretched nearly a block. Sean Cordner, a driver for 15 years, was in a hurry to pick up his passengers and move on. He doesn't think it'd be convenient for him to slow his pace to pick up disabled passengers.
"I don't think it make sense, it takes a lot of extra time. I just prefer these cabs, rather than the minivans," he said.