Guts! Glory! Fakery! Why Football Loves The Pre-Game Speech
Friday, January 31, 2014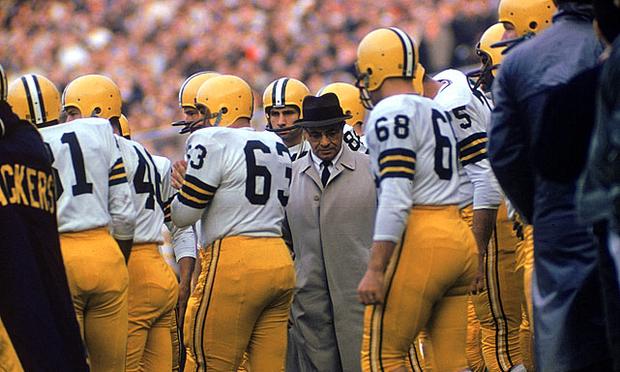 Before this weekend's Super Bowl, the Denver Broncos and Seattle Seahawks will gather around a player or coach who will plead with them to give everything -- bodies, hearts and, perhaps, their health -- to win victory on the field. The pre-game speech is as old as football itself, and more ritualistically important to football than any other sport.
Knute Rockne, coach of Notre Dame football from 1918 to 1930, is the earliest impresario of the pre-game speech.
"We're gonna get em on the run. We're gonna go, go, go, go. And we aren't gonna stop until we go to that goal line. And don't forget, men, today is the day. We're gonna win. They can't lick us!" That's a passage from his first famously overheated locker room oration, which concludes, "Fight, fight, fight, fight, fight!"
He delivered the speech, one of the most famous in sports history, to dozens of his suited-up football players ... and the whole thing was staged. Rockne stood in front of newsreel cameras and re-enacted a kind of medley of his previous speeches. It only looks and sounds spontaneous. (Fakery!)
Pre-Game Speech As Pseudo-Séance
Rockne then outdid himself in 1928 when he circled his team, down by 6-0 to Army at the half, and looked them solemnly in the eyes. He told them that the team's deceased star, George Gip, had used his dying breaths to urge Notre Dame, at some undetermined moment in the future, to "win one for the Gipper." Notre Dame won the game. Ronald Reagan later recited Gip's expiring monologue in the movie, Knute Rockne, All American.
By the 1960s, football's center of gravity had moved from college to the pros, and become a big business. Master motivator Vince Lombardi, head coach of the Green Bay Packers, was known for spurring his players with praise -- and threats to trade them. In the locker room before Super Bowl II in 1968, Lombardi used clipped cadences to sound like a boss instructing his work force: "Just run, just block and just tackle. You do that, there's no question what the answer's gonna be in this ballgame. Keep your poise. There's nothing that they can show you out there you haven't faced a number of times. Right?" The well-trained players answer, "Right!"
The Packers won the game.
"A rational person doesn't do that."
Larry Bean, who played linebacker and defensive end for Harvard in the 1980s, says there's a reason for the primacy of the pre-game speech in football: the violence of the sport all but requires coaches to goad their players into entering an altered state before storming the field.
"On the kickoff team, especially the opening kickoff, the idea is you're running down the field full speed with the notion of colliding into someone who's running the other way at full speed," he said. "And a rational person doesn't do that. So what you're trying with the pre-game speech is to whip them into a frenzy, into a lather, so that they're not thinking rationally as they're doing what their supposed to do."
Bean says despite all that, the pre-game speech is over-rated. In his experience, the speech-induced fervor lasts a play or two before training, execution and the bounce of the ball take over. Bean says rarely, if ever, will a speech change the outcome of a game. And yet, he said, "There is absolutely an expectation for it on the part of the players."
The best pre-game speech Bean ever heard was by a coach who pointed across the field at a quarterback Harvard had recruited but lost to another school. The coach said, "I don't like that guy. Make him look bad."
"I thought, 'Well, that's sincere, I can appreciate that,'" Bean said. "And I deflected a couple of his passes. One of them ended up in an interception that led to a touchdown."
And Harvard won the game.
Click on the play button to hear the audio version of this story, which includes Knute Rockne, Ronald Reagan and Vince Lombardi using their oratorical powers to make men do what they thought they couldn't do.
More in: