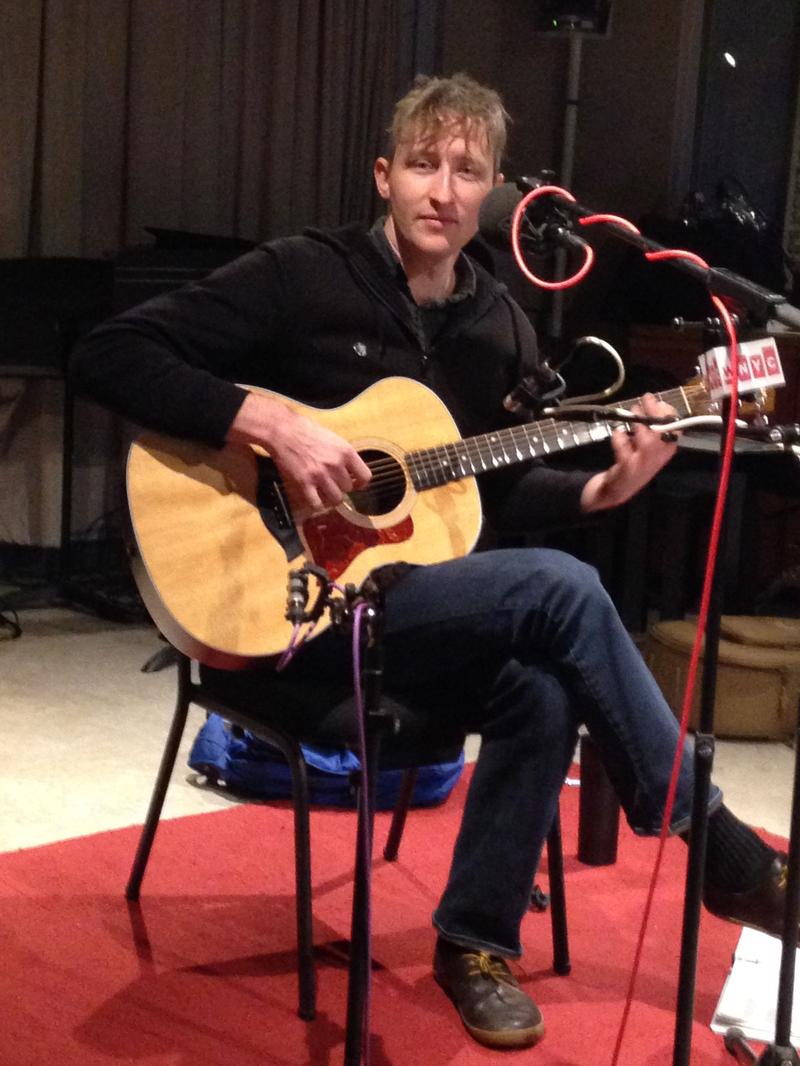 Guitarist and educator Shane Parish is a sonic adventurer, perhaps best known as the mastermind behind the Asheville, North Carolina-based avant instrumental jazz-mathpunk band Ahleuchatistas, formerly a quartet, now a duo. Besides the jazz and mathrock, their musical stew also includes elements Chinese folk music, minimalism, and lots of other stuff.
But Parish has just released a solo record of "weird old Americana" entitled Undertaker, Please Drive Slow on John Zorn's Tzadik label, recorded in an old cabin in the woods. He joins John live in the studio to perform some of them on acoustic guitar.
Parish has taken these old timey songs, and "abstracted them in utterly fascinating ways, evoking the haunting and brooding world of the American South" writes John Zorn. Comparisons wouldn't be out of place to American Primitive guitarists like John Fahey or Robbie Basho, but in the spaces that Parish creates, one might also think of Morton Feldman. In Parish's ever-evolving reworkings of these folky blues tunes, the songs straddle keys; he's not content to remain firmly in one or the other. Then, on a song like Geeshie Wiley's "The Last Kind Words," Parish takes the vocal melody and makes it more abstract, turning it into a prepared guitar percussion piece in a John Cage way, via paper clips and a slide.
PROGRAM #3928,  With Shane Parish  (First Aired 12-12-2016)        
ARTIST: Ahleuchatistas
WORK: Requiem for the Sea [6:46]
RECORDING: Heads Full of Poison
SOURCE: Cuneiform Records
INFO: https://cuneiformrecords.bandcamp.com/album/heads-full-of-poison-3
ARTIST: Shane Parish
WORK: Dark Was the Night, Cold Was the Ground (Blind Willie Johnson) [4:29]
RECORDING: Live, WNYC Studio, Dec. 2016
SOURCE: This performance not commercially available. 
INFO: Appears on Undertaker, Please Drive Slow, out now on Tzadik Records 4016

ARTIST: Shane Parish
WORK: Oh Death [3:45]
RECORDING: Undertaker, Please Drive Slow
SOURCE: Tzadik Records 4016
INFO: tzadik.com

ARTIST: Shane Parish
WORK: The Maid Freed From the Gallows [7:04], The Last Kind Words (Geeshie Wiley) [5:25]
RECORDING: Live, WNYC Studio, Dec. 2016
SOURCE: his performance not commercially available. 
INFO: Appears on Undertaker, Please Drive Slow, out now on Tzadik Records 4016
ARTIST: Tim Sparks
WORK: I'll Fly Away [5:37]
RECORDING: Chasin' the Boogie
SOURCE: Tonewood 
INFO: cdbaby.com