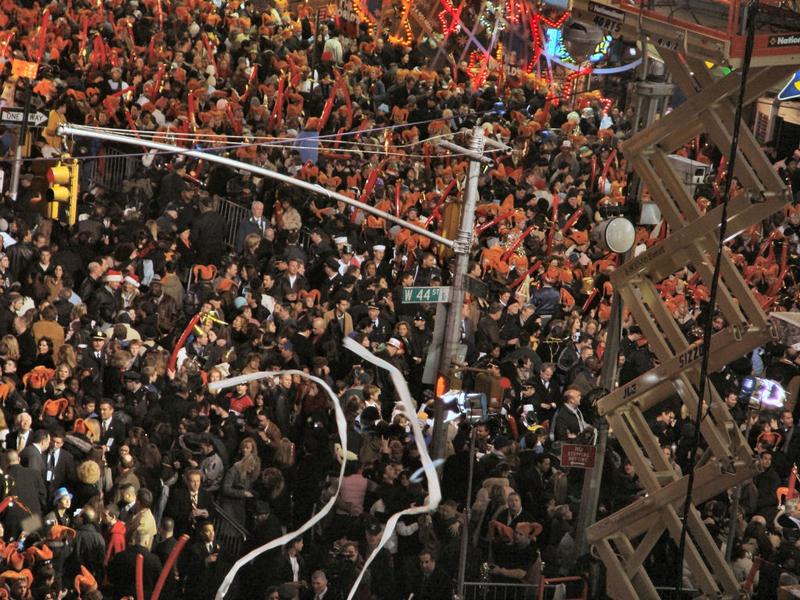 At 3pm today, the NYPD will begin opening the designated viewing areas around Times Square, where a million people are expected to gather for the celebration. Below, we answer questions about how to get around -- and what to expect. Pro tip: before you get to the standing around part, you'll probably be doing a fair amount of walking.
Wait, where am I going again?
Only you can answer that question -- but the famed New Year's Eve Ball sits atop One Times Square (aka 1475 Broadway), which is on the northwest corner of Broadway and 42nd Street. From the website of the Times Square Alliance: "Revelers are directed by the NYPD to gather in separate viewing sections. As one section fills up, the revelers are directed by police to the next viewing section. As the evening progresses, revelers continue to fill the Times Square neighborhood along Broadway and Seventh Avenue moving uptown from 43rd Street to as far as Central Park." Note: there are no viewing "pens" south of 42nd Street (but there are numerous street closures.)
You can see fireworks displays at midnight in New York Harbor (near Liberty Island) and at Cherry Hill in Central Park, Manhattan, which is roughly mid-park around 72nd Street.
Can't I just take the subway?
Of course you can, with caveats. Starting at 7pm, northbound 1 trains will bypass the 50th street station; southbound N/R/W trains will bypass the 49th Street station. Moreover, the MTA says "Customers heading to Times Square for the celebration should avoid using the 42 St-Times Square subway complex, since they may not be allowed to exit onto the street." Riders are urged to exit at stations at 57 St or 59 St- Columbus Circle instead and walk to Times Square. As far as we know, though, there won't be closures at the Bryant Park or Grand Central Terminal subway stations. And if your destination is not Times Square, you are in good shape. The MTA's holiday service guide is here.
What about city buses?
The street closures are going to make navigating midtown by bus a challenge -- so it's not recommended. Everywhere else, traffic tonight will be iffy, so expect slower conditions than usual.
What about LIRR/Metro-North/NJ Transit?
Additional commuter trains will be running in and out of the city. LIRR has added service today and will run extra trains eastbound after midnight -- see the additional trains here. (They're also planning extra service around the Billy Joel concert at the Barclays Center.) While Metro-North is offering an extra afternoon "getaway" service, it's not adding as many extra trains after midnight -- go here for more information. New Jersey Transit (both bus and rail) is tweaking service slightly as well -- go here to see options. Both LIRR and NJ Transit are banning alcohol, so don't bring it aboard. (Before you ask, PATH service looks normal. And no, it doesn't allow alcohol either.)
What about Citi Bike?
Citi Bike is operational -- but a  number of stations in the Times Square area have been temporarily deactivated or removed. More information about Citi Bike closures can be found here. The station map -- note the gray, which indicates deactivation -- is here.
Can't I just drive?

I can't believe you even asked that. Check out the NYPD's list of street closures before getting behind the wheel. If you must drive, imagine a box from 34th to 59th Streets, from Sixth to Eighth Avenues, then avoid it entirely. Also: the NYPD will be conducting DWI patrols and checkpoints, so expect traffic backups. 
Can I hail a cab?
Absolutely. We hear from the city's Taxi and Limousine Commission that while on a normal night there are about 8,000 cabs on the road, "that number will be significantly higher tonight." In fact, says spokesman Allan Fromberg, tonight it's entirely possible that nearly all of the 13,000 yellow cabs in the city's fleet will be on the road. Standard meter pricing applies. And of course there are the green cabs, which will take you around you INTO Manhattan -- but aren't hailable on the outbound trip.
What's this I'm hearing about Uber's surge-pricing?
E-hail app Uber says that in order to entice as many drivers out on the road as possible, it's jacking up the prices to ensure supply. (Hey, if the Times Square Applebee's can charge $375 a head tonight, why can't Uber do the equivalent?) But what Uber calls surge-pricing, others have called price-gouging, and the internet is strewn with tales of shocking credit card bills. Go here for Uber's tips about how to handle car service tonight. But in a nutshell: if you hail a car between 12:30 and 3am, you'll pay a huge premium. Uber explains their New Year's Eve pricing here.
Back it up: if the ball doesn't drop until midnight, why would I get to Times Square so early?
The joy of shared experience? Seriously, it's not just about the ball drop: there are events scheduled from 3pm onward. (Macklemore! Blondie! Spiderman! Melissa Etheridge! Miley Cyrus!) The ball itself begins to be raised at 6pm. More information here.
I wish to hear whimsical tales of New Year's Eve travel nightmares!
Listen to the audio from today's Brian Lehrer Show, in which Anna Sale and I field calls from listeners, one of whom partied in an Allston gas station in the 1970s.