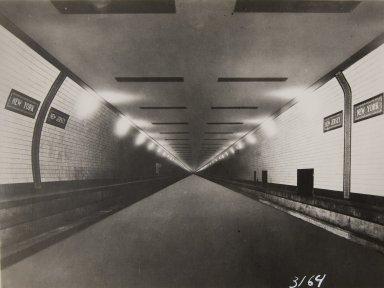 This episode is from the WNYC archives. It may contain language which is no longer politically or socially appropriate.
Groundbreaking ceremonies for the third tube of the Lincoln Tunnel, connecting New York and New Jersey.

Mayor Impellitteri talks about how the construction of the tunnel will help them "keep abreast of the great traffic ordeal, which surely represents one of the inexorable headaches for the city of New York."

He continues: "The benefits which will accrue upon completion of this tunnel, are, of course, in my judgment, self-evident, and will be a most welcomed assist in the vital flow of commercial, as well as passenger, car traffic in and out of the city of New York." "...this ceremony today marks the successful development of a project which has illustrated the very essence of our American democratic way of public planning."

He touches on the controversy related to the planning of the project and the "manifest benefits" that will appear upon its completion, then asserts "the greatest possible progress shall be made in alleviating this traffic problem here in the city of New York. The objective of assuring a free flow of traffic is second to none in its vital effect upon the life of our metropolis." He concludes with: "However difficult the challenge, I am optimistic about the future. I feel that the problem is being met with resourcefulness, ingenuity, and determination. So I say, in this instance, let us get to work on the new tunnel, and let us carry it across Manhattan and into New Jersey. Let us do a bang up job from the very beginning and be sure we don't leave any incipient headaches for the future."

Commissioner Ransford J. Abbott discusses the newly-created New Jersey Highway Authority and mentions the New Jersey Garden State Parkway, which was then under construction.

The New Jersey Turnpike, the George Washington Bridge, and transit statistics are discussed.

Radio sign off includes: "The 90 million dollar third tube of the Lincoln Tunnel is expected to increase the capacity of the tunnel by 50 percent. Port Authority officials say when the new tube is completed in 1957, it will be used to ease congestion in the rush hours. The tube will handle east-bound traffic during the morning rush hour and west-bound traffic in the evening."


Audio courtesy of the NYC Municipal Archives WNYC Collection
WNYC archives id: 68650
Municipal archives id: LT61