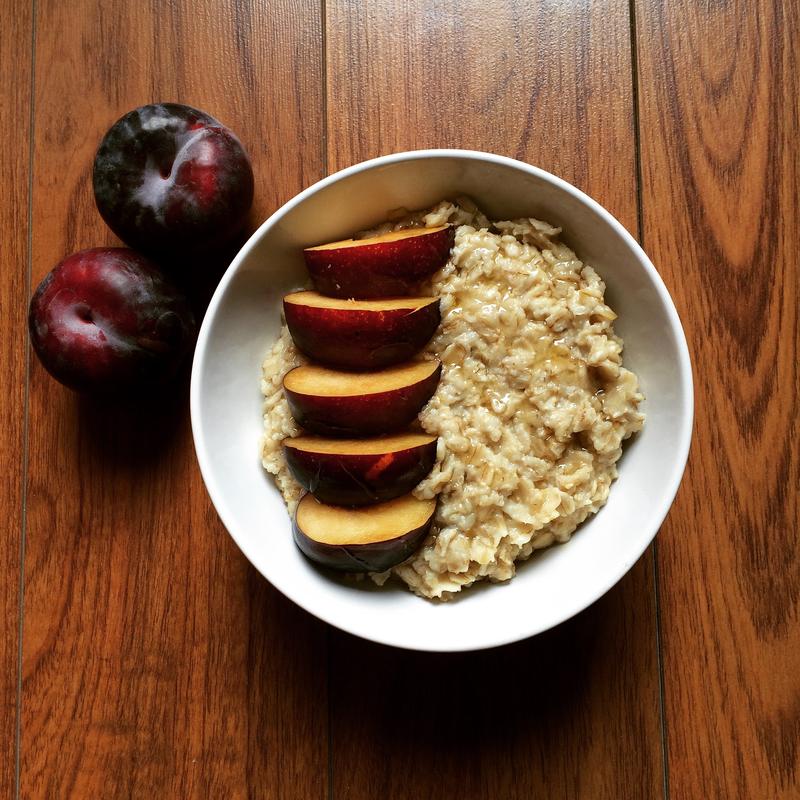 On the final installment of our Food Friday breakfast series, chef Evan Hanczor of Egg in Williamsburg and Niki Achitoff-Gray, Managing Editor at Serious Eats, teach us how to jazz up even the humblest of grain breakfasts, and how to achieve the perfect texture for our oatmeal, farro, and more!  Evan Hanczor is also the co-author of the cookbook Breakfast: Recipes to Wake Up For. Niki Achitoff-Gray has written about breakfast grains, including Beyond Oatmeal:Everything You Can Do With Oats and the Serious Eats Guide to Whole Grains.
Savory Oatmeal
We've gotten accustomed to oatmeal as a sweet dish but there's no reason not to make a savory version—it's just another grain, like rice or grits, and it takes to savory applications well. This is a simple recipe that uses oats as a background for seasonal vegetables, but you could also use these oats as the foundation for braised rabbit or duck or a hearty stew. 
Oats: Yield – 6 cups + 1 1/2 cups per serving, large portion for 4 people.
2 cups steel-cut oats
7 cups water
1 teaspoon salt
1 teaspoon turbinado sugar
1 tablespoon  butter
freshly cracked black pepper
2 cups prepared seasonal vegetables
spring: sautéed snap peas (try our peas & ham, pg__), fresh spinach leaves, braised or raw radish slices, broccoli rabe (see instructions in spring veg hash)
summer: roasted cherry tomatoes, corn (roasted or raw), blanched green beans, sautéed mushrooms, braised small onions
fall: roasted cauliflower, roasted brussels sprouts, sauteed chard, roasted pumpkin or squash, shredded kale
winter: roasted butternut or acorn squash, roasted celery root, roasted parsnips or carrots, shredded kale, raw spinach or mache, roasted garlic
(optional) 1/4 cup grated hard cheese (pecorino or gouda, or a nice nutty, sweet local hard cheese, work great)
Combine oats, water, salt, and sugar in a medium-sized (3 quart) pot.  Bring the oatmeal to a boil, then turn down to a gentle boil.  Cook for about 30-40 minutes, stirring occasionally until most of the water has been absorbed and the oats are mainly tender, but with a little tooth left to them.  Add salt to taste, stir in butter and crack in a bit of black pepper.
Spoon the oats out into 4 shallow bowls and add vegetables evenly among the bowls. Add grated cheese if desired. 
You can really send this dish over the top by adding a sunny or poached egg to each dish to finish.
From the book Breakfast: Recipes to Wake Up For by George Weld and Evan Hanczor, published by Rizzoli. Recipe courtesy of Evan Hanczor.