Embattled GOP Congressman Grimm Wins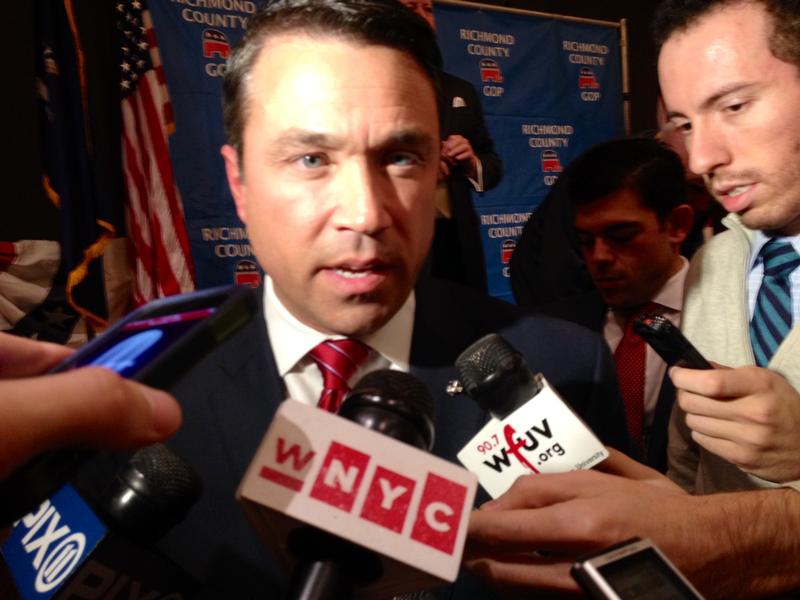 Voters in Staten Island and southwest Brooklyn opted to send embattled Republican Congressman Michael Grimm back to Washington Tuesday, handing him a victory over his Democratic opponent Dominic Recchia by a 55 percent to 43 percent margin.
The election marks the end of a congressional grudge match pitting the only Republican in New York City's 13-member congressional delegation against a Democrat backed by national party leaders and with a registration advantage.
In a defiant victory speech where he was introduced by the New Dorp High School junior ROTC color guard, Grimm, a former marine, thumbed his nose at the pundits who counted him out. "They all had this race in the books already. Just to be be sure they dumped $5 million dollars on us. That's a record for a Staten Island seat!" Grimm said to cheers from the crowd. 
During the course of the race, Grimm threatened to throw a reporter off a congressional balcony for asking a probing question, and was handed up a 20-count indictment related to employment practices at restaurants he owns. 
But despite the federal charges, the two-term incumbent still managed to convince more voters he could do a better job than Recchia, a former City Councilmember from Brooklyn who struggled to articulate his campaign's message and was further hampered by sentiment against President Obama and Mayor Bill de Blasio in the largest part of the district, Staten Island.
On paper, Recchia seemed like a formidable opponent.  He had strong name recognition in part of the district after three terms in the City Council. He had a record of working successfully with Republicans and independents, serving as chair of the Council's Finance Committee in his final four years and negotiating budget agreements with the city's independent mayor Michael Bloomberg.
During the campaign, Recchia played up his role as a family man with roots on both sides of the Verrazano Bridge. One of his first campaign commercials showed him driving the nearly mile-length span from his Brooklyn home with his wife, a public school teacher, and two daughters to his mother's house on the Staten Island side. 
But the tone of the campaign was not always so warm and fuzzy. The DCCC spent more than a million dollars in ads attacking his opponents pending trial and confrontational history with reporters. Grimm is charged with numerous federal counts of fraud and tax evasion related to his ownership of a Manhattan restaurant.
Recchia's campaign started to lose steam the more the media paid attention to it. In early September, he trailed Grimm by just four points in a NY1 / Capital New York / Siena College poll. Then, as Recchia made more public appearances, his lack of fluency on the issues became a common occurrence. The Staten Island Advance, which endorsed de Blasio for mayor in 2013, reluctantly backed Michael Grimm for re-election, accusing Recchia of simply not knowing the issues well enough.
The final poll released before the election had given Grimm a 19-point lead going in to Election Day.
For his part, Grimm argued that Recchia would be a rubber-stamp for progressive Democrats like de Blasio and Obama, who have their lowest favorability ratings in the city on Staten Island. Grimm also tried to link Recchia with the Rev. Al Sharpton, a particularly divisive figure in the district, who led a march against police brutality through Staten Island in August to protest the death of Eric Garner from a police chokehold.