The Takeaway
Pulitzer Winner Gregory Pardlo on Life as a Poet in Bed-Stuy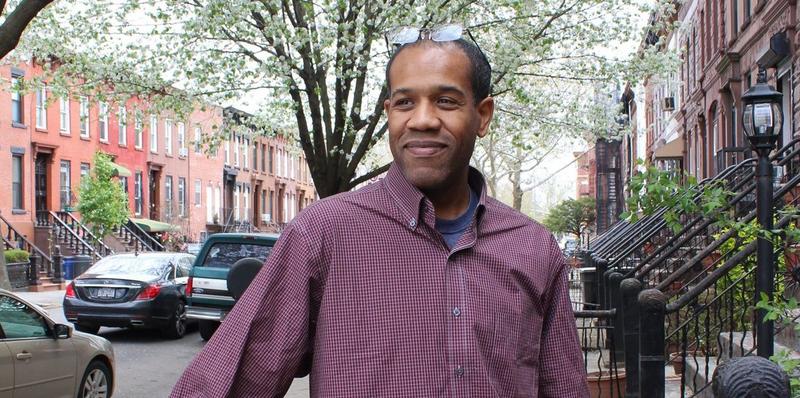 Gregory Pardlo was standing outside of his daughters' school, waiting to pick them up on a recent Monday afternoon, when his phone buzzed with the sound of an incoming text message. And then another, and another. 
"Suddenly my phone is rumbling uncontrollably and I noticed that one of the messages had the word Pulitzer in it," he said. "It was so utterly confusing and paralyzing. How do you confirm something like that? My hands were shaking too much, I couldn't, you know, go online on my phone to find out."
Eventually he confirmed the news: His latest collection of poems, a volume called "Digest" that only sold 1,500 copies in its first printing, had won the 2015 Pulitzer Prize in poetry.
For the father of two, who is working on an MFA in nonfiction at Columbia and a Ph.D. in English at the Graduate Center of the City University of New York, the news came as a complete bolt out of the blue.
Takeaway Producer Mythili Rao recently visited Pardlo in his Bedford-Stuyvesant neighborhood in Brooklyn to talk to him about his newfound fame and what the daily life of a poet in Bed-Stuy is really like.
Below, hear Pardlo read and discuss two of his poems and see photos of some of the places described in his work.
Click on the player below to hear Gregory Pardlo read and discuss his poem "Problema 1"
Click on the player below to hear Pardlo read and discuss his poem "Aquinas."