The Greatest Unknown Master of Design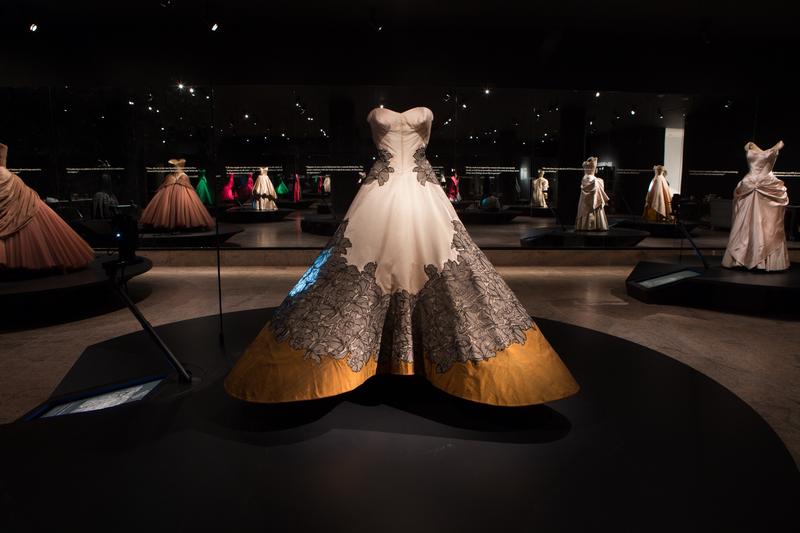 The Metropolitan Museum opened its Anna Wintour Costume Center this week. First lady Michelle Obama was on hand to cut the ribbon. But the designer who was chosen to inaugurate the new wing holds cult status only in fashion circles.
"Charles James was a designer who was really respected in his lifetime," said Harold Koda, curator in charge of The Costume Institute and co-curator of the exhibit. "Designers like Balenciaga, Dior, thought he was one of the greatest masters of design. But he closed his house in 1958 and fashion is very forward looking, so he was sort of forgotten except to specialists."
Charles James was born in England in 1906. His family moved to Chicago and it was there that he started designing hats when he was 19. James moved to New York two years later, in 1928, where he first opened a hat shop in Queens, and then started making dresses.
His technique was unique. He saw the garments as sculpture — which he built by combining different fabric and textures. But he never forgot that his pieces were to be worn and he cared about comfort.
His 1953 ball gown, Clover Leaf, is considered his masterpiece (photo below, being worn by Austine Hearst). It's a strapless dress in white satin and black velvet elegantly swirling out from the body, and constructed in four layers.
Mary Barone, a fashion and arts writer, said James' technique was very sophisticated and influenced many designers. "In 1947, Christian Dior went on record to say that without Charles James he would not have had his most transformative moment as he inspired his 1947 new look, which was a global sensation," she said.
All this engineering can be examined in the exhibit thanks to robotic cameras designed by Diller Scofidio + Renfro that isolate details of the garments, and project the analysis on monitors.
The exhibit Charles James: Beyond Fashion features about 75 designs produced by James over the course of his career, from the 1920s until his death in 1978.
It's on view until Aug. 10.
Gallery View of the Anna Wintour Costume Center featuring Charles James' creations (The Metropolitan Museum of Art)
Charles James, 1952. (Courtesy of The Metropolitan Museum of Art, Photograph by Michael A. Vaccaro)
Charles James' "Butterfly" Ball Gown, ca. 1955 (The Metropolitan Museum of Art, by Karin Willis)
Street fashion photographer Bill Cunningham taking pictures at the Charles James show at the Met. I tried to say hi, but he dismissed me saying: "I am trying to think." (Gisele Regatao)