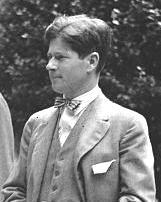 This episode is from the WNYC archives. It may contain language which is no longer politically or socially appropriate.
Introduction of Governor La Follette. La Folette speaks on the problems facing the United States today. Speaks of the threat of war facing Americans. Need to maintain a prosperous society.


Historic NY Times lists broadcast time as 6:15 - 6:45pm, Monday, February, 28, 1938. Also check the article "THIRD PARTY SEEN BY GOV. LA FOLLETTE" in the New York Times, March 1, 1938 for information about the context of this speech: forecasting of the formation of a third party (Progressive Party), assertion that unemployment should be abandoned.

Concludes with advertisement for a new series (starting Wednesday, March 2) in cooperation with New York University, Division of General Education, an episode of which will feature Father John P. Bolan, chairman of NY Labor Relations Board. Broadcasting sign off by Anthony (Tony) Marvin followed by Star Spangled Banner and final sign off.


Audio courtesy of the NYC Municipal Archives WNYC Collection
WNYC archives id: 69179
Municipal archives id: LT387