GOP Congressman Sends Fund Raising Letter About Town Hall Protesters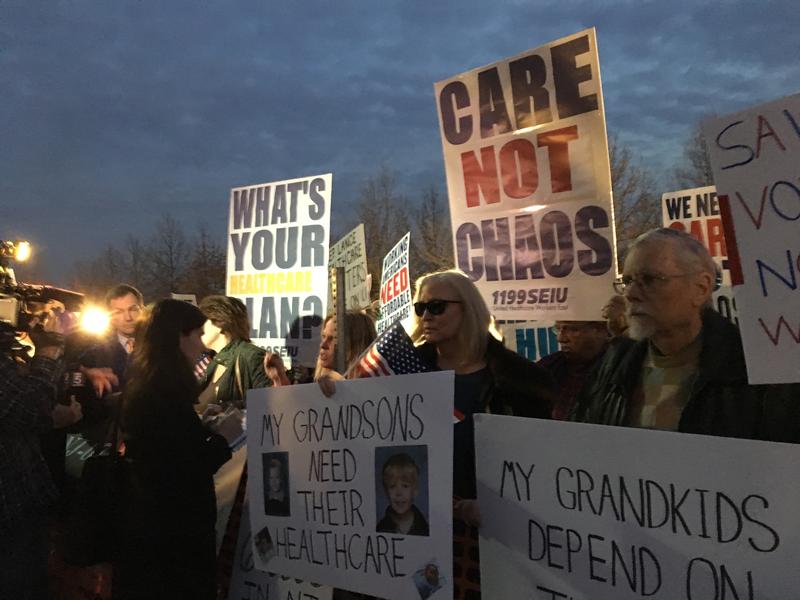 Rep. Leonard Lance was the only Republican congressman from New Jersey to hold town halls during the February recess, and he got an earful.  More than two thousand residents of his district showed up to protest repeal of Obamacare, the travel ban on seven Muslim nations,  Donald Trump's ties to Russia and his conflicts of interest.
Now, many of those constituents are angry over a fund raising letter that Lance's campaign has sent out that says he needs money to fight the protesters, and that they're being mobilized by a Hillary Clinton PAC.
"It was insulting. I'm not paid by anyone," said Caroline Armstrong of Lambertville, N.J. She called Lance's office to complain, and told them the 500 glossy postcards opposing the Republican appeal of the Affordable Care Act was a project of hers, and she and a friend split the $99 cost.

Armstrong was particularly upset by Lance's fund raising letter because the congressman said at the town halls that he understood the protesters were not paid provocateurs.

"I believe those in the audience were constituents," Lance told reporters. "I don't think they were paid. I think they came here in a matter of public spiritedness." 
In his letter, Lance asks for donations even thought it's two years ahead of the election. "Help me fight back against the liberal left," he writes. " P.S. A former Hillary Clinton Super PAC has set its sights on me, launching a paid campaign to send
liberal protesters to disrupt my public events – and they have big plans to target me throughout this election cycle!"
WNYC has interviewed dozens of protestors at New Jersey Republican congressional offices and town halls over the past several weeks.  Many have said they have become politically active for the first times in their lives since the election of Donald Trump.