The Takeaway
As Trump Divides Evangelical Leaders, GOP and Dems Vie for Moral High Ground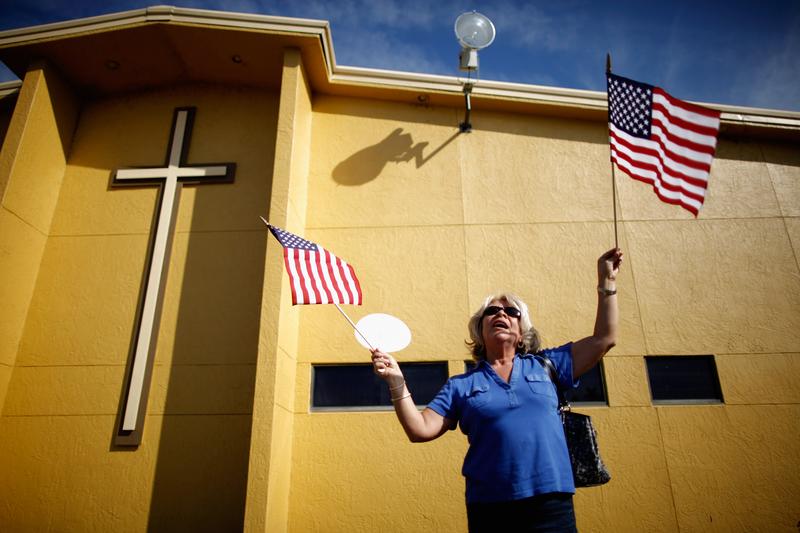 Click on the 'Listen' button above to hear this segment.
In the last few weeks, Hillary Clinton has been using the line, "America is great because America is good." It's a refrain she's been repeating frequently since a 2005 video of Donald Trump boasting about groping women was released on Friday.
But what do those words mean, really? It's an attack from a Democrat against the values and morals of the Republican candidate, something that the party of the "Moral Majority" and "family" values isn't so used to.
Khizr Khan, the father of a Muslim-American Army captain who was killed in Iraq in 2004, pointed this out in an MSNBC interview on Monday. Khan, who spoke at the Democratic National Convention this summer and challenged Trump on his plan to ban Muslims, was verbally attacked by the GOP nominee.
"How will they rebuild the Republican Party?," he told MSNBC. "They used to be the banner-bearer of the family values. Is this their representative? Why haven't they all repudiated him and distanced so that they can rebuild the Republican Party to be the family values as it used to be?"
Since 1980, Evangelical Christians have directly shaped the social platform of the Republican Party through what many have called the "Moral Majority." Ronald Reagan relied on the conservative religious coalition to win the Republican nomination in 1980 and the presidency, and Evangelicals helped the Republican Party win the House and Senate in the 1990s. George W. Bush, himself an evangelical, also relied heavily on faith based voters to win his two terms.
But have Donald Trump's questionable morals put an end to the Republican Party's monopoly?
Jeet Heer, senior editor of The New Republic, and Gabe Lyons, founder of Q, a learning community to mobilize Christians, join The Takeaway to discuss how morals are fitting into the 2016 election.
To learn more about a nationwide event Gabe is organizing this Thursday, October 13th, visit qcommons.com. Want more election analysis? Join us for a live event hosted by our own Todd Zwillich. Details below.