Goodbye Pay Phones, Hello LinkNYC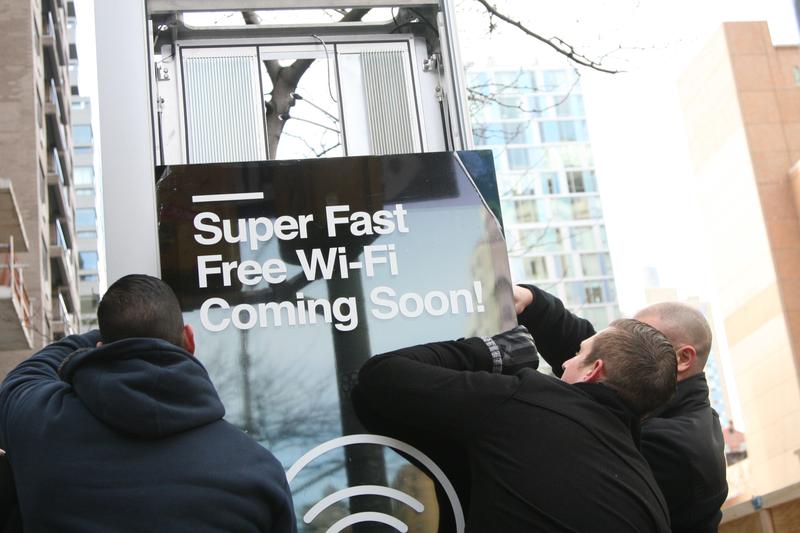 New York City: Your future is calling. Free Wi-Fi kiosks are replacing old pay phones. The first, at 15th Street and Third Avenue, is being unveiled today and will be switched on in a few weeks. The plan calls for a total of 7,500 throughout the city.
"This is going to be the fastest and largest free municipal network in the world," said Colin O'Donnell, the chief technology officer for CityBridge. The technology group is partnering with the city on the project, LinkNYC, which comes at no cost to taxpayers.
The 9-and-a-half-foot slabs look like fancy mall directories. But they're actually hubs for superfast Wi-Fi that officials say will reach up to 400 feet — or about a block and a half — and operate at speeds 100 times faster than other public Wi-Fi networks. They'll include built-in tablet computers, a 911 button, and phone chargers. You can use them to call anywhere in the U.S. for free. 
They'll also have large ads to cover the costs, and O'Donnell expects there will be money left over for the company and the city. CityBridge invested $200 million in the project, and is promising New York $500 million over the course of its 12-year contract.
The idea was born under Mayor Bloomberg. But the de Blasio Administration says it fits perfectly with their mission to reduce inequality.
"With the incredible high speed, people are going to be able to go there and download their homework, research an apartment, find a job at any time," said Anne Roest, Commissioner of the city's Department of Information, Technology and Telecommunication.
The new kiosks do have their critics. Some worry about private information flowing out over public Wi-Fi. Others want to know why Manhattan is getting it first. But officials say the network will be as safe as any public Wi-Fi network; people can opt for encryption. And they say it will be in the Bronx within weeks, and all five boroughs by summer.