Times Square Visitors Say Good Riddance to 2016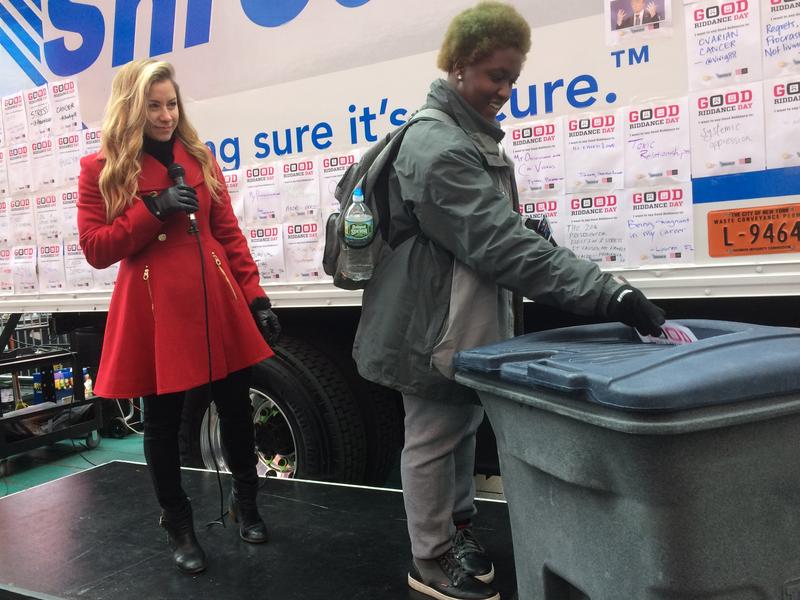 It was out with old, as people lined up Wednesday afternoon in Times Square for a chance to write down whatever experiences they wanted to shred from 2016.
A mobile Shred-It truck had come to cart away the bad memories for the 10th annual Good Riddance Day, an event that lasted just an hour. The shredder was parked right near tourists taking pictures of the Naked Cowboy. But — in an unusual sight for Times Square — most of those in line appeared to be New Yorkers.  
"I had an amazing 2016 myself," Sue Roy said. "However, the 2016 presidential election was something like I've never seen in my life. And I have to say goodbye to it and hope that something turns the corner next year for the country."
Several people said they wanted to shred the election. A woman visiting from London said she wanted to shred Donald Trump (and Brexit). New Yorker Lori Lynn Turner said she wanted to "get rid of hatred" because she was concerned about the new president.
Fred Schuepfer said he was shredding "all of the untruths and falsities and lies that were in political circulation last year."
But many had more personal things to dispose of. A visitor from Tennessee said her husband's father had died, and her daughter had her first big heartbreak.
Rebekah Byrd said she planned to write down mental illness, animal cruelty and global warming. "I'm a really strong advocate for animal rights," she said. When she got to the stage, she fed a piece of paper into the large garbage can-sized shredder and said it felt good.
Several people brought their own shopping bags of bills and other documents. Nancy Bommer of Jackson Heights said she'd brought papers showing she had paid off bills, "so I can start 2017 free and clear." Lamont Spivey of Manhattan said he didn't want his name floating around on any paper documents and that it would be too "time consuming" if he tried to shred them himself.
Emm Rodriguez of the Bronx said she had intended to bring an old phone she wanted to smash. But she forgot, and said she would write down other items.
"Exes, negative people, negative energy, old clothes, old photos, old vision boards," she said. "I got a whole list."