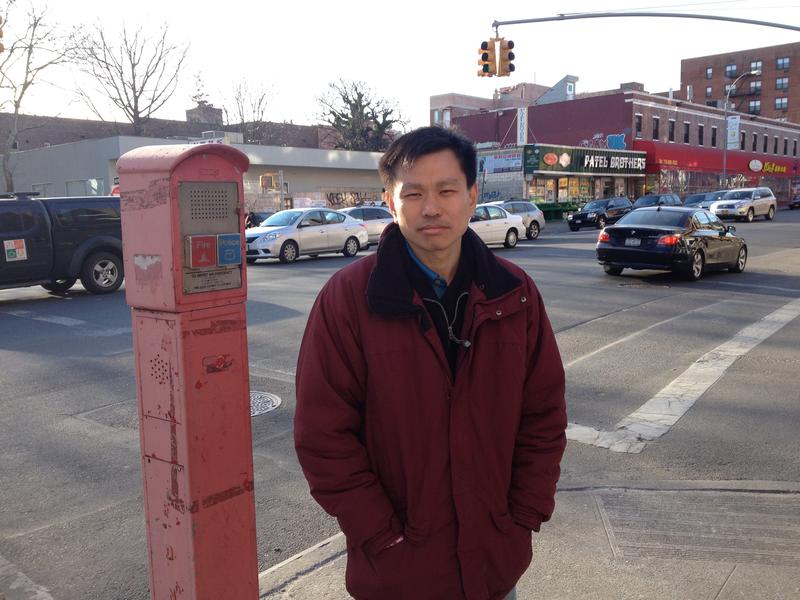 On a recent chilly Sunday, Hsi-Pei Liao stood with his back to the intersection of Cherry Avenue and Main Street in Flushing. Over his shoulder was the spot in the crosswalk where an SUV hit his three-year-old daughter Allison and 71-year-old mother Chin Hua. The two were walking hand-in-hand, crossing with the signal.

It was Sunday, Oct. 6, around 5 p.m. He's thought a lot about how Allison got to that spot, at that moment. "That day, Allison really wanted to go outside to get a watermelon," he recalled. "She was pretty insistent, which normally she wasn't. She normally just watched TV, watched Dora."
Allison was visiting her grandmother, as she often did. Hsi-Pei and his wife Amy were at home in Fresh Meadows, 10 minutes away. He later learned from his mother about how Allison got ready for shopping: "She took out a little purse she carries with her as a toy purse so she could pretend to pay."
Allison's preparations set in motion a chain of events that would soon turn her into a grim statistic: one of the 156 pedestrians killed in New York City traffic last year. (Twenty-seven pedestrians have died in the first 10 weeks of 2014.) This account of the collision that took her life is part of WNYC's "Mean Streets," a year-long investigation into who is dying from traffic-related causes, and why.
Allison and her grandmother walked three blocks to the Chinese grocery store with the long red awning on Main Street. Hsi-Pei says a store camera video shows his mother with a small watermelon in a plastic bag on her left arm. Her right hand is by her side, holding Allison's hand. They leave the store, move down the sidewalk, turn and enter the crosswalk.
Hsi-Pei knows what happened next because of a video taken by a dashboard camera on a car being driven, by chance, toward the intersection. "The driver made a left turn and he's basically — it looks like he just sucked my daughter in from the left tire and knocked my mom down to the floor," Hsi-Pei said.
The driver, Ahmad Abu-Zayedeha of Williamsburg, could not be reached for comment. The police report says he was behind the wheel of a two-ton Nissan Murano SUV. He had a steady green light as he approached from Cherry Avenue. Allison and her grandmother were in the crosswalk, halfway across the street, their backs to Abu-Zayedeha as he turned left onto Main Street. The Nissan struck Hsi-Pei's mother first.
"The worst part is that, as she's getting up quickly, my mother has to see that my daughter gets run over by the back tire," Hsi-Pei said.
In the video, the driver only slows once he's past them. He stops, jumps out of his car, and appears distraught. He stays on the scene. Breathalyzer tests later show alcohol in his system, but under the legal limit. The police say there's no evidence he was using his phone while driving.
That day, when Hsi-Pei and his wife received a text from a family member telling them Allison had been taken to the hospital after an accident, their first thought was of their 5-year-old son Preston, and how he broke his arm the year before. They figured something like that had happened to Allison.
But when they arrived at New York Hospital Queens, which is two blocks from the scene of the collision, they walked into a disorienting scene. "We see my mom on the floor in this special room and you see blood on the floor," Hsi-Pei said. "We see my daughter's toy purse on the floor with all blood on the ground. And my mom is just crying. And we're going, 'What's happening?'"
His mother was not seriously hurt, only inconsolable. She started chanting ritual phrases of grief in a Chinese dialect. A doctor then took Hsi-Pei and his wife to the room where hospital staff were working to save Allison. "You just hear the beeping of the sound, her heartbeat, and you're going, 'Please let it keep going,'" Hsi-Pei said. "But they had to stop eventually."

A police investigation concluded that "the cause of the collision is operator error." For that, Abu-Zayedeha received two summonses. One for "Failing to Exercise Due Care," the other for "Failing to Yield to a Pedestrian." Queens District Attorney Richard Brown declined to pursue a criminal case. In New York State, drivers can only typically be charged with vehicular homicide or manslaughter if they're disabled by alcohol or drugs at the time of a collision.
Hsi-Pei says he and his wife are planning to sue the driver in civil court. "Him just getting two summonses, or tickets, for running over my daughter and killing her, it seems unimaginable," he said.
Hsi-Pei's mother, who worked for years preparing appetizers in Chinese restaurants and loves to cook, only recently started leaving her home to buy food again. And that's only when a family member goes with her. Hsi-Pei said she's seeing a psychiatrist and needs medication to sleep.

The Liaos have become active members of Families for Safe Streets, a lobbying group that is pushing for a local speed limit of 20 miles per hour. That's five miles-per-hour slower than Mayor Bill de Blasio's proposal in his Vision Zero project, which sets the goal of eliminating traffic deaths in New York within 10 years. Families for Safer Streets is also pushing for tougher penalties on drivers involved in fatalities.
Hsi-Pei said he'd like to spare as many families as possible from having to face what he and his wife faced on that Sunday in October, when they walked into the hospital room that held their daughter, Allison. "Initially you go in there and there's a sense of life," he said. "And then you sit there and there's nothing more. That's the really hard part."
CORRECTION: An earlier version of this article misstated Allison Liao's age. It was updated Oct. 6, 2015.