Go to Hoboken... Just Don't Drive There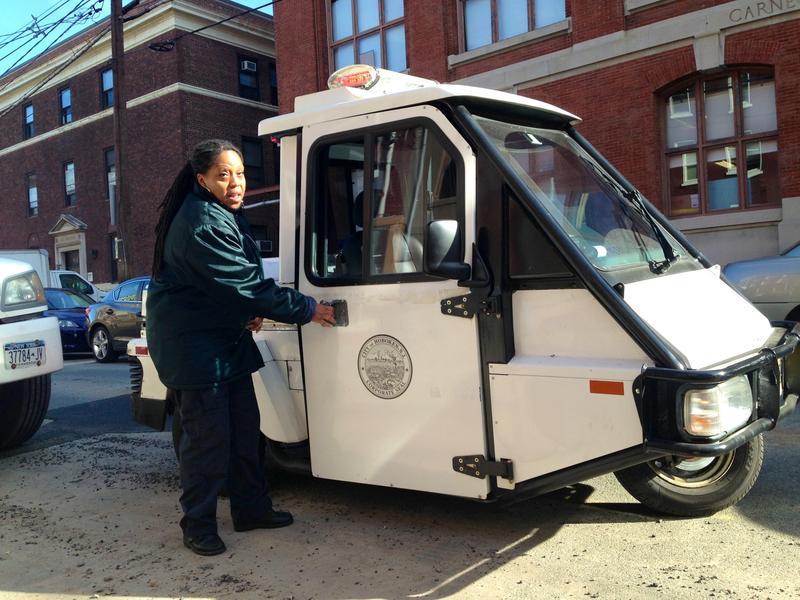 At 8 o'clock on the dot, residents parked along Washington Street in Hoboken, N.J. back their cars out of the angle-parking spots, and idle in the middle of the road. They're bundled up in pajamas with a cup of coffee or in a business suit eating a breakfast sandwich.
The street sweeper goes by, and one by one, residents pull back into those angle spots.
"It was planned very perfect because let me tell you, you leave it for 5 min, they'll give you a ticket," says resident Freddie Flores. "Forty-five bucks they charge you. I remember when it used to be $15."
To park for more than four hours anywhere in Hoboken you need a parking permit.
More than 15,000 permits have been issued this year for less than 9,000 street parking spots, which means some residents have to park in a neighboring city and cab back to Hoboken.
Some of the temporary parking permits may not be active on any given day.
As of October of this year, the city has generated $150,000 in residential parking permit fees and more than $3.5 million in parking tickets – issued whenever residents park during street sweeping.
Last year the city collected $4.6 million in tickets.
Trenton keeps $11.50 of each parking summons, and the rest goes to Hoboken's general fund.
Hoboken is just one square mile in size, and street cleaning rules leave several blocks unavailable for parking every day. Hoboken City Council member Ravinder Balla says sometimes there is no other option but to park illegally.
"That's not unheard of for both myself and other residents," Balla says. "But we always try our best to find parking, and legal parking, too."
And some residents say it may be time to re-evaluate how much street sweeping there is.
"They used to do the sweeping only once a week on Washington Street," says Flores, who has lived in Hoboken for 56 years. "Now they do it every day, every day, every day."
Resident Kristin Stahl says she has had a lot of time to watch the street being cleaned.
"And it really doesn't do all that much," says Stahl. "It just kind of pushes around leaves and debris and doesn't really do anything. It's not like a vacuum."
When the truck passes, it leaves two large streaks of debris behind. 
But reducing street sweeping, and making it easier to park, wouldn't necessarily solve the parking congestion, says Rachel Weinberger. She's a parking expert with Nelson/Nygaard Consulting Associates. 
"When you make it easier to own [cars], you're going to get more car ownership," Weinberger says.
Only 20-percent of Hoboken residents own a car – the same percentage as Manhattan households. And Weinberger says the city has to balance the needs of all residents.

"If it's a parking lane it's not a bike lane. If it's a parking location it's not a bus stop. So there are lots of demands that are made on the curb," she says.
It's a problem for any desirable city. Hoboken attracts a lot of visitors from all over Jersey. And it has among the highest number of bars per square mile in the country... which is the other big parking issue in the city.
The mayor of Hoboken, Dawn Zimmer, says she is trying to create a parking master plan to ease some of the frustration and meet more of the demand.
"We can try to incorporate adding more parking garages," Zimmer says.
She has already added 850 street parking spots at corners and through multi-space meters.
But she has focused on encouraging residents to ditch their cars by bringing in a bike-sharing program, bike rentals and cars you can rent by the hour and by the day.
She says her goal is to make it easier for residents and visitors to park, "and then get around the city in a different way."
For now though, you may have to kiss your bumpers goodbye; accept that the face of a leprechaun could be carved on the hood of your car; and, invest in strong tape to hold your busted rear view mirrors up.
Click on the audio to hear Hoboken residents describe their parking horror stories.