A Gift for Mom Leads to a Gift for a Beloved Daughter on Christmas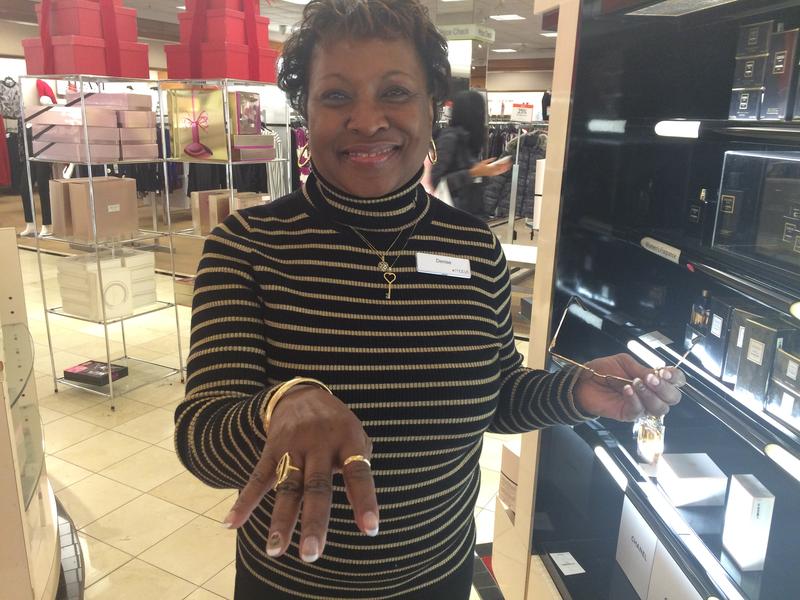 Every year, my mom wants the same thing - Chanel No. 5 perfume. I happened to be in South Jersey on Black Friday, so I went to a Macy's in Moorestown and bought it for her.
A nice lady named Jenny Jenkins wrapped it carefully in the crisp, red Chanel paper, and tied it with a thin bow. Another Macy's associate, Denise Singleton, rang me up. I remember both of them. They were friendly, and Singleton told me it's always good to stay within one's budget while Christmas shopping.
They put the gift in a plastic Macy's shopping bag. At home, I put it in a closet. I didn't touch it until the Friday night before Christmas. I was wrapping gifts, and I took my mom's Chanel package out of the plastic bag.
Something was rolling around the bottom. I was shocked to find that it was a woman's gold wedding band. It had been sitting there for a month.
On Saturday morning, the morning of Christmas Eve, I called the fragrance department at Macy's and told the woman who answered about the ring.
I could hear her yelling across to someone in the store. "Oh my God," she said. "Oh my God."
The ring belonged to her co-worker and friend, Denise Singleton.
I was already heading down to South Jersey to visit my family for Christmas. I made a quick stop at the Moorestown Mall.
Through the speakers overhead, Macy's announced the store would close in an hour. Men frantically shopped for perfume gift sets for their wives. I stood next to the line, and held up the little gold ring.
Immediately, Singleton came over and hugged me, and she told me the story behind the ring. It belonged to her mother, Edna Gray, who died this year.
"She was 92. She was diagnosed with stage 4 pancreatic cancer. It spread to her liver. She lived a good life," Singleton said.
My Christmas Eve call had stunned Singleton and her co-workers.
"It was so meaningful, because it's Christmas. It's my first Christmas without my mom," said Singleton. "It means a lot for me, to have it back."
She hugged me, and thanked me warmly.
Her gratitude made my Christmas, as much as being reunited with that ring made hers.