Giant Birds 'Fly' Inside St. John the Divine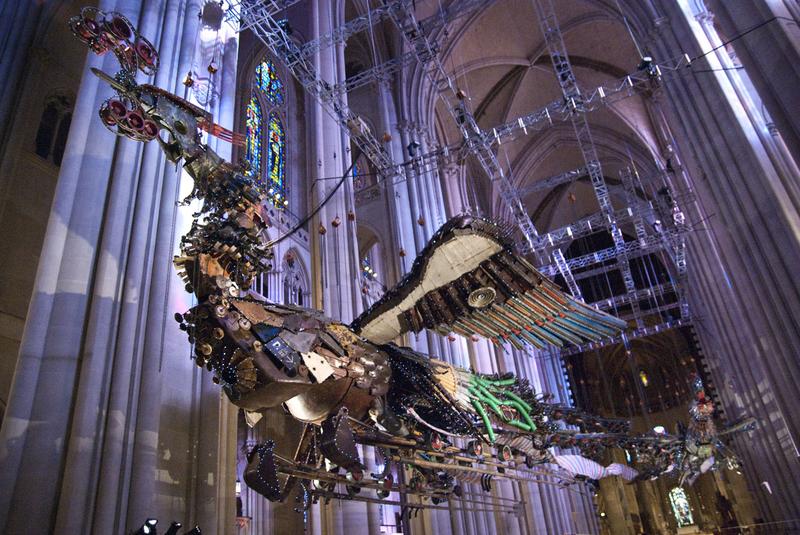 Two giant birds made of tools and debris are hanging inside The Cathedral of St. John the Divine in Morningside Heights. They each weigh about 12 tons and measure about 100 feet long.
Called Phoenix, they are each the work of Chinese artist Xu Bing. He created the sculptures out of material gathered from demolition sites in Beijing using a crew of migrant workers.
Jim Kowalski, dean of the cathedral, explained that the church tries to use art to foster conversation, so the idea of the work intrigued him. Still, he was surprised when he saw the pieces in place. "I don't think I had a clue about the complexity of it, or the magnificence of it, that old adage that seeing is believing, I mean it just knocks your socks off to actually see it," he said.
The combined weight of the two phoenixes is aprox. 24 tons. Here the sculptures are seen from above in the Cathedral of St. John the Divine. (Natalie Fertig/WNYC)
The church was first approached about displaying the sculptures in 2010 by Judith Goldman, a former Whitney Museum curator and the guest curator of the Phoenix exhibit, which opens Saturday.
She said she was fascinated by the piece because it offers several meanings. "You can look at it and think: it's the most fantastic piece of Chinese folk art, and yes, it's about migrant workers too, so it's all those things," she said.
High-wire artist Philippe Petit rehearses his performance for the opening of "Phoenix." (Natalie Fertig/WNYC)
It took 11 flatbed trucks to transport the pieces from the Massachusetts Museum of Contemporary Art, where they were for a year, to the cathedral. Jesse Robert Coffino, director of Xu Bing studio in Brooklyn, coordinated the transfer. He said the only way of getting the pieces in was through the front bronze doors, which meant closing Amsterdam Avenue for five nights while they set up a crane.
To mark the opening of the show, dancers, musicians, stilt-walkers and high-wire artist Philippe Petit (who once walked a wire between the Twin Towers) will celebrate at the cathedral on Saturday between 2 and 5 pm.
Phoenix will remain on view for one year.
Detail on a phoenix wing. (Natalie Fertig/WNYC)