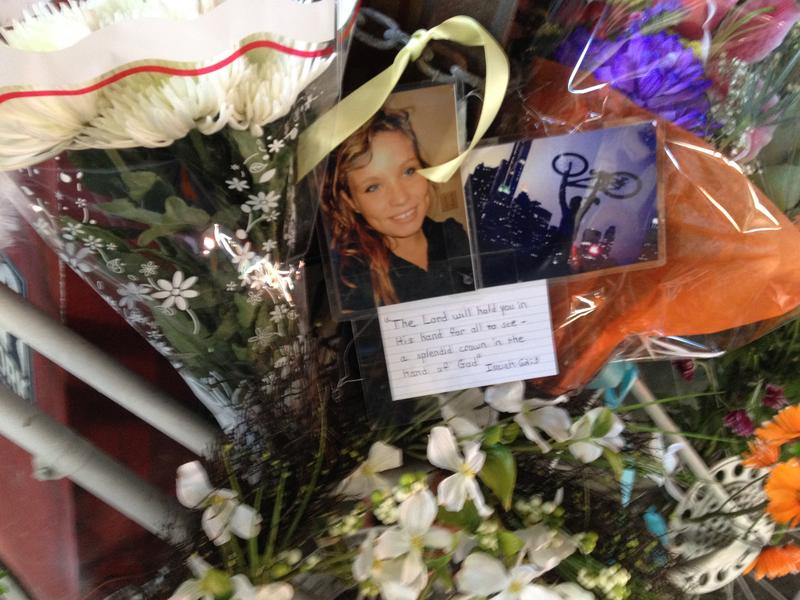 Martha Rothfuss stood in the gloom beneath the elevated tracks at the corner of 125th Street and Park Avenue in East Harlem and remembered her daughter, Laura. "She always said that her boyfriend was her bike," Martha Rothfuss recalled. "She rode everywhere."
Laura Rothfuss, 24, was biking through the intersection in June when she was knocked down by one cab and run over by another. Hers was one of 286 traffic deaths in the city last year. The site of the collision is now marked by a white "ghost bike" that is locked to a pole and adorned by her photo and funereal bouquets of flowers. About two dozen cyclists rode to the spot on Sunday, dismounted, and held a brief memorial service that included Laura Rothfuss' parents, who'd traveled from East Aurora, a town near Buffalo, to be there.
"At times, there's a hole in our hearts that feels like it will never heal," said Rick Rothfuss, Laura's father. "We love her very much and long to see her every day."
The service was one of several held around the city as four different groups of cyclists and pedestrians made a "9th Annual Memorial Ride" — pilgrimages to the sites of recent traffic deaths around New York. As of Sunday, 56 people had died in street collisions since last year.
(For details on those collisions, see TN's "Mean Streets" tracker, part of our year-long investigation into traffic safety and Mayor de Blasio's Vision Zero program.)
The group in Harlem then held their bikes up over their heads as a salute, before heading to another spot, only a block away, where a city bus struck and killed bicycle deliveryman Pedro Santiago. That collision occurred in January and was one of two bicyclist deaths so far this year in the city.
Cyclists raise their bikes in honor of those who have died in streets collisions. (Jim O'Grady)