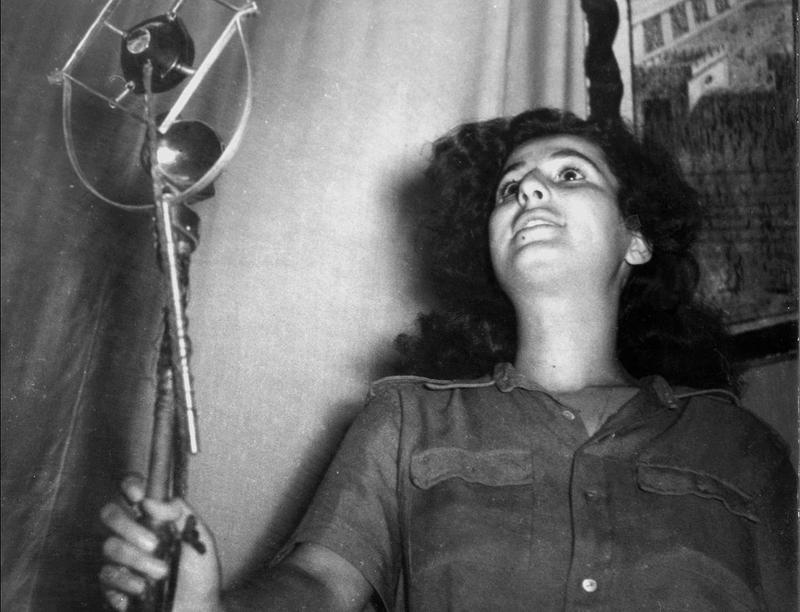 Summary
This episode is from the WNYC archives. It may contain language which is no longer politically or socially appropriate.
November 11, 1964
Geulah Cohen, broadcaster and member of Stern Gang which fought the British when they occupied Palestine. She talks about her sacrifice for the cause of Israeli independence as well as her book. Gerald Frank provides commentary on her talk. Questions and answers.

Host introduces certain people in the audience, discusses upcoming activities and events. Engineer checks audio.

Q&A continues: Do the original members of the Stern Group keep together? Would they fight as one again, if needed? John Brown Raiders? How is information about the Stern Group being taught? What is the spiritual influence of the Stern Group today? Support from outside Israel?
Audio courtesy of the NYC Municipal Archives WNYC Collection
WNYC archives id: 70429
Municipal archives id: T585
Transcript
This is a machine-generated transcript. Text is unformatted and may contain errors.
It's my very great privilege to present Gil a call on to those who are here with us today in the Overseas Press Club and to the radio audience listening in to us Cohen needs no introduction especially to this distinguished audience who who knows her story so intimately she was page one knows in April nine hundred forty seven when Homer bigot of my paper of the Herald Tribune at that time the Pulitzer Prize winning correspondent now with the New York Times did a page one story telling how her second attempted escape. In a matter of a few weeks I had been successful he said that although she had been imprisoned in the high security area in the center of Jerusalem that day she had vanished through a laboratory window and that bloodhounds hunting the area around the hospital had been unable to find her and now I am told that a group of Arabs who are considered automatically. Anti Israeli and pro British had come in to visit her had brought her an Arab custom hidden in a basket of fruit had created a disturbance in the card or giving her time to slip into Arab costume and instead of vanishing through the laboratory window she just strolled out with the visitors. That climaxed in for dramatic episodes twice the British had tried to capture her when she was part of the clandestine radio and once they had Mr It was always hard to get her because the broadcasts ran only for five minutes the second time they surrounded a square block in Tel Aviv pinpointed with listening devices the penthouse on one of the buildings and captured her she stayed in prison for about a year she was in the women's prison in Bethlehem where she leapt from the second floor window and scale two walls badly tore a cell phone bob wire was caught a mile away went into the hospital with pneumonia and then had the second escape which. Which was her last experience as a prisoner since these dramatic episodes of the Israeli war of creation she has taken her Ph D. and she has just written a book of memoirs which is the reason for being here with us. Telling the the her story. I don't know whether my. Correct poor a show lover met the story of a woman fighter. Ben-Gurion as prime minister said that he always disagreed and still disagrees with the views of the stern grope but that in reading that book he was so profoundly touched. By this story dedication and heroism that he shared what he called a sacred thrill of or admiration it was my pleasure to present his cause. I. Had from day. One. In the fast I want to go away apologize from my point leave. That that may be the main thing in this case there is no and there were. A bad thing and there is something that in between the words and not understood I thinking on the language is so beautiful me fighting for I mean those were the feeling then I know that you an invited me know that only of behalf of my personal story but because my story is not so personal a story that was a part of. A history of the people of Israel it is not a story and it's not personal it's only one part of this story that began many many many many years ago and maybe I didn't know finished yet. I'm standing now kneel in front of a mic microphone I stood before a microphone twenty years ago but it's still different to stand near a microphone. Now and then it's not only because of the fact that then. Standing near the megaphone was the thought of that war and now I'm only talking about the war but it's different also because when you see the end me I'm in front of the microphone and speak and you know that in that very moment a. Jew Jewish people all over the country. For a looking for the station and it was in their rounding the knobs of the ideal of their ideal you know those two here in they in secret illegal radio and and if they will call it they can be arrested and it's different to feel it to stand near a microphone and to speak when you know they say the British. In that very moment looking for your station in. A two way and I still and then one day that they. They they succeed in and one day they came and they called the station and they. I was interested and I don't know if I have to tell you the story because I said I saw that every phone told you the story and I don't think that I I went again to my book. Too only to make a report of what I did or walked him my friends. Because they a the meaning of the past in in my view the past is as an as no meaning to me if it doesn't goes with me now in the present so when I went back today to the two of those days I went back in order to see what is still a live in and what I can lay on from the those days to now I know you are a journalist or the most of you and then it is news that you want and that you look for and. It's not you it's not in use a to tell you what was yesterday in a day before and maybe you don't. You have no interest in. Any immediate interest in what is going to morrow but a island in the air is I will when I was of a little girl and I learned Judaism and I saw that in today's We have another a view on time time for us is not only it to ask what's the time now not it's not measured only by hours but by meaning what is the meaning of the thing you and even the IT think has a real in a deep meaning so it's. It's say it is news every day because it's timeless and it when I went back to the past to look how we in nineteen forty two a. Small group of boys and girls declared war on the great British Empire and from all sides we had only one word made men mad men made men from our people too from all over the air from the British certainly and still their reality shows that. A good many men and became more realistic and their logical than the name and all the others that those those time the Times was taken for more and more realistic and so I learned by describing describing all that even THAT THEY TOOK PART I.I. I went there to describe them back to find through describing that event what was the identity card of a fighter for the freedom of Israel was what was written there and they and they what are and what is very important for me now and I think if it's true it's important and it's right it's it is right to everybody to every human being who is fighting for freedom or for changing the reality to change reality to better then if I can is if I learn something it was that once you dream and they. And they you think you are right you have not to be ashamed of being different of being different even if that the majority is not with you and day but and not only you have to A to. Dream that dream not only by night in during the night you have to dream it also by every day in order to to wait to leave up to it the I mean that you know the Jewish people leave a half to the hour dream two thousand years but more in night time if you follow what I mean and not by day they didn't act like a up to their dreams but our generation when we we took that dream and put it in front of us not only in our prayer books not only in the Bible with took it out of the Bible we took it out of the prayer book and put it in a you know a knowingness something that you have you can say that all of those you gives you all of this and. So A is so the dream was a reality and that for which is that that I learned from coming again. To see what all not only what we did but also what what we did made to us in fact and no English and only when you have done it. Then added to that approach to life you can't change the reality because if the reality is not something static stands beside you about is if not a few only is so you can change it and in one thing forty two when the reality is static reality was a British was not on our our lane. So if you have you have no God there. What was. To me and to my friends. There right approach to reality when you give up and you say so this is the reality so the reality gives you over there instead of you giving her all of this and but I want only the stand and we have got we were used to call that gangsta stand so he and his friends said the reality is not what is out of us the reality is a part of. What we want to make it make and make out of it so the reality for him was not. Governed by British but if in a land that fights for hell for liberty for her freedom that was the reality and up to this he and they're out of this he. He the war began and them and they hear see it's a. Mr JONES Frank who told the bloke about that to a boys in in Cairo and one of the Dead Boys the deed named the deeds so one of the over of those both boys a when he was a. Hanged before he was hanged he was asked by one of his A over the soldiers dale of them what is meant what is his last of his we quit so he said what he most want to say and they this boy was dressed with Day Parade clothes of the condemned people and it was so a big big dress and that many a a in many thieves and others that were hanged before was the highest with it before and and he said to them to the men who asked him he said you know this is this is this cloth this is they they most beautiful clothes race I did race ever in my life. It's I kind he really it's sounds so way so did bloom Oh I can't give you with him the least sense of that saying in Hebrew and this boy was used to be dressed with a beautiful suitcase. So it's that thing I saw him in Hi-Fi he was a they both have a very it's family and I know this is that he did that he was there so so why say I did because I can't change the way I did in that moment that I did for him was not you know I had the greatest of all things on the whole thing and if matters and so in that moment out of his a vision he changed it they still be the most beautiful days that he ever put on so this mentality a that they created us and they I think I think because on only because of these we won it was not because we had more poets we had no more power with only pistols and guns and they have. Everybody knows what they have made the British Empire but still they had no we we're fighting them we've gone yes but we dream and they and what when if you have a dream we do you know beside the gun so you are they strongest man on earth and you will no not today tomorrow but you will win and there. And this in the in my book through my personal experience I tried to say to bring it it to. To bring to their aid there and then they ran off how about their time and of thought often of the dreaming of envision him or how that looks full something that is more I mean commitment to him more than more than his life and they AND HE'S A in their prime minister been going on who was on that time in those times and against it because he was against this way of fighting he felt. He thought that our. Our A fight was not their right to want to fight in order to allow to have a home and if so even heat if he was there moved by it's not because what we did but because it was more but by then it fades and by then it and him dream date we dreamt also by day thank you. Thank you Dr Cohen here with us as Gerald Frank is not only the author of biographies which have sold many millions of copies but he is also the author of the deed a very moving and penetrating. History and analysis of the Stern group I will ask Gerald Frank to give us a commentary on the address that Dr Cohen has just given us and then to lead the question period. It's none expected pleasure for me to be here I had no idea I would be here I had never met a girl a call I only knew over as a legendary flame in the underground movement the voice of the illegal radio of the Stern group two hundred boys and girls most of them eighteen to twenty three all intellectuals who declared war on the British Empire and in the opinion of many won it because ultimately Britain had to leave them leave Palestine and when she left Palestine she stated that one of the reasons was that they could not afford to keep maintain troops and soldiers at millions of pounds in order to cope with quote the terrorists and the other elements that made it impossible for Britain to stay there but I think without the Stern group and the larger air gone Yes DOBSON of Israel would not have taken place when it did take place I don't think it would have posed been postponed long but it would not have taken place them. I am told I don't read Hebrew I'm told that her book translation of a part of which was translated for me at one time a letter really does achieve that crumbling of the hearts which she spoke of and I can say no more than that. This is one of the Serling souls of the revolt in Israel that David Ben-Gurion who in one nine hundred forty two could state to the press and the public his hatred of the Stern group to such an extent that he said we will pluck them out of the schools pluck them out of the labor unions pull them out of the country eliminate eliminate them as though they were a disease at David Ben-Gurion who was then was so politically gets them could one Miss Cohn's book was written and he read it conclude by saying bless it be the pen that wrote this book. Oh I'm sure some questions my name is where you all and I'd like to address this to both Mr Cohen and Mr Frank. Of such a small group of about two hundred were able to inflame the whole country of five hundred thousand and were so over pursued an Arab harassed. Do you think can you can you explain you have explained to some extent. Why they were able to do it because of the dream they had but can you explain the same way whether they are now respectable You seem to indicate that they are now they have no wish to achieve respectability and therefore you think they are less effective I think they're more and more time is going more and more. We are respected more and more because they not only because the reality shows that we were right and maybe it is because their main. Reason for it respecting us but now and they didn't know us they we are in the underground and they and. The first day when we came out and showed they saw that we know that this they thought of not we are not they are looking for Mandela in order to to kill and and they saw that to. What what mic made us run was they was deeply they same thing that was in them too but they couldn't it translated and active they exit and so a. There more and then more then you eat more they knew us they respect us more and more we doesn't need to respect by we didn't do it to be respected and. And we don't need anything you know that to be. That somebody will keep us out of something within DO IT FOR THEIR it but we did it only. If even the price for that respect is due to it to approach life in the IF YOU WANT TO THE SAME as we approach dive in the past this is the prize that we I for example ask for I like to add just one observation there. The stern group did not by itself these two hundred achieve the independence of Israel there are many factors there are hog and I and m